Fall Guys: Ultimate Knockout Review: Falling With Style
The latest viral hit is actually pretty fun—if you can weather its prolific server issues.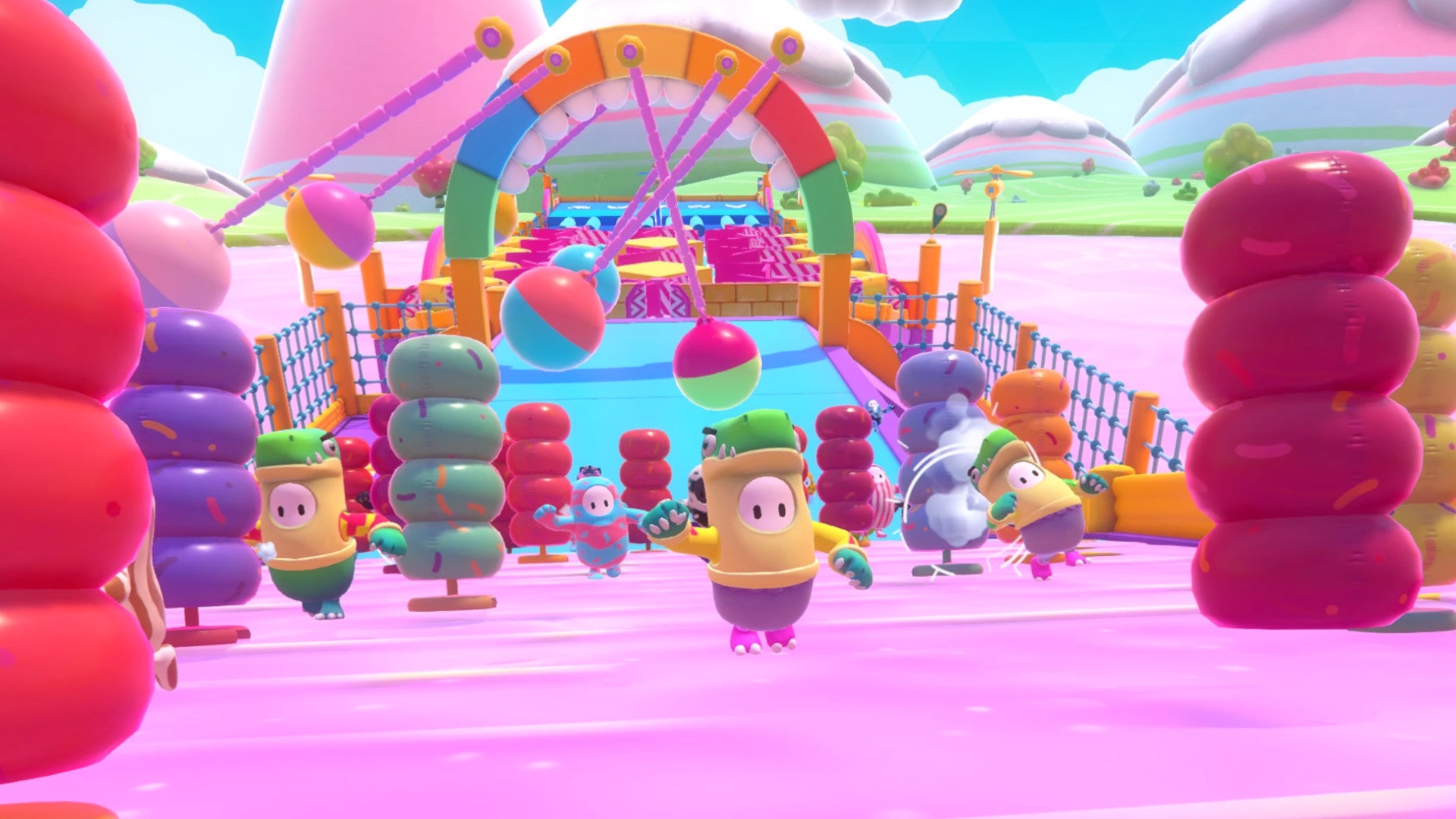 This article first appeared on USgamer, a partner publication of VG247. Some content, such as this article, has been migrated to VG247 for posterity after USgamer's closure - but it has not been edited or further vetted by the VG247 team.
Recently, I was watching the new Netflix obstacle course show Floor Is Lava. In it, players navigate an obstacle course where they can't touch the bubbling, red water below, or else they'll be eliminated. In the first episode, a member of a team becomes a "fall guy"—she sacrifices herself by plummeting into the "lava" below in order to push over an object that will help the rest of her family navigate the course. It's a valiant move. The team ends up winning the competition. The new game Fall Guys is all about capturing that idea, with a self-serving spin on it. After all, it is technically a battle royale.
A "fall guy" is traditionally the person who fields the blame for the better of others. The one who takes the bullet for another; the person who "falls on the sword," as the saying goes. We've all been a fall guy once or twice in our lives. In recent times, I've been a fall guy. I'm the one falling on the proverbial sword, making the big sacrifice for the "better health" of something else, whether I have a say in it or not. Fall Guys: Ultimate Knockout, a zany battle royale with no guns in sight, imagines a world where we all can be fall guys. It's a race to see who is able to escape that fate.
In Fall Guys, 60 players compete in obstacle courses to reach the final crown. The obstacle courses vary dramatically. One may have giant see-saws that teeter from side-to-side depending on the amount of players on each side; one might be a giant cylinder that slowly rotates with the only goal being not to fall off. The floor might be collapsing, or it might be a ludicrously designed large-scale game of tag. Fall Guys never feels precise in its platforming challenges, but that's just part of its fun.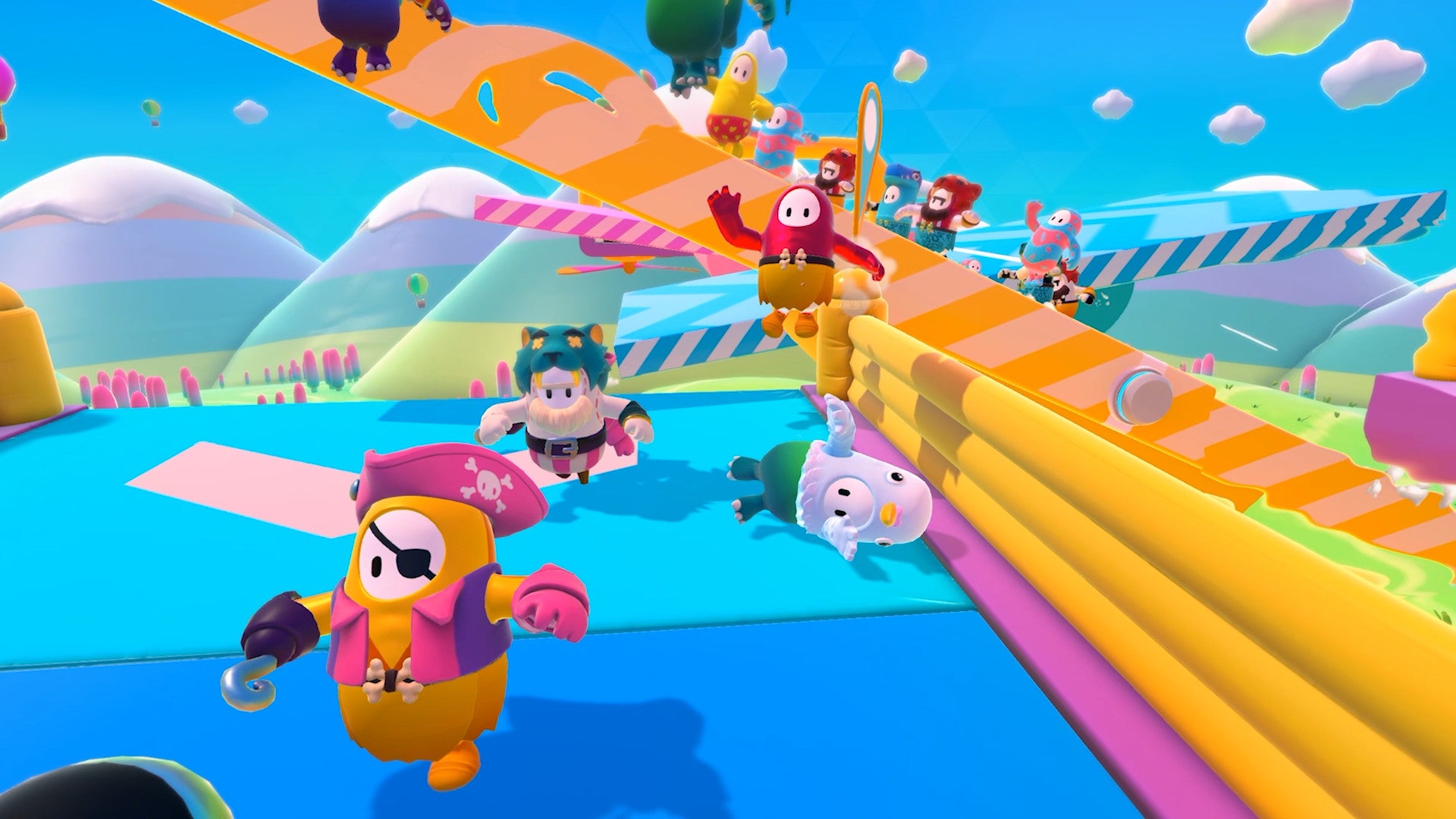 Each round, more and more wobbly characters are disqualified, until there's only a small number of players left competing for the final crown—Fall Guys's Victory Royale, basically. The ones who fail the match may not reach the end of the obstacle course in time, or maybe they fall down into the pits of the slime below. Maybe another player uses the grab mechanic to physically hold them back, ruining their run. In the end it's one big race—sometimes literally to the finish line, sometimes just a race against time with an objective in place.
After each round, Fall Guys deploys a new obstacle course to run, leap, and grab across. At the start, they are large-scale foot-races, which can unfortunately get a bit repetitive as they are the one course guaranteed to appear every time. As the rounds progress and the player pools get smaller, though, the objectives get tighter. Team objectives, I found, are the most frustrating—my fellow "fall guys" are always letting me down; not pushing the ball to the correct side of the map so we can get a point, or not coordinating in other ways. No one knows how to work in a team. It's always a mess, in a frustrating way, but that's how it feels like it's intended.
Fall Guys is not a game of skill. It's a game of luck. But with that comes a lot of laughter, a lot of joy, a lot of screaming "noooo!" and swear words, a lot of flopping down the controller on the couch like a pouty child. It is, in essence, the idea of a "fall guy" personified, gamified. The race to not be the fall guy is a tense, brutal one—albeit with a bubblegum aesthetic. And when you're the fall guy, it undeniably sucks.
In between matches, Fall Guys has all the usual trappings of a live service game. It has a battle pass with new patterns to unlock for your character, new accessories, and new color palettes (eventually, matches will not be a sea of pink and blue fellas). It has a shop, wherein you can spend "Kudos" points that are earned through playing. There's a second currency too, the much-rarer Crowns, which can only be attained from tiers in the battle pass or when one is able to actually win a match. I don't really like the cosmetics nor character design in Fall Guys, so this corner of its world is whatever to me.
While it doesn't support local split-screen play, it does allow squading up in a team of four. It's relatively seamless, even if I find myself wishing it supported bigger parties. It'd also be great to be able to host private matches where I could cycle through a personally curated playlist of levels for the obstacle course—maybe even dictate how big the player size is for each course. Of course, with Fall Guys being from the indie team at Mediatonic, and, in a way, free-to-play for the month thanks to it being on PlayStation Plus, it's easy to see why it's slimmer on features at the outset. With its landmark success, however, it's possible to imagine Fall Guys getting more fully-featured with time.
Fall Guys has unfortunately been plagued with server issues since its launch on Tuesday, Aug. 3. During my time with it over the past couple days, I've been hit with matches ending prematurely thanks to the servers. In some cases, I've been unable to quit the match due to apparent server issues,forcing me to quit out of the app on my PS4. Then there are the times that matchmaking simply doesn't work at all. Server issues are typically ironed out post-release, and the developers have noted as such, but alas, for now it throttles the effervescent nature of Fall Guys.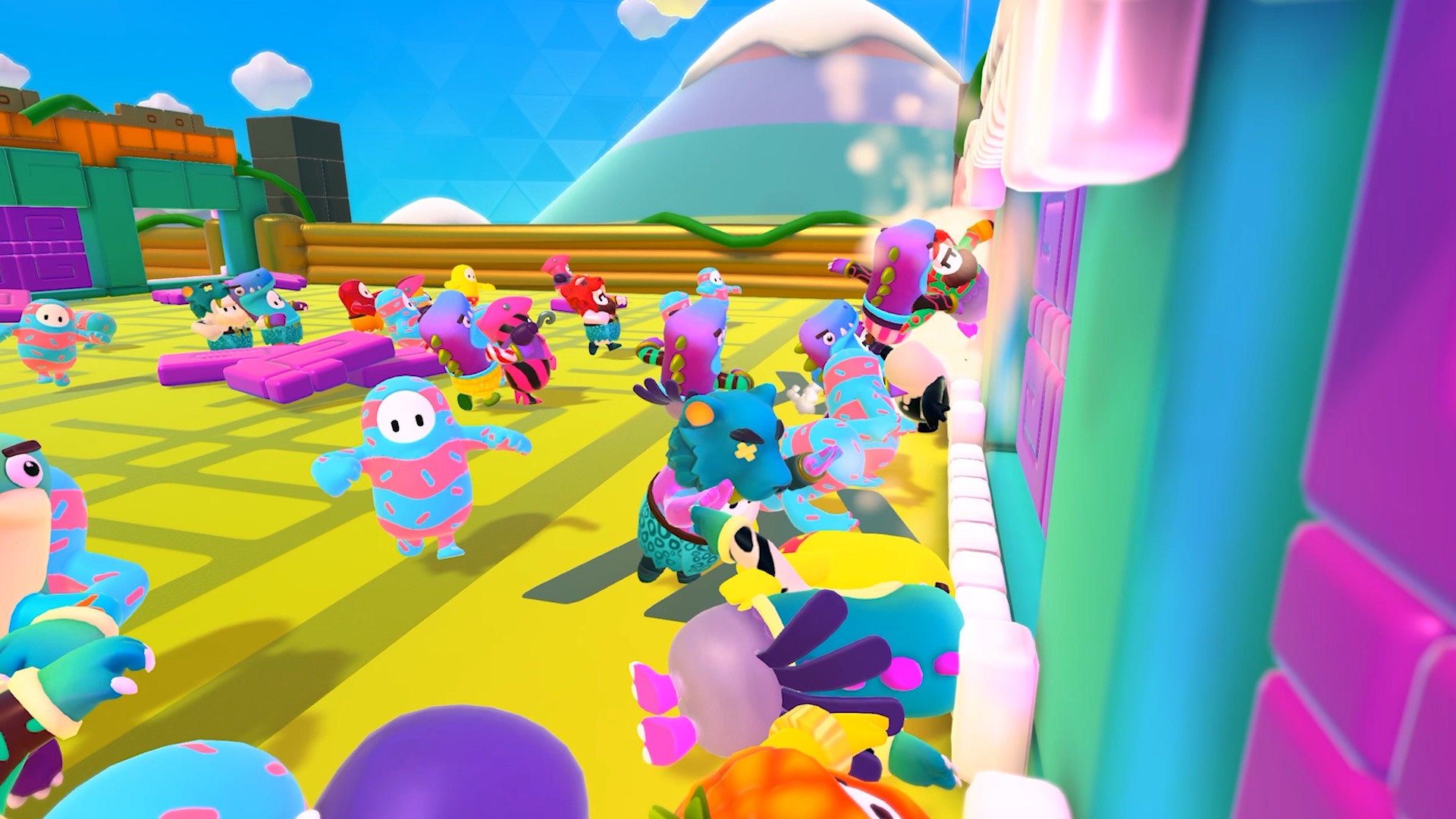 Server issues and lackluster bonus features be danged, though. What makes Fall Guys stand out in the crowded battle royale crowd remains its sheer creativity. It mixes the goofy, physics-driven mayhem of Gang Beasts with the competitive nature of Fortnite, and the result is something that's wholly its own. While its cosmetics are lackluster, they don't really matter in the grand scheme of its Takeshi's Castle-inspired world. What matters is getting to that crown at the end, and not being a fall guy in the process. If only we were all so lucky. I sure ain't.
ConclusionProlific server issues and slim bonus settings are holding Fall Guys back for now, but for the time being, the wobbly obstacle course battle royale forges its own path. It's easy to envision the game only getting bigger from here on out—especially considering this launch era has been declared as Season 1, battle pass and all. As a foundation, Fall Guys is an endlessly engaging one. I'll be chuckling as I fumble to finish lines for quite some time.