Extra details surface for Rabbids Go Home, toilet humor included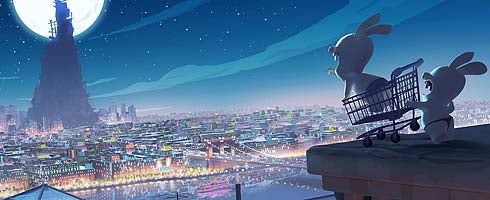 More details regarding Ubisoft action title Rabbids Go Home have popped up in the latest issue of ONM.
Fart jokes and "flushing your goodies down the toilet" are included.
Six hub worlds, 20 environments, over 50 missions
Roughly 100 different humans, all based on various stereotypes
Main enemies are the Verminators and Vermi-dogs
Verminators set traps to catch Rabbids, but they are actually scared of them
Levels hide various collectibles
Collect target items for new abilities: use a hospital patient's oxygen bed to float
New game mechanics added in roughly every 20 minutes
Target items can help you progress in other environments
15 hours of gameplay
Cut-scenes explain missions
"Crazy music," slapstick comedy and fart jokes
Each mission ends with you flushing your goodies down a toilet
Multiplayer, but details not yet revealed
Locations: Airport, Builders' Yard, Graveyard, Museum, Office, Pile, Supermarket (may be more)
Games of inspiration: Mario Kart and Super Mario Galaxy
Motion-control for opening doors and other context-sensitive events
Took almost a year to decide what direction to go with the game
Thanks, GoNintendo.