Empire of Sin's Prohibition-Era Escapades Are All About Its People
Brenda Romero and her team are close to launching their take on 1920s Chicago, and it's shaping up to be full of storytelling potential.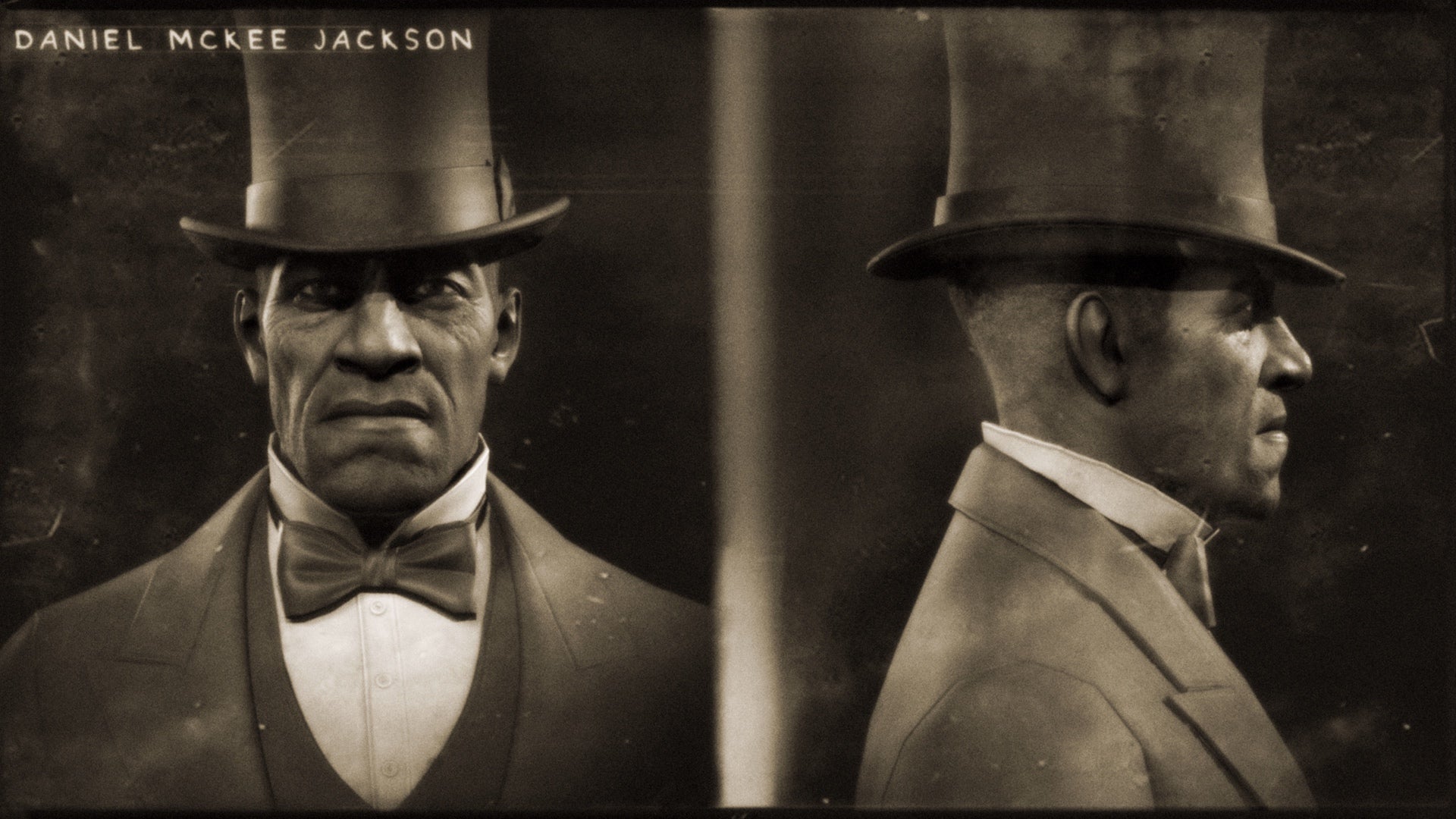 This article first appeared on USgamer, a partner publication of VG247. Some content, such as this article, has been migrated to VG247 for posterity after USgamer's closure - but it has not been edited or further vetted by the VG247 team.
In 1920s Chicago, Daniel McKee Jackson ran a gambling racket out of his funeral parlors in the city. As a Black businessman with holdings both legal and criminal, Jackson wielded his power to benefit both himself and his community. Jackson's kindness and generosity toward Chicago's African American population helped land him as a committeeman for Chicago's Second Ward a few years before his death in 1929.
In the present, playing as Jackson in Romero Games' Empire of Sin, I make a move that sees Jackson empty an entire Colt 1911 magazine into rival mob boss Dean O'Banion. O'Banion goes down, but unfortunately, Jackson and his loyal mob recruits won't live to see past 1920 thanks to my poor planning. His story, along with the story of mob doctor Norah Quinn and ex-circus performer Grover Monks, ends for me in a bloodbath at O'Banion's hideout.
Lead designer Brenda Romero has talked a lot about how Empire of Sin is a game she's wanted to make for most of her storied and exceptional career in the industry. It's an RPG, strategy combat game, and empire builder rolled up into one. Romero's grand, sprawling vision for Empire of Sin and what it owes to its many influences—D&D, XCOM, Civilization, and more—is crystal clear when she talks about it. In the company of some fellow designers, Romero and her team are inclined to go on tangents, but each one is informative and almost begins to sound like a story about people they personally know.
The team's shared love for the ideas behind Empire of Sin starts with a keen interest in Prohibition history and the individuals who shaped it. Every member of the press present for the day's demo played as a different boss, and in terms of sampling the deep research Romero Games did on 1920s Chicago, I lucked out in getting to play as Daniel McKee Jackson.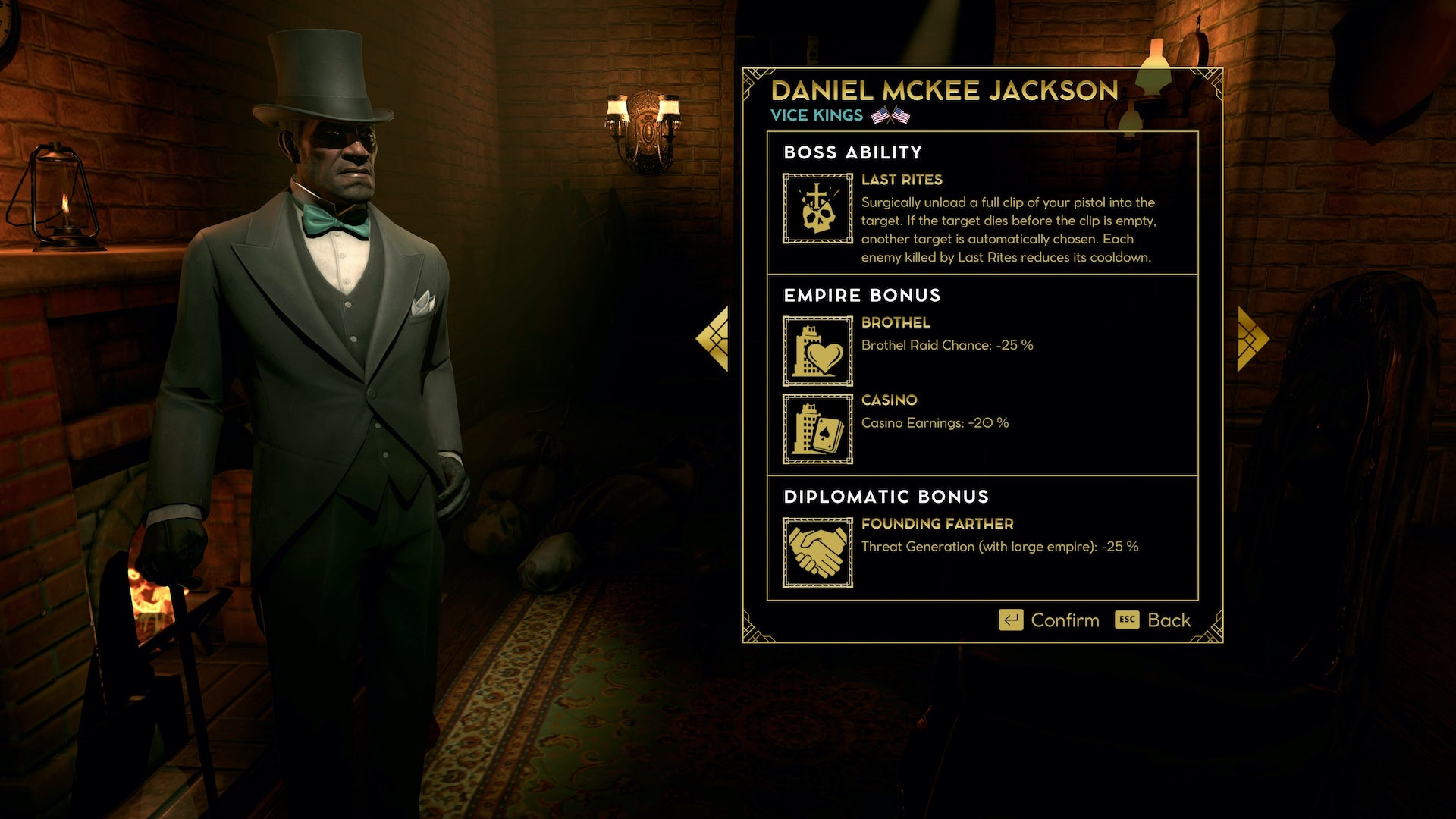 "If you say 'Prohibition Chicago,' 99% of people are going to absolutely, without a doubt, throw out Capone," Romero says. "He sort of owns it. In the real 'game,' he won it, until Eliot Ness took him down."
When Romero, narrative designer Katie Gardner, and others at the studio went digging on beyond Capone and other figureheads, Jackson stuck out as a clear pick for the Empire of Sin roster. "He was very honorable—okay, he's honorable for a gangster—but he absolutely cared about people in the community," Romero explains.
That led naturally to one of Jackson's key traits among Empire of Sin's 14 different bosses: while gaining Notoriety can help a boss expand their hold on Chicago, Jackson starts with a high level of Honor. Mechanically, that helps Jackson get away with power grabs that other bosses couldn't pull off.
"For instance," Romero says, "you can poison other people's stills. If Daniel McKee Jackson poisoned a still and Angelo Genna says 'I know you did this,' if [Jackson] says 'I didn't do it' and instead blames it on another boss with less Honor, odds are he would be believed."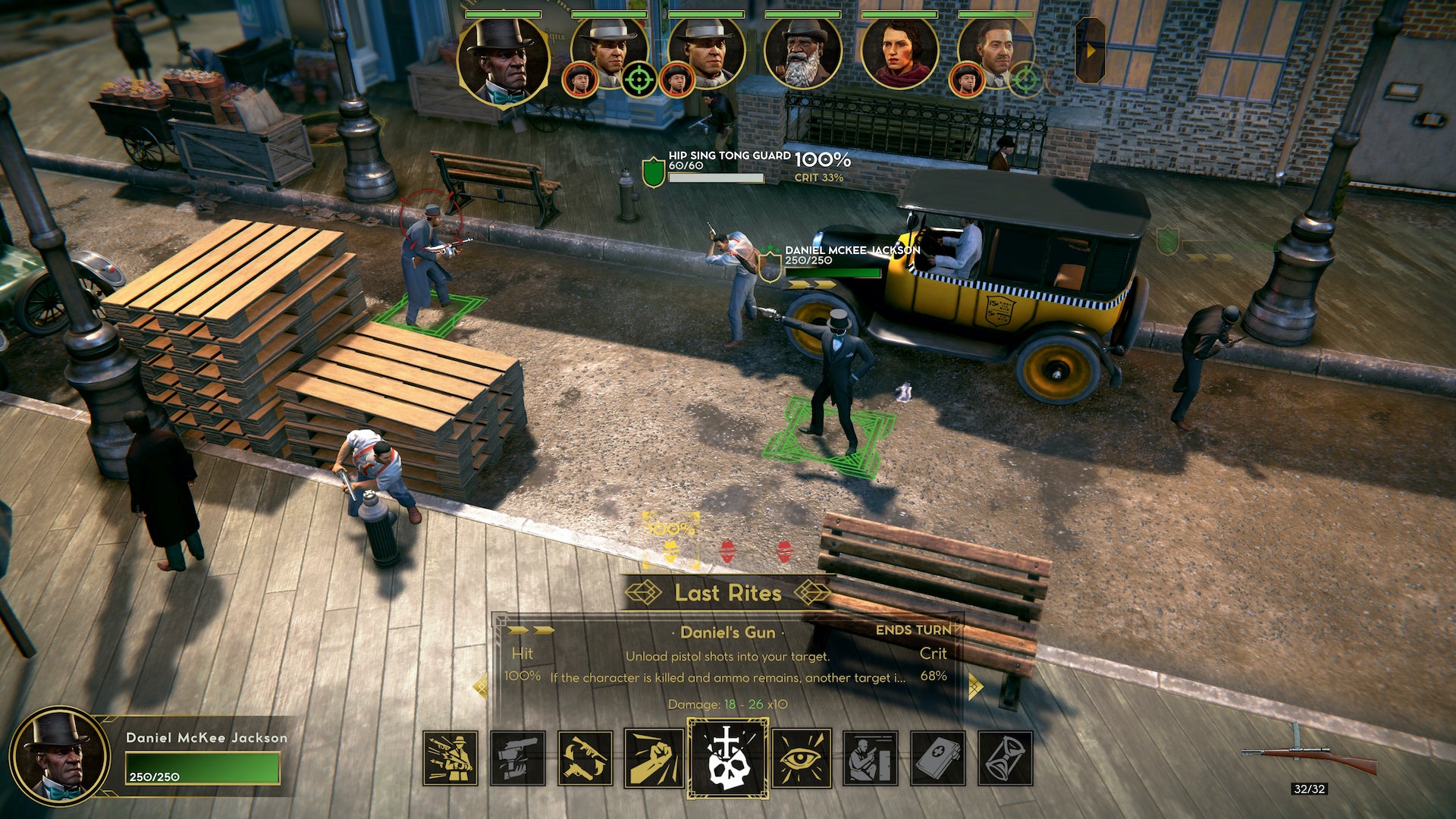 Where his honorable attitude sets him apart in the empire builder aspects of Empire of Sin, Jackson's real-life political ties and his undertaker background tie heavily into the RPG and combat sides of the game. While the latter is quite exaggerated—Jackson's "Last Rites," which I used to take out O'Banion, is a macabre take on laying someone to rest—the former draws heavily from real events. 9 of Empire of Sin's 14 mob bosses are based directly on actual people; of that group, Jackson was quite close with Chicago mayor William Hale Thompson in real life. In Empire of Sin, Thompson appears as a quest giver in Jackson's introductory mission and is a recurring character throughout his storyline.
Every boss in Empire of Sin gets their own playable story and special traits and abilities, but just like feisty and fickle world leaders in a game of Civilization, they'll all have their own personalities as A.I. opponents as well. "For the A.I., we deliberately shied away from trying to create a Chess-style A.I. that's deliberately going all-out to win the game," says senior designer Chris King. That means if you decide to play as, say, John Romero's real-life great grandmother Elvira Duarte and cross paths with Jackson, Jackson will behave in keeping with his principles.
Four hours of demo time—two as Jackson, and two as fictional French-Canadian Goldie Garneau—wasn't quite enough for me to get a sense for the nuances of my A.I. opponents, but that particular element in Empire of Sin's mashup of genres might be what appeals to me the most. There's RPG throughline in the missions, XCOM-esque combat during confrontations, and plenty of economic levers to pull in running your mob activities, but the idea that a boss like Goldie might become a thorn in my side not unlike a nuke-packing Gandhi in Civ is enticing because the stakes are so much more personal. Conflicts in Empire of Sin almost always concern a few city blocks in Chicago, lovingly rendered and traversable on foot. You can zoom out and play a lot of the game from a simplified tactical view, but I found it was much easier to get lost in its many layers while watching my boss and their rivals up close.
Romero says that a player can "absolutely" play Empire of Sin with a focus on its hardcore strategy elements from end to end, but it's the team's ultimate goal to have every element working together in harmony. The alternative, Romero believes, would be an incomplete experience that doesn't speak to the game's setting and theme.
"If you're building a criminal empire in 1920s Chicago, if you want to role play that, you also do have to build your empire while all these other bosses are trying to do the same," Romero says. "We didn't try to shoehorn these systems in—they were absolutely a necessary component of being able to do that."
Likewise, the diversity of Empire of Sin's boss lineup and its cast of recruitable gangsters is as intentional for Romero Games as it is natural; the historical research produced a "really rich cast" of real-life figures and various archetypes that Romero and Gardner had a hard time narrowing down. Even the alt-history inclusion of Elvira Duarte, who actually ran brothels in Nogales, Mexico, doesn't take a huge stretch of the imagination considering Mexico's illicit connections to Chicago crime in the era. For the sake of representation in games, which Romero Games is also considering in its voice casting, the real diversity of Chicago's criminal set in the 1920s is a great starting point. A hypothetical version of Empire of Sin that focused on big names like Capone and O'Banion alone would be weaker both in its variety and any claim to plausibility or authenticity.
The core philosophy I see running through Empire of Sin's bosses and all the way across its cast of recruitable gangsters is that you can't understand or simulate Prohibition-era Chicago without caring about its people. Yes, in aggregate you're dealing with gangs who can be crudely thought of as factions or teams, but those gangs are made up of individuals. Gloss over that either mechanically or in storytelling and you'd end up with something inert, a strategy game with interchangeable gangs where Chicago's just a pretty backdrop.
Instead, were I to keep playing as Jackson or Garneau, I wouldn't only learn about the bosses' lives, but the lives of their recruits as well. Getting friends or lovers together in your mob can have benefits or lead to special side-missions. Likewise, seeing a pair split across rival gangs can sow further division, or you might not be able to convince someone to join your crew if you're also employing someone they hate with a passion.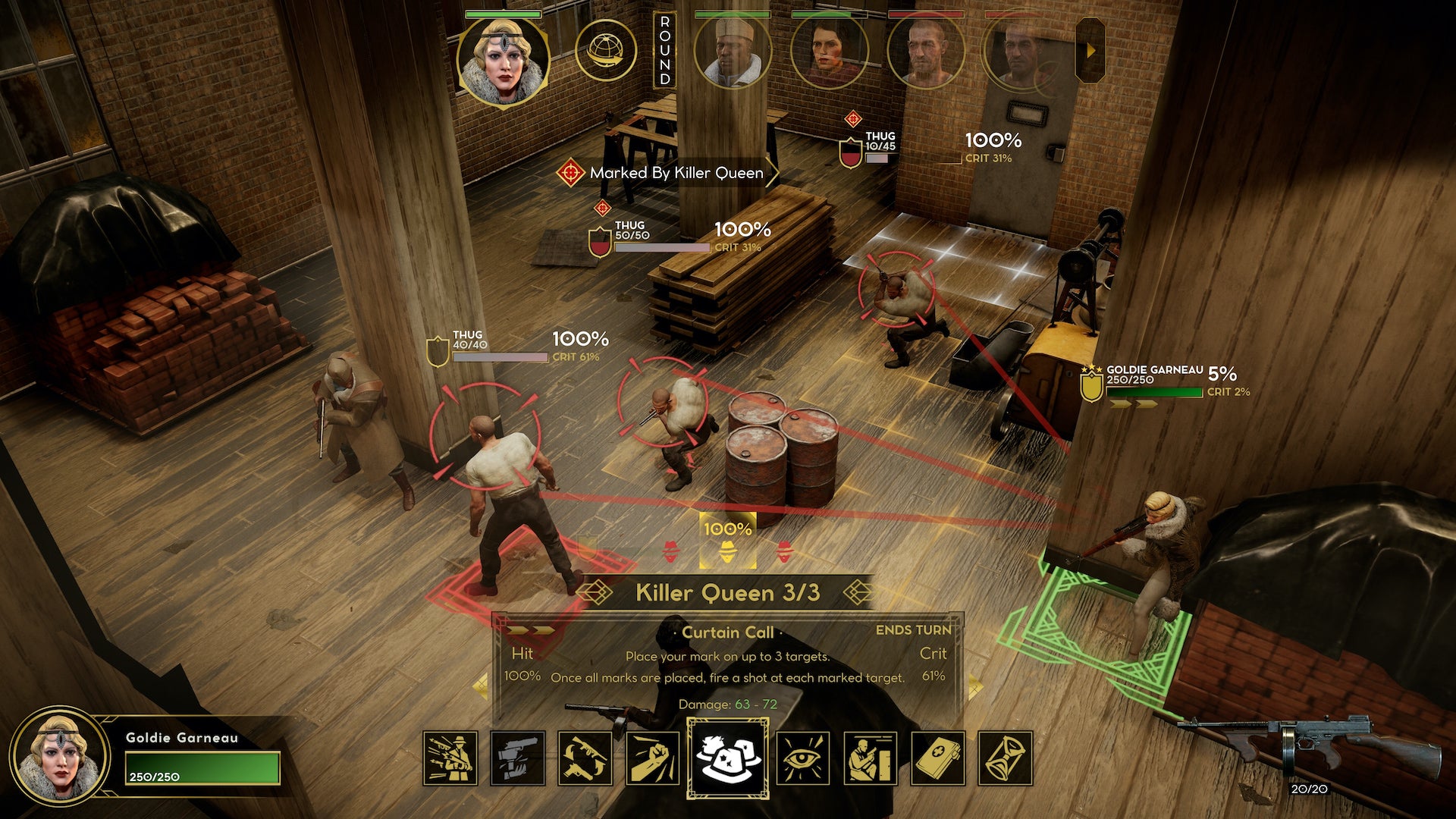 "These bespoke encounters—if you do this and this and this, this will happen—in the lexicon of RPGs, people often reference when Chrono Trigger did that." Romero says. "People went 'oh my God,' they were so blown away by that. Those little tiny touches that recognize what you did as a player, are the difference between an RPG that's cool and an RPG that I will always remember."
For Empire of Sin, whether or not it nails those moments will be a deciding factor for how it lands with players, because the ideas it's working with are too good to be let down by execution that's just merely 'okay.' By tying most every stat and trait to personalities and changing relationships, Empire of Sin could end up being a generator for countless Chicago mob "what if" stories, recounted by players in the same kind of detailed, suspenseful tones that people use to talk about their very best games of Civ, XCOM, and Crusader Kings.
It'll be a feat to pull that off, but at the very least, it seems like the dynamism of what they've built is already enough to wring that energy out of Empire of Sin's creators. "The first great example of it I have is Frankie Donovan," says Romero, recounting one of many times where the game served up a moment that just clicked for her. "Frankie has a hurl, which is a piece of sporting equipment that can also be used for murder. He basically kills one guy, goes over and whacks another guy, and the more he does it, the more powered up he gets. When it happened, I was like—excuse my language—but I was like 'holy fuck!' It was so cool."
That ability of Donovan's, just like Jackson's O'Banion-ending Last Rites, is only a small part of who that boss is. Robbed of all character and context, it might just sound like an absurdly strong move, but what Romero saw was an Irish speakeasy owner on a shocking rampage, one watched by his recruits and rival gangsters alike with awe (and perhaps horror).
"As a design team, those are the hard moments to get," Romero attests. "Testers would be like 'This might be a little overpowered,' and we'd go, 'Yes, we know, we'll figure out a way to compensate for it somewhere else!' Those types of moments are really important for us to hold on to."
Empire of Sin will launch on Dec. 1 for PC, Mac, PS4, Xbox One, and Nintendo Switch.