Elden Ring's Starved Community Are Making Their Own Version of the Game
One community has been particular productive in 2020.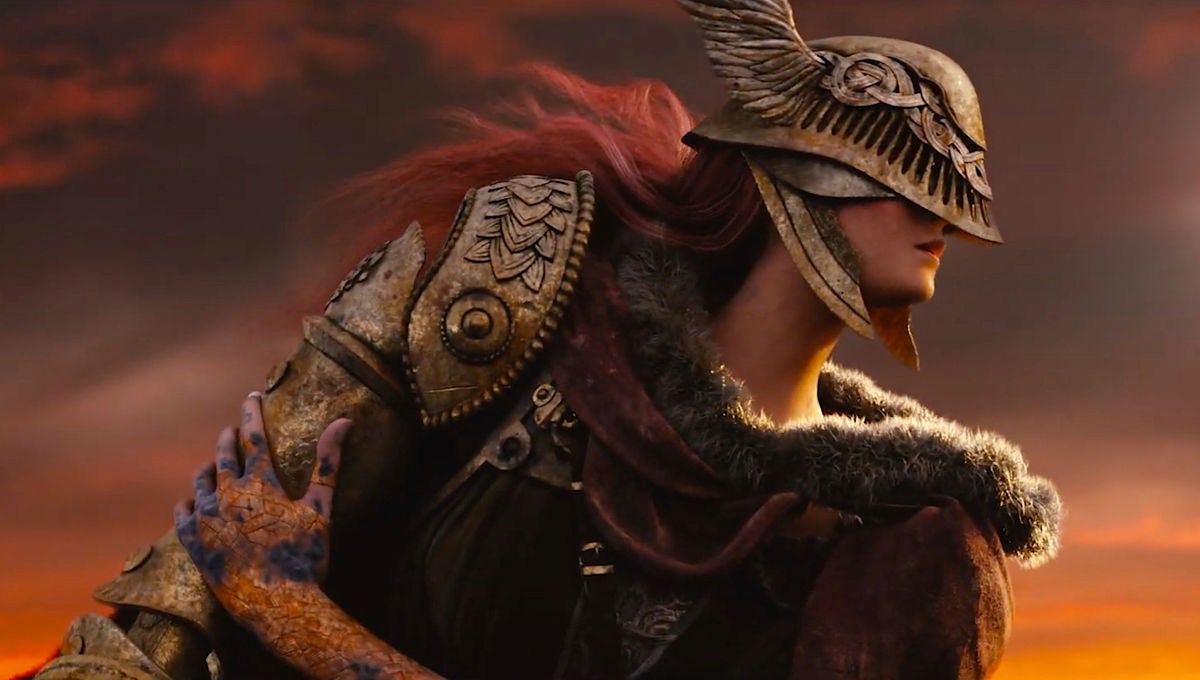 This article first appeared on USgamer, a partner publication of VG247. Some content, such as this article, has been migrated to VG247 for posterity after USgamer's closure - but it has not been edited or further vetted by the VG247 team.
An unnamed character awakens in a dark, dank cavern, their only companions a corpse and a torch. Picking up the torch, they slowly examine the corpse of the deceased, the light from the torch reaching the overbearing walls of the cave. Venturing forth into the dark, they encounter a gigantic rat, which proceeds to pummel them into the ground with fangs and claws. This is the Elden Ring fan-made playable demo in action.
Yes, you read that correctly. While the outside world has been patiently waiting and watching over the last 14 months since Elden Ring was first unveiled at E3 2019, the community surrounding the game has been incredibly busy. They've been creating their own game from the ground up, conjuring gargantuan bosses and dark worlds entirely from their imagination.
Entire Kingdoms have been created by strangers from across the world. Formidable bosses have been sketched out and designed, right down to their very moveset, and intricate items with secret capabilities have been meticulously thought out. The Elden Ring community have taken all their hopes for the game and put them into action.
A stunning example of the community at work is in the Three Norns boss. Created for a video competition run by noted Dark Souls loremaster VaatiVidya, the three characters vary in size, but each looks downright haunting. Riffing on old Norse warrior designs, it's left to your interpretation how each boss character would function. Personally, I imagine the smaller character would dart around the battlefield, while the bigger two would pummel me into the ground (sort of like a meaner Ornstein and Smough).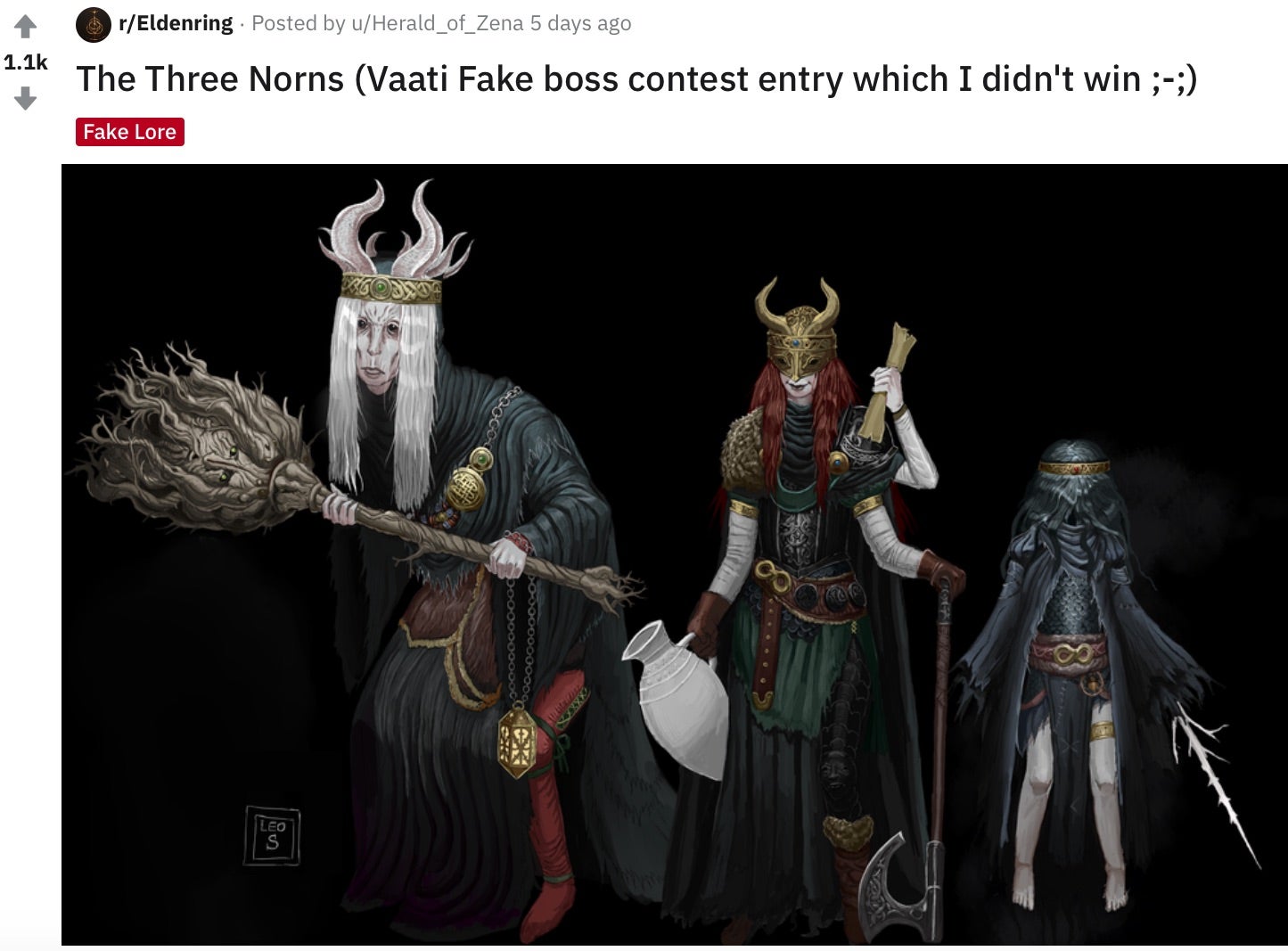 This all follows from Elden Ring developer FromSoftware going relatively radio silent after an unveiling at E3 2019. A moody trailer showcasing dark environments and a few grim-looking characters was the only thing the community had to go on for a game created by FromSoftware and Game of Thrones author George R.R. Martin. The Game Awards came and went in December 2019 with no new information about the game, and popular Elden Ring subredditor stray_demon tells me this was the turning point for the fake lore, taking it from a mere joke into something very passionate.
"Back in December 2019, people were already making fake bosses as a form of joke to pretend that the game is already out," they tell me over email. "I thought about making some posts as a joke, fake lore and stuff. A week into it, I actually started planning things like what I need to make etc."
In fact, it was stray_demon's first post in December 2019 that kicked the entire fake lore process off. "It's the story of a kingdom, I named it Eotem, which is in a transition period," they tell me of their original fake lore post (which has unfortunately since been removed from Reddit). "There was an old kingdom that used to exist in its place once, but it's in ruins or long forgotten. Things from that long past have started to affect the present, so that was the brief story I had in my mind, which I expanded upon slowly."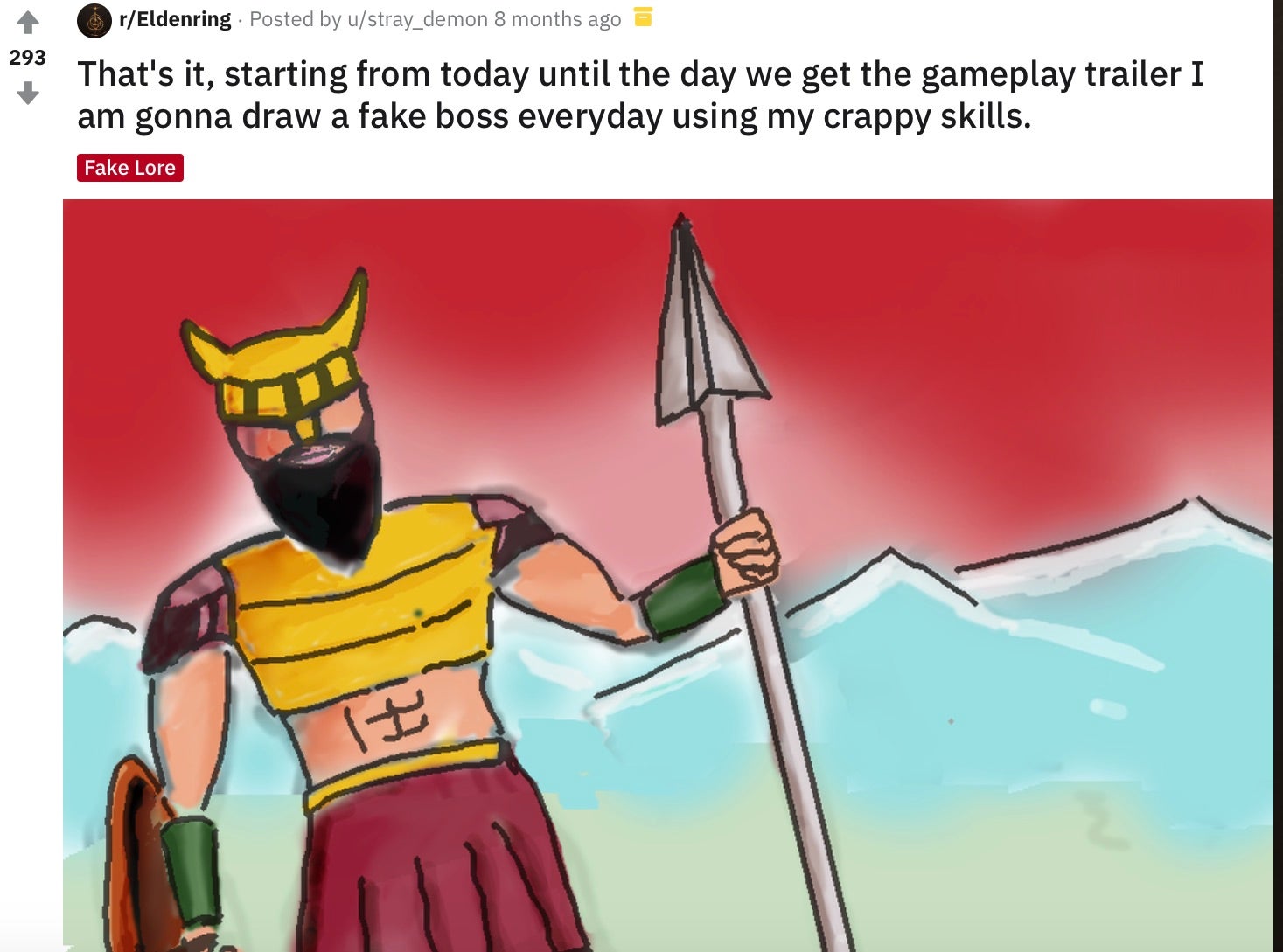 This debut fake lore post about the Kingdom of Eotem proved to be a catalyst for the creation of the fanmade fake lore about Elden Ring. Now, should you head over to the Elden Ring subreddit, you'll see tons of post under the official 'Fake Lore' tag, going into detail on a myriad of bosses, enemies, and world-building lore, all the way down to intricate details like specific encounters with enemies or seemingly useless items that hold a secret purpose.
"He is the father of this as far as I know," user Spriteblood tells me of stray_demons's storied history of posting fake Elden Ring lore. That original fake lore post was a bit of a rallying cry for users like Spireblood, but unlike stray_demon, Spriteblood went about fake lore creation in a very different way. They're actually a hobbyist game developer, having previously created first-person mods for Rollercoaster Tycoon and Age of Empires 2. Spriteblood reached out to the Elden Ring subreddit to gauge interest in a possible playable demo of Elden Ring using fanmade lore material, and the response was overwhelmingly in favor of a demo.
After a very rough test level, Spriteblood created "another gameplay demo based on a concept from stray_demon," and it was this that got the most attention, with over 1,100 upvotes at the time of writing. This is a gameplay demo based around The Quartered, a creation of stray_demon, basically a dismembered torso, head, and hands which move around on a series of poles, following a character which cuts them down with a sword.
"Users came to me and asked to join the development of an Elden Ring fake lore game," Spriteblood tells me. This community that's developing this game is housed in a Discord called Elden Ring: Fake Lore Edition, and at this point, they invited me into that same Discord group.
I was absolutely floored. There are well over 100 active users of the Fake Lore Discord, some of which have specific roles. There's dozens of playtesters, nine concept artists, five lore writers, four voice actors, four 3D modelers, three music composers, and a manager, all of whom are active daily members of the community. There's dedicated channels for concept art, lore writing, music, sound design, voice acting, and more.
In these channels, multiple contributors hash out the finer details of the section of the project that they're working on. For example, one user suggested implementing an 'FP' bar that's used for healing, which the player can build up by hitting enemies. The community decided this was a little too akin to Hollow Knight however, so the proposal was ultimately shot down in a democratic process.
User SuperMekaKaiju, another dedicated Elden Ring fake lore creator like Spriteblood and stray_demon, was similarly blown away upon discovering the full extent of the Elden Ring fake lore community. "The many stories, characters, factions, locations, weapons, and music, all left me feeling inspired," they tell me over email. "I started writing bits of lore and sending them to my friends who weren't in the subreddit. It was amazing to see so many contribute bits of their fakelore and how others would roll with it."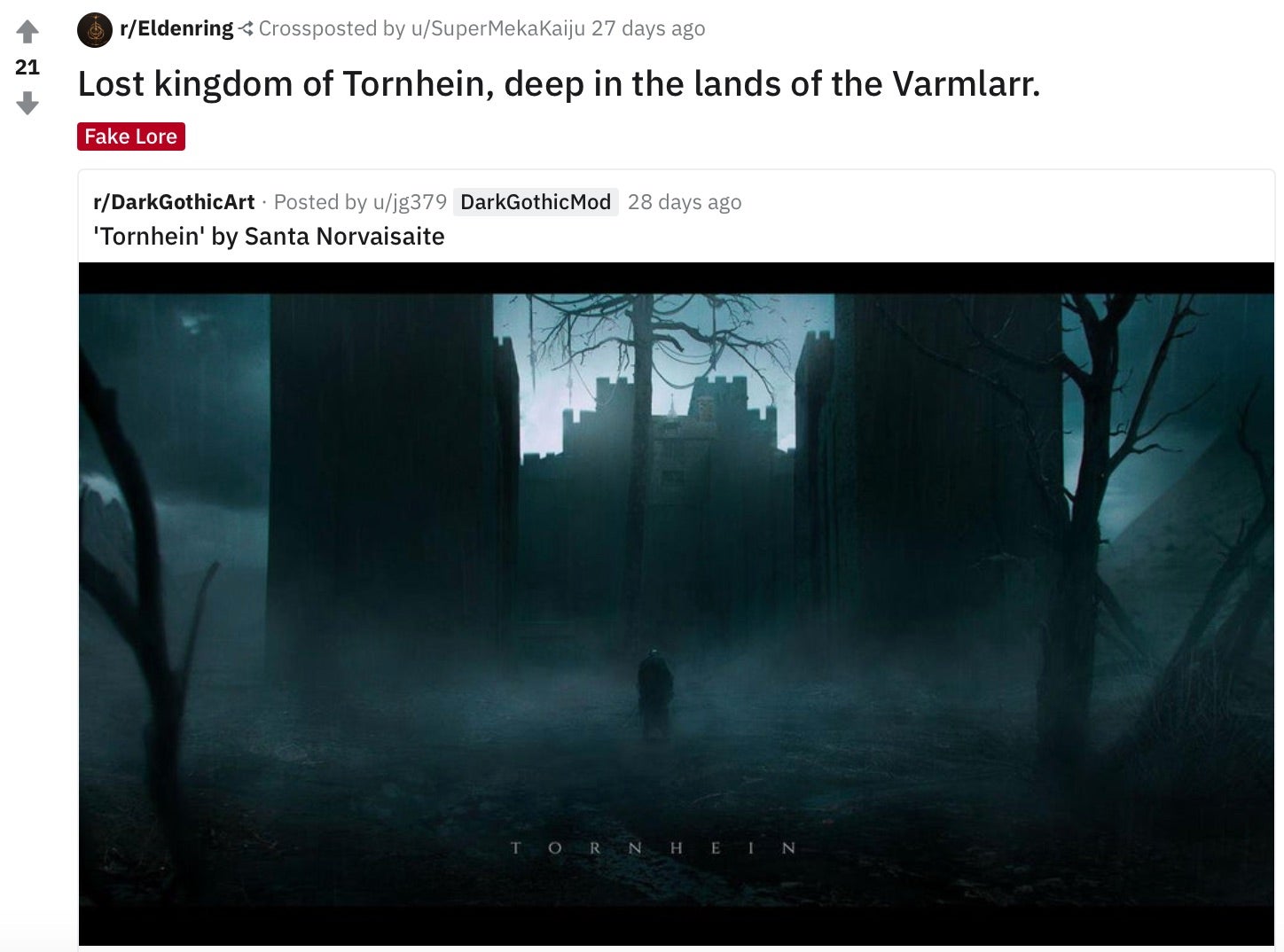 In dedicated channels like dialog writing, lore writing, concept art, and voice acting, users involved are generally free to contribute however they like. In the dialog writing for example, one user created an overbearing character called Old King Cairylth, who demands the player join them in their covenant (something Dark Souls players will be overly familiar with). There's fully expanded dialog lines for the Old King, should the player accept or reject their offer of joining the covenant.
Elsewhere in channels like voice acting, the process gets even more involved. Users hash out details about using recording mics on a professional level such as canceling out reverb, while recording minor details like combat sounds with exaggerated grunts and moans. These voice actors take character details from the lore writers and concept artists, such as a character like the Butcher, and riff off this, giving them a personality using a microphone.
It's clear that the Elden Ring: Fake Lore version takes cues from the past works of FromSoftware. It's still very much a dark, gritty game, perhaps what you'd expect from fans of Dark Souls and Bloodborne. With Dark Souls lore being purposefully aloof at times and often presented out of context, the nature of Elden Ring: Fake Lore's story coming in bits and pieces actually feels quite natural.
I had to wonder: what happens to all of this once FromSoftware actually begins revealing official information about Elden Ring? The community has thrived on the silence from developer FromSoftware and a lack of new details about the game, but at some point in the future that's all going to inevitably change.
"I guess we continue and rename it," Spriteblood theorizes, saying that if the community is game, they'd love to keep creating new concepts and ideas. "I think it will be a tad bittersweet," adds SuperMekaKaiju. "I'll certainly miss the magic of the community contributions leading up to it. I hope that we can continue to write our own fakelore, perhaps on a totally different subreddit. Maybe someone will make a game containing all the works from the community."
I don't think I was really prepared for just how dedicated the community behind Elden Ring really is. I went in only seeing the surface evidence of fake lore musings on the game's subreddit, but I never could have anticipated the sheer dedication behind the Fake Lore Discord. I also never expected to encounter the efforts that users were going to to provide voice acting, concept art, sound design, music, and battle animations for their own version of the game.
Like the people I've spoken to, I'm hoping the reveal of actual, concrete information surrounding Elden Ring doesn't deter this community from the work they've been putting together over the last few months. The pure passion on display here, all being channeled into one succinct project between complete strangers around the world, is quite an astounding achievement.