Either the PS4 Slim has escaped into the wild or someone's produced a terrific fake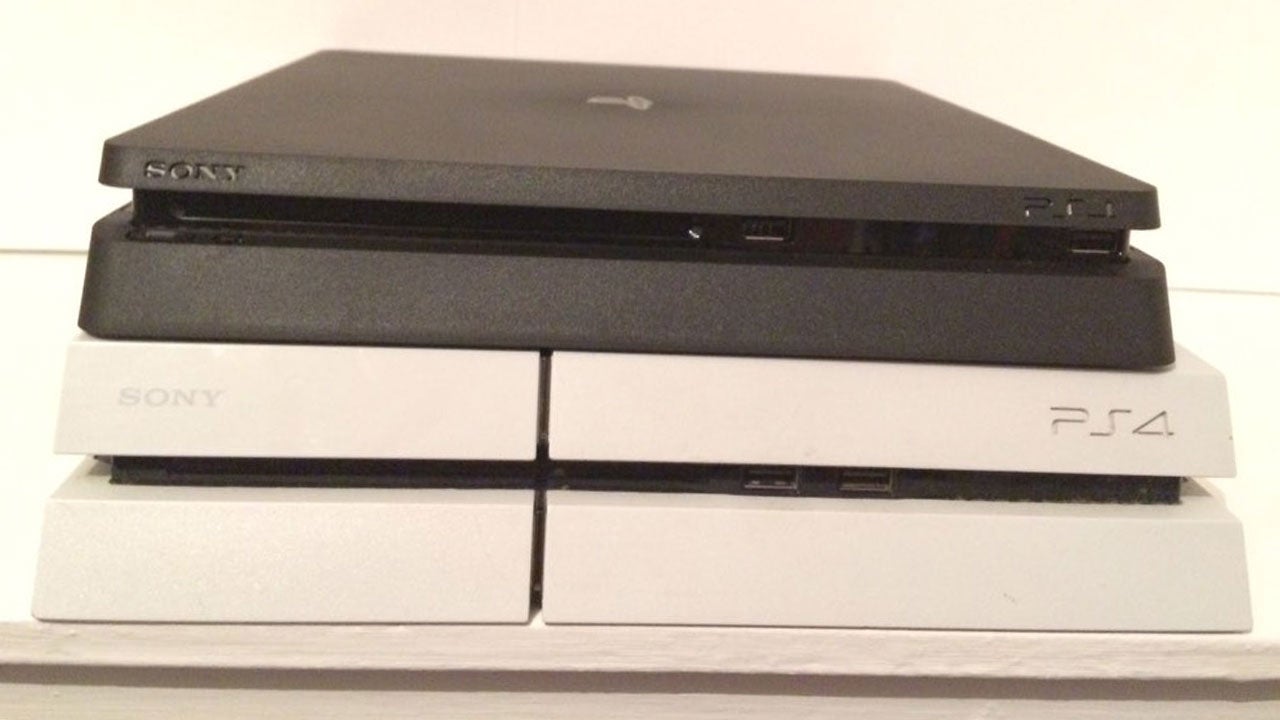 PS4 Slim doesn't officially exist, which just makes these photos all the more compelling.
Sony has never promised a new slimmer hardware revision of the PS4, but we're expecting it to happen eventually - which is why this weekend's hot rumour is doing the rounds.
The main source of the rumour is one shortmaneighty2 on Twitter. The story opened with tweets directed at several different Twitter users, including former IGN staff and Kinda Funny members Colin Moriarty and Greg Miller, with an image taken from a Gumtree UK ad.
@notaxation @GameOverGreggy Seen this for sale in my local classifieds. What do you think? Ps4 slim? pic.twitter.com/ZLvwh8DRsn

— shortman82 (@shortmaneighty2) August 21, 2016
The poster then said another couple of ads had cropped up, bringing the total to three - and all with different photos. All have since been removed, were sighted by multiple NeoGAF users, PushSquare and Kotaku before takedown. The various ads included photos of box contents as well as packaging the alleged console itself.
According to the tale, the poster then went and bought one of the advertised consoles, adding their own photos to a growing collection collated in the NeoGAF link above.
@notaxation @GameOverGreggy It's Legit :-D pic.twitter.com/vklTN8yQYm

— shortman82 (@shortmaneighty2) August 21, 2016
@MarsRSA pic.twitter.com/4NUCsNmLqi

— shortman82 (@shortmaneighty2) August 21, 2016
@GameOverGreggy @MarsRSA Anything for you Greg ;-) pic.twitter.com/ZRH66i9qRr

— shortman82 (@shortmaneighty2) August 21, 2016
The poster did not give many details of the unit beyond saying the hard drive bay is on the right hand side; some commenters had questioned the veracity of the photos based on the lack of obvious hard drive bay. They then promised more information is coming soon, and provided several new photos to PushSquare.
Hi guys, I will be honest. I am currently arranging for someone to do a full breakdown and video/pictures of the slim so watch this space :)

— shortman82 (@shortmaneighty2) August 21, 2016
If it is a fake, you have to admire the elaborate set up - posting multiple ads and seeding the story ahead of time by asking other people for verification, as well as producing a convincing enough model to hold up from multiple angles in photos (PhotoShop jobs are usually given away by lighting issues).
There's reason to believe it might be real, though; A PS4 Slim seems like a sensible release at this stage in the console's life cycle. Announcing a product and making it available for purchase on the same day is definitely not unheard of, and as you may recall, Sony has called a PlayStation Meeting for early September.
We had expected Sony to announce the PS4 Neo at last, but it might surprise us with a new hardware revision - instead or as well. (We don't think this is the Neo; it's unlikely the newer, beefier console will be available so soon, or in such a small form factor.)
If Sony were planning a reveal-and-release, retailers would need stock in advance - and that means leaks are perhaps inevitable. That could well be the source of this if it is legitimate. You'll have to make up your own mind on that; the crowd is generally better at pulling apart photo trickery and spoofs than we are.