EA's GC Press Event: Brutal Legend demo for September 17th [Update]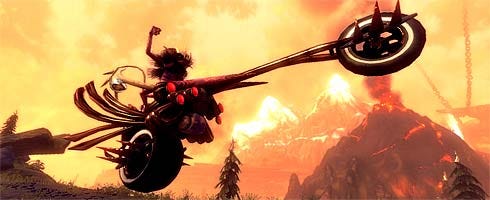 Tim Schaffer just announced a Brutal Legend demo for Septmeber 17th on PlayStation Network and Xbox Live Marketplace.
It's straight from the EA conference in Cologne.
Update: PR added. It's below.
DOUBLE FINE AND EA ROCK XBOX LIVE AND PLAYSTATION NETWORK WITH BRÜTAL LEGEND DEMO
Players Rewarded with Early Access to Tim Schafer's Heavy Metal Action Opus
Guildford, UK – August 18, 2009 – Electronic Arts Inc. (NASDAQ: ERTS) and Double Fine Productions Inc. today announced that gamers nationwide will get a sneak peek at this Rocktober's heavy metal action game Brütal Legend™, when the demo launches in September. In just one month, players can download the demo and experience first-hand the face-melting action that G4 Networks honored with the coveted "Best of E3" award. For complete information regarding the availability of the Brütal Legend demo please visit www.brutallegend.com/demo
Brütal Legend is an epic action game from visionary developer Tim Schafer. Jack Black stars as Eddie Riggs, a legendary roadie summoned to a heavy metal world where he must fight for the liberation of humanity from the demon Emperor Doviculus. In this wild world, mountains are made of amplifiers, killer spiders spin guitar strings and rock legends roam the landscape. In the demo, players get a preview of the game's non-stop hack n' slash action and mayhem. The demo opens as Eddie awakes in the age of metal where he must quickly learn how to use the powerful ancient axe, 'The Separator' and electrifying guitar 'Clementine' to unleash combo moves that destroy the demons of darkness.
As he comes face-to-face with zipper-faced nuns and devilish druids, Eddie encounters the beautiful and tough-as-nails Ophelia, an ally and would-be love interest. Together, Eddie and Ophelia use double team attacks for more powerful combo moves to defeat the rock demons that are after them. Luckily, they are bestowed with a super-charged, druid-destroying vehicle, 'The Deuce' that can be upgraded with weapons and armor throughout the game. From the bowels of the druid dungeon to the tops of corpse mountains, the Brütal Legend demo is just the beginning of an epic journey.
"We just couldn't wait," said Tim Schafer, President of Double Fine Productions. "Villagers have surrounded our offices with torches, demanding the game. So we're releasing a demo and hope that this taste of metal will keep the mob at bay until Brütal Legend comes out this Rocktober."
Brütal Legend will launch on the Xbox 360® video game and entertainment system and the PLAYSTATION®3 computer entertainment system. The game is set to create headbanger whiplash when it ships on October 13th in North America and October 16th in Europe.
For more information on Brütal Legend and to sign up for the Brütal Legend newsletter, please visit www.brutallegend.com. To follow Brütal Legend on Twitter please visit http://twitter.com/brutallegend