EA removes Taliban from Medal of Honor for "the men and women serving in the military"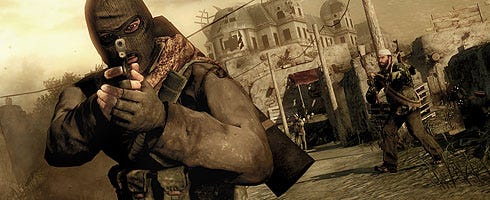 Greg Goodrich, executive producer for Medal of Honor, has stated over on the game's official blog that EA has removed the Taliban from the multiplayer portion of the game.
The publisher has recently come under fire from both the families of American soldiers fighting in the Middle East and the US Military for the inclusion, and the pressure finally got to the company, apparently. Therefore, instead, the Taliban's name has been changed in the miltiplayer portion to "Opposing Forces" so as not to insult or dishonor anyone serving in the military, or their families.
"In the past few months, we have received feedback from all over the world regarding the multiplayer portion of Medal of Honor," wrote Goodrich. "We've received notes from gamers, active military, and friends and family of servicemen and women currently deployed overseas. The majority of this feedback has been overwhelmingly positive. For this, the Medal of Honor team is deeply appreciative.
"However, we have also received feedback from friends and families of fallen soldiers who have expressed concern over the inclusion of the Taliban in the multiplayer portion of our game. This is a very important voice to the Medal of Honor team. This is a voice that has earned the right to be listened to. It is a voice that we care deeply about. Because of this, and because the heartbeat of Medal of Honor has always resided in the reverence for American and Allied soldiers, we have decided to rename the opposing team in Medal of Honor multiplayer from Taliban to Opposing Force.
"While this change should not directly affect gamers, as it does not fundamentally alter the gameplay, we are making this change for the men and women serving in the military and for the families of those who have paid the ultimate sacrifice - this franchise will never willfully disrespect, intentionally or otherwise, your memory and service.
"To all who serve - we appreciate you, we thank you, and we do not take you for granted. And to the Soldiers, Sailors, Airmen and Marines currently serving overseas, stay safe and come home soon."
In September, GameStop stores on military bases stopped taking pre-orders for the game, and decided not to sell it once it hit shelves "out of respect for our past and present men and women in uniform".
That same month, CEO John Riccitiello stated that Medal of Honor "deeply honors the effort of American troops fighting in Afghanistan" and the controversy surrounding the ability to play as the Taliban "caught him by surprise".
Medal of Honor releases on October 12 in the US, and October 15 in the UK for PC, PS3, and Xbox 360.