Dust 514 and EVE will intersect over time with add-ons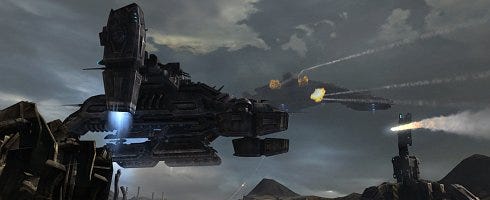 Dust 514 creative director Atli Mar Sveinsson has explained to Edge how the game will intersect with Eve Online, with Eve's corporations "ordering battles in Dust to claim control of planets".
This bit of interplay and interaction will emerge over time, as CCP plans on updating the game with add-ons a couple times per year and keeping things regulated a bit.
"We have aspirations to add on to Dust twice a year – we have plans for expansions like we have with Eve, and we've already drafted out a wishlist of things," says Sveinsson. "These will involve more involvement for Eve players with Dust, but we're being very careful.
"Take the economy: this needs to be regulated at first, as the exchange rate of ISK [Eve's in-game currency] cannot be affected by one game or the other too much at the start. Eve is a player-driven economy, Dust will use a hybrid model and then, as we learn more, we'll deregulate in stages.
"The players of Eve have always been the greatest source of awesomeness. We tend to facilitate the things they invent for themselves, helping them to make their ideas work.
"Dust will be that sort of thing all over again."
More through the link.