Dragon Age II to use Steam DRM, retail version to require occasional online verification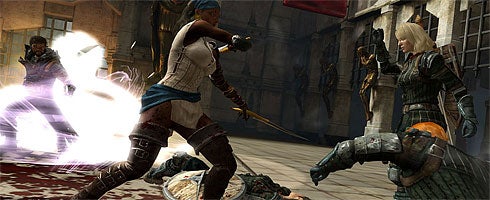 Wondering what sort of monstrous DRM beast you'll have to slay to get at the meat of Dragon Age II?
Let's put it this way: you've certainly had to tussle with far, far worse.
After fans started getting antsy about the role DRM would play in the role-playing sequel, BioWare took to its Social Network to clear up the confusion.
The game's Steam version, BioWare's Chris Priestly explained, will use Steam DRM. No strings attached. It's as simple as that.
Retail, meanwhile, provides a few more hoops for you to jump through. There aren't any long-term install limits or anything like that, but only five PCs can access the game every 24 hours. Also, offline play is an option, but you'll have to sign-in online after "a select period of days."
Oh, and just in case you were afraid it bit the big one with Dead Space 2, EA's beloved release control is back and will once again keep your game under lock and key until its release date has passed.
In other words, it's hardly the end of the world. Well, unless your secret instantly fatal kryptonite is minor inconveniences.