Dragon Age: Faces of Thedas review - a lovingly crafted RPG resource, but non-essential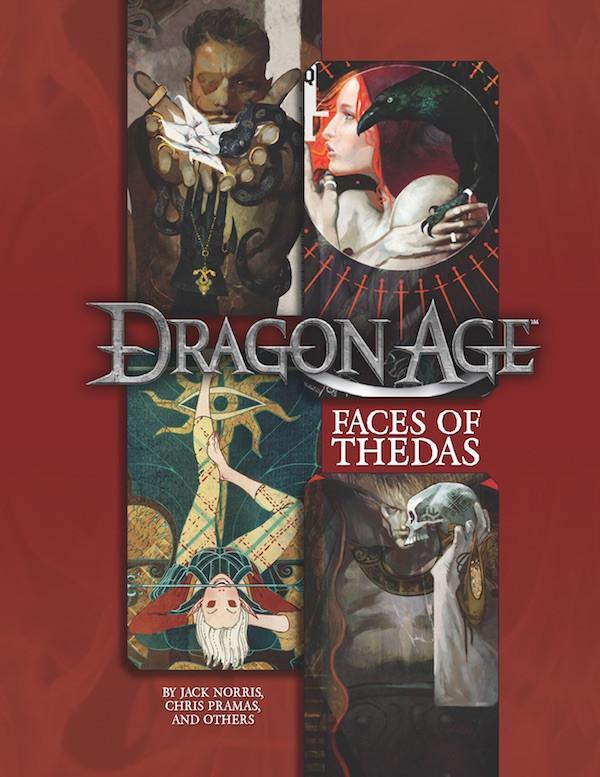 Green Ronin's Dragon Age is the gold standard of tabletop RPGs adapted from video games. It captures all the excitement of Bioware's unique setting, the joy of fascinating characters, and packages the entire experience into a system that appeals to RPG veterans and newcomers alike. Unfortunately, Bioware's approval process is a more cunning foe than any darkspawn, which left us waiting four years for a new release in GR's Dragon Age line - which is excruciating when the last product was a new core book.
The latest sourcebook, Faces of Thedas, is dedicated to porting series elements that couldn't fit in the main volume, most notably the majority of Bioware's companions. Players can finally banter with Varric, bond with Alistair, and flirt with Isabela without worrying about accurate combat statistics if the darkspawn attack your camp. Add some expanded relationship rules and Faces will feel like an essential add-on for Dragon Age fans. The only question is whether your tabletop group was making do with house rules instead.
The vast majority of Faces of Thedas' 130 pages is dedicated to, unsurprisingly, the familiar faces of Thedas. Green Ronin has included full stat blocks for the most memorable companions and NPCs from Origins, Dragon Age 2, and Inquisition, along with detailed histories, personality notes, and past relationships. The list also features a few major villains and antagonists, including Loghain, Flemeth, the Architect, and the Archdemon himself. Game masters can even introduce Bodhan and Sandal Feddic as shopkeepers if they so choose.
"Faces of Thedas includes variants that match your chosen world state. Alistair, for example, has stat blocks for Alistair the Warden, Alistair the Drunk, and King Alistair"
These memorable figures are largely intended for game masters to run as NPCs, but players can take control as needed. If a new player is visiting your ongoing game, it's far easier to give them Zevran or Cassandra than design a new character from scratch. And if they stick around for the campaign, each entry includes advancement suggestions so players can level them up alongside the party.
As you might expect, Dragon Age companions change dramatically depending on choices you made in the series. For that reason, GR included variants that match your chosen world state. Alistair, for example, has stat blocks for Alistair the Warden, Alistair the Drunk, and King Alistair. It's a minor touch, but one that lets game masters customise the setting to the group's liking.
Beyond character statistics, there really isn't much from a gameplay perspective for players seeking new mechanics. What's more, Faces of Thedas doesn't include every single companion, which means your personal favorite might not be included. Most notably, DLC characters like Shale and Tallis didn't make the cut, the latter of which was especially surprising since GR already covered her in a PDF supplement. All the same, having so many officially-tested companions in one place is immensely helpful, saving you the time of scouring Reddit for custom statistics. It also makes Faces of Thedas an enjoyable read in itself, as you browse through its pages and reminisce about your favorite in-game encounters.
The second Faces of Thedas chapter adds organisations pulled directly from video game lore. Your hero could join Kirkwall's criminal underworld with the Coterie, fight darkspawn alongside the Legion of the Dead, or tackle assassination contracts from the House of Crows. Each entry outlines rules for joining and advancing within an organisation, in-game benefits as a member, and honorary titles your character might earn. Game masters also get tips for running the organisation, both as allies and potential antagonists.
This chapter is brief compared to companion entries, and does little more than adapt organisations that weren't in the core book. But these entries do add setting flavour and possible character goals that help Dragon Age fans acclimatise to the tabletop edition.
Romance and relationships are core features of most Bioware games, to the point that it's surprising Green Ronin didn't address them in more detail. The primary romance mechanic was buried within Dragon Age's crit system, where players could attempt to seduce anyone, but required stunt points to trigger an emotional connection. In Faces of Thedas, Green Ronin goes a few steps further with a relationship system that addresses any possible character bond, positive or negative.
In this new system, all player characters begin with two bonds that highlight their feelings for a particular individual, be they a friend, mentor, potential romantic partner, or rival. As players level up, they earn intensity points which can be invested in current relationships, or used to forge new ones. As a relationship's intensity increases, characters earn free stunts for actions relating to that bond, encouraging players to develop the bond in-game.
The relationship chapter is the shortest section of Faces of Thedas, but it covers a wide range of possibilities for your Dragon Age campaign. Characters who wish to be self-sufficient like Morrigan can invest points in themselves, boosting their abilities when they stand alone. Players must get permission before initiating relationships with other players, even if to keep things from becoming awkward around the table. If a bonded NPC dies, intensity can automatically be reinvested across your other relationships to show who your character turns to when addressing loss.
For Dragon Age tabletop fans, your use for Faces of Thedas will likely be highly specific. Unless you're planning to put every character into your campaign, most readers will only draw from a few select pages and ignore that. For some players, that will make a $35 volume feel overpriced, despite the obvious love for Dragon Age that GR poured into it. Faces of Thedas may also feel unnecessary to groups who already developed custom companions over the past four years.
"The opportunity to interact with fan-favorite characters will have immense value for Bioware fans, and the relationship rules can encourage roleplay opportunities for new players"
But the opportunity to interact with fan-favorite characters will have immense value for Bioware fans, and the relationship rules can encourage roleplay opportunities for new players. Even if you never try the tabletop RPG, Faces of Thedas would make a great coffee table book thanks to its excellent artwork and professional layout.
Faces of Thedas is a great resource, but an optional one for game masters working from the core book. Your mileage with it will depend on your love for Dragon Age itself - and whether your group would relish to opportunity to reminisce with some old friends.
Dragon Age players and game masters can pre-order Faces of Thedas from Green Ronin, and gain a PDF copy immediately for an additional $5.