Doom Eternal has third-person cutscenes because it's "more efficient"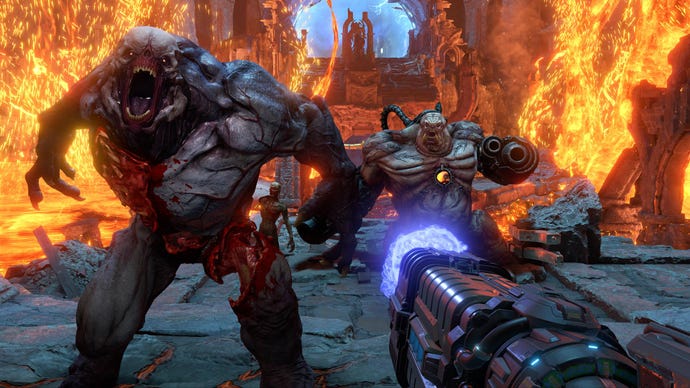 When people think back to Doom 2016, outside of all the ripping and tearing, one thing that comes to mind is when Doomslayer pulls a terminal apart rather than listen to exposition.
While it's a cool moment that gets across who you are - without ever leaving your perspective - some of the later story moments do force you to listen. Sure, you can still run around the room while someone talks at you, but your guy isn't doing anything cool. Developer id Software is switching things up with this sequel.
"I think with Doom 2016 players really got into the lore, they got into the power of who he is," creative director Hugo Martin told VG247 during an E3 interview. "But we did it in ways that were, I would call them a bit harder core. I mean if you wanted to know the Slayer testaments you had to go up to a rock and listen to a booming voice, which was amazing, but you kind of had to stand there and listen to the rock for the most part.
"So with this game, and all we wanted to do, and the questions we wanted to answer, and the whole new spectacle of it all, we really felt like telling parts of the story through more conventional means, we could really boost the feel of who the Slayer is, what he's doing. It just gives you a lot of freedom to tell the story and represent the lore in a way that's very approachable and understandable."
The issue with telling your story only in first-person is that you can never leave your perspective, which limits what you can show. Doom Eternal still has these first-person moments, of course - in one section Doomslayer fires himself out of a cannon in first-person, but the camera switches to third-person to see the demons reacting as he crashes through their base.
"And it's more efficient," executive producer Marty Stratton added. "I mean a lot of times if you stay first-person, it's harder, it gets more complicated, there's more moments of, 'stand still while someone vomits exposition at you and, why aren't I engaging, why am I standing still, I'm the Doom Slayer?' So if you notice with all the scenes, there's a fluidity to them. Every single decision, whether it's third-person cutscenes or big floating guns, it's in the service of the game. That's it. It's better for the game, we do it."
For more, check out our Doom Eternal preview.