Doom Eternal Hands-on: Ripping, Tearing, and Reminding Us Of Akira
We played the first three hours of Doom Eternal, here's what we thought.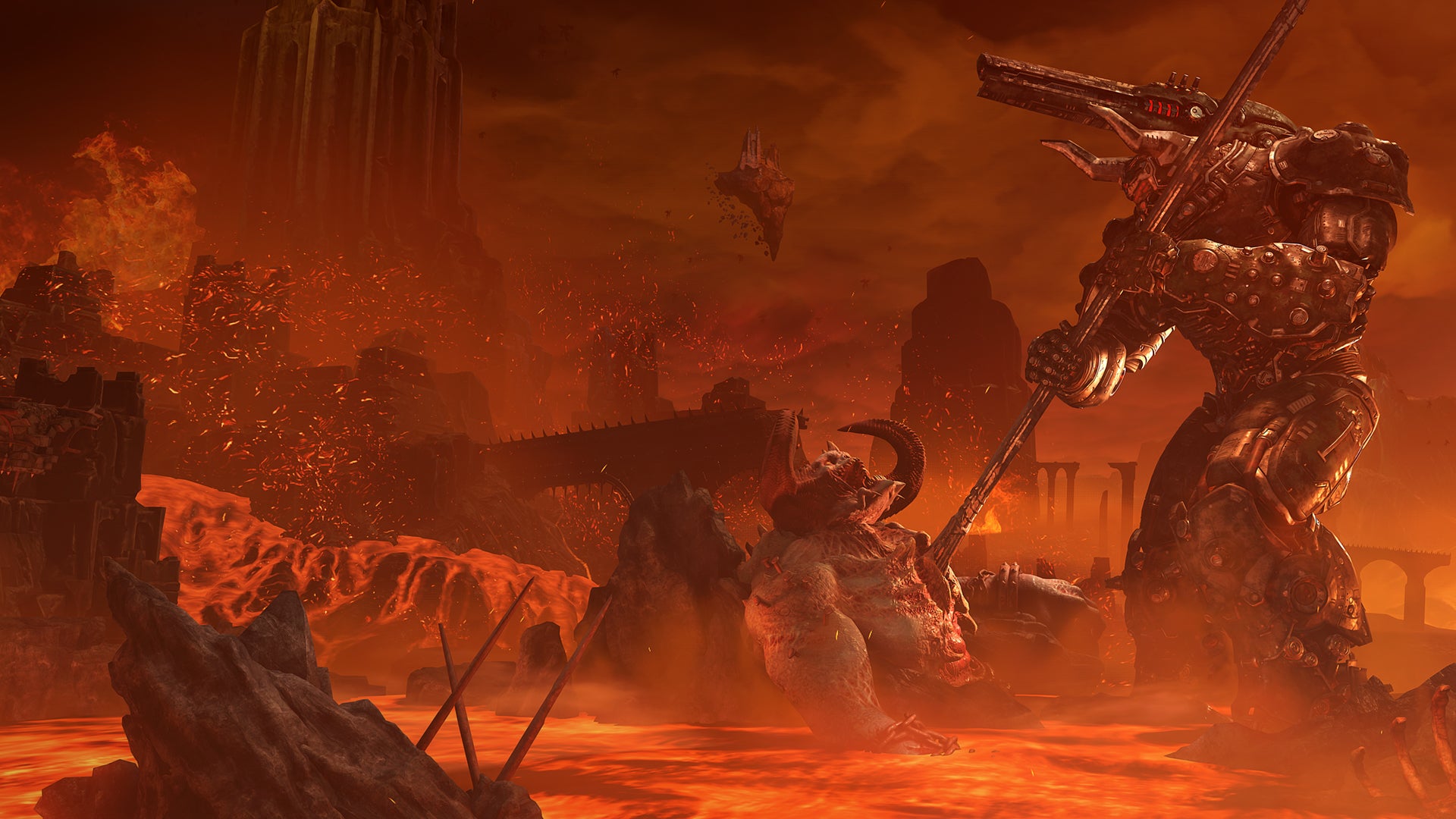 This article first appeared on USgamer, a partner publication of VG247. Some content, such as this article, has been migrated to VG247 for posterity after USgamer's closure - but it has not been edited or further vetted by the VG247 team.
Doom Eternal is the first game brought up on the new id Tech 7 engine, but it wasn't until my demo last week that I really saw its new potential. It's a clear moment where it all stopped looking like regular ol' Doom and started looking like something far more visually interesting. It's early on, when I stepped out into an area overrun by dilapidated, abandoned mechs and gooey guts covering almost every other surface. It's a leaving-the-Fallout-vault-type moment, only it happens a few missions deep, and it's just for one expansive level. It's a scene that instantly brings to mind one thing only: anime.
The guts are reminiscent of the climactic end of Akira; the mechs of every mech show out there. The environment tells a story of failure. "There was clearly a struggle against humanity and the demons," Creative Director Hugo Martin says of the landscape. Humanity, basically, is failing in the struggle. In the opening cinematic, a news report says matter-of-factly that 60% of humanity has been wiped out by demons. You hear people crying for someone to help in the background. Hell has truly come to Earth, and now it's up to Doom Slayer to save it.
So why did he wait around for 60% of humanity to be killed off to get down there and unload his shotgun?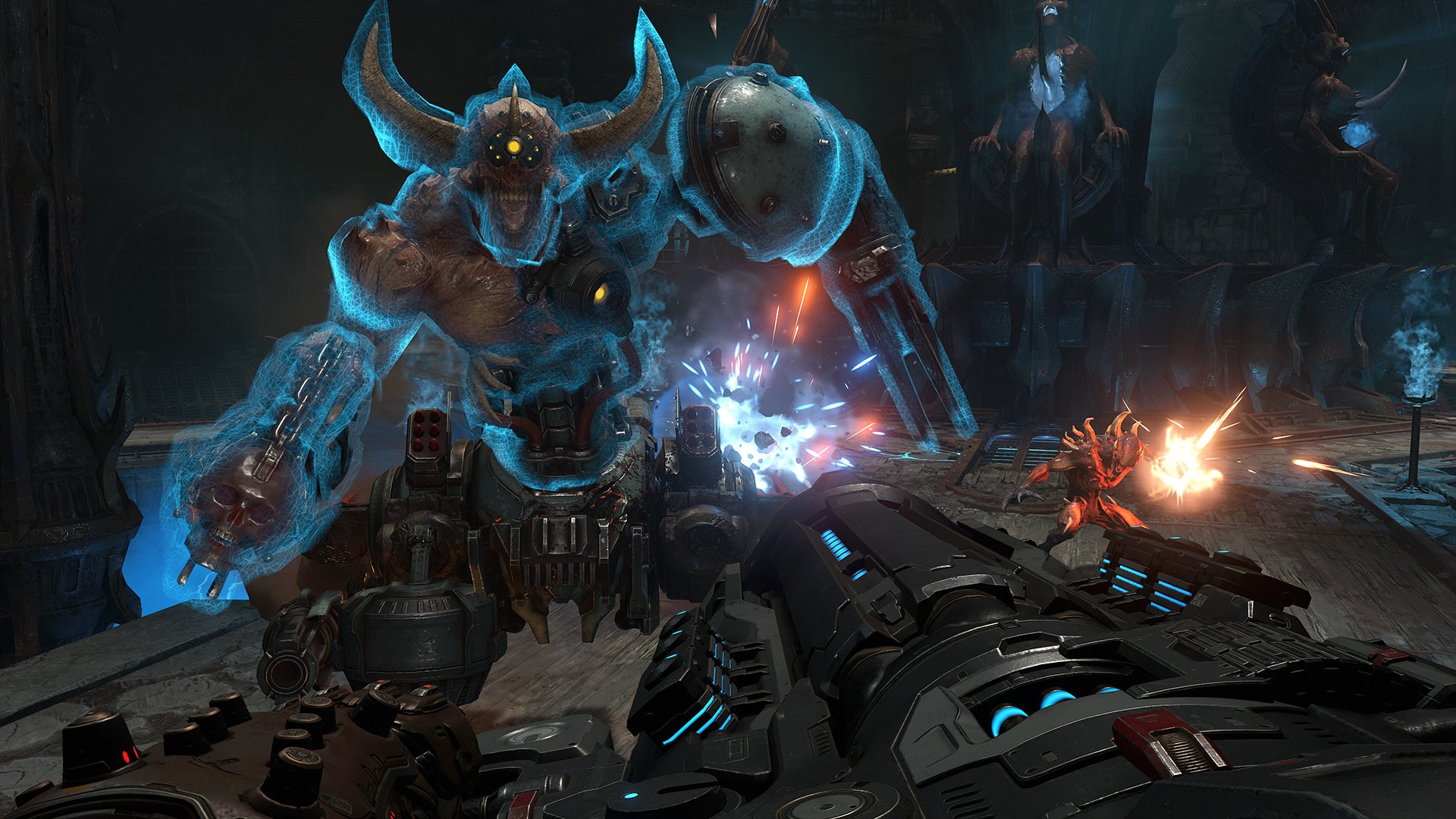 "It happened really fast," explains Martin. "And also, overall it took weeks to get to the way Earth looks now." In Doom Eternal, id Software isn't abandoning the tongue-in-cheek storytelling that defined 2016's Doom. Throughout exploring literal hell on Earth, diegetic recordings cheerfully to talk about the demonic takeover-like asking citizens to line up so that they can be murdered by the flocks of demons. The destruction is being led by three Hell Priests, and Doom Slayer has to kill all three to (hopefully) put an end to the madness.
It's all very Doom-like. It sounds like Doom. (Mick Gordon's score is as cool-in-the-moment as ever.) It plays like Doom. It makes me chuckle like a 13-year-old idiot kid playing any Doom. So imagine my surprise when the first thing I thought when popping into this ooey gooey, battle-torn mission was: Is this just anime?
Doom Eternal immediately looks a lot more striking because of how it branches out, scenery wise, away from the muddy redness that permeated Doom (2016). From the jump, Doom Eternal breaks away from the familiar industrial interiors and Martian landscapes. In one segment, you even plunge into the intestinal innards of a giant demon, which was slain by a mech's sword. (You activate the giant electric sword—which looks similar to what's been teased in trailers—and slide down it.)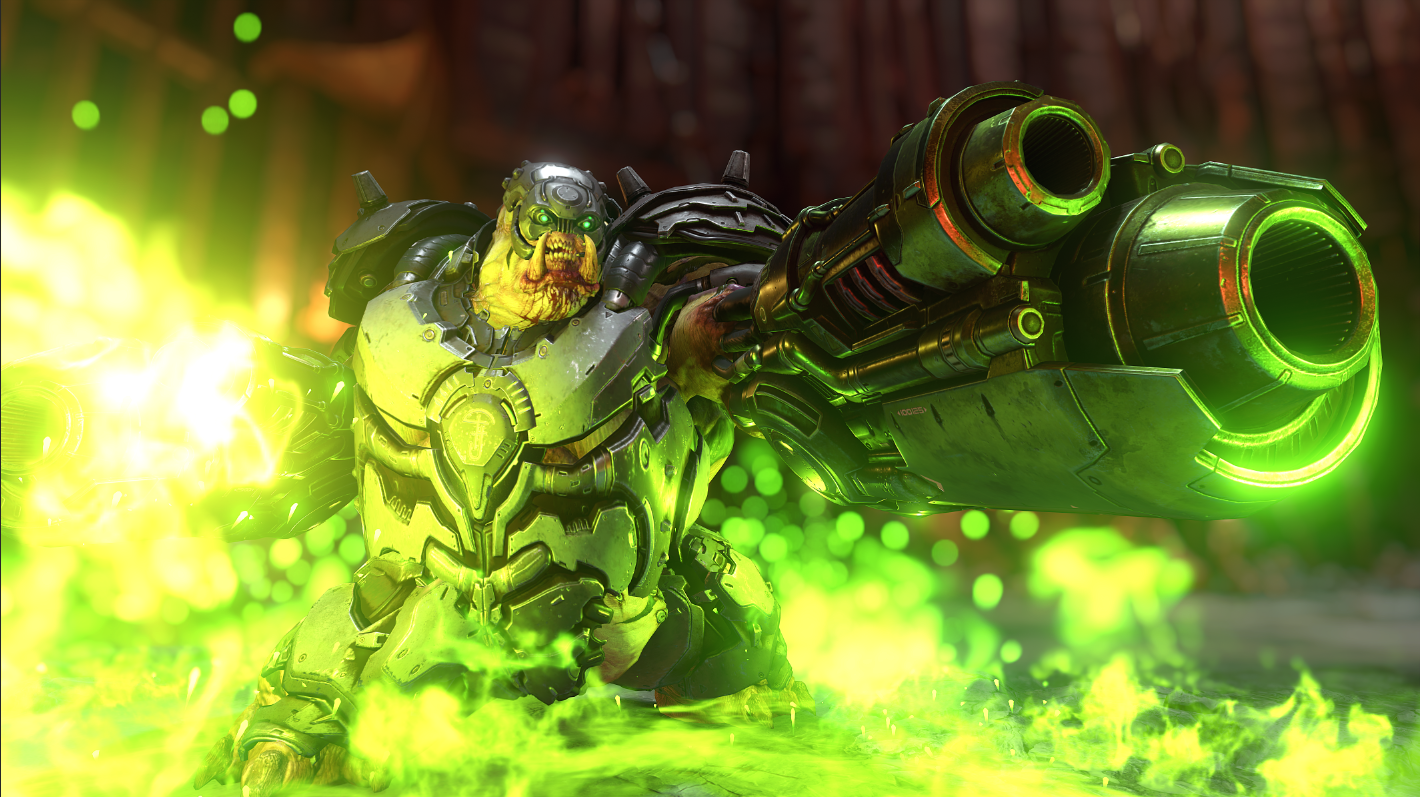 The environments are a lot more lively in general, and are more interesting to explore and find secrets in because of it. The new engine, Martin says, is particularly great from a mechanical standpoint. It allows for touches like the ability to shoot off the turret on top of an Arachnotron, Resident Evil 2-style. "You're kind of building the race car engine while you're still needing to test it and go around the track," he says of the challenges in developing a game on a brand new engine, adding quickly that he's maybe not the most authoritative person to speak on the tech of it all compared to his co-director, Marty Stratton. "But we have an amazing team that are really committed to pushing the boundaries of what our engines can do."
As for the Doom Slayer, he's still moody and silent, though he has a wider skillset now. No longer does he just chainsaw for ammo-he sets demons on fire for armor too; he can dash or grab onto designated walls. He can swing from monkey bars, like a kid on a beast-infested playground where the tanbark is always lava.
Since the last Doom, Doom Slayer's apparently been taking some much needed R&R. Preparing for the next demon apocalypse, I suppose.
"Some time has taken place," says Martin of what's transpired since Doom (2016). "[Doom Slayer's] back to doing what he does, which is, you know, slaughtering demons. [A]s you saw in the intro cinematic, he's there to fix the problem the only way he knows how: by murdering demons. But it's cool because it's like, is he there to save people or is he there to murder demons? [...] Part of that is, does he care about saving people or does he just want to murder demons? The answer to that is kind of what we want fans debating."
A Doom Slayer with a more defined, or at least debatable, moral compass sure is a different direction for the series compared to the Slayer we saw in Doom (2016) who was ready to rip and tear immediately after bursting out of a sarcophagus. Even after three hours though, it's that one Akira-like level that's stuck with me the very most. Since my demo, I've been replaying how the level twists and folds into itself in my head-like the aforementioned moment where I climbed up a giant mech, and activated their giant sword as a platform. Doom Eternal finally looks as cool as it's always played. Maybe that's thanks to id Tech 7; maybe that's thanks to just the road paved by the last campaign, or maybe it's thanks to anime. Who knows.
Doom Eternal is out on March 20, 2020 on PlayStation 4, Xbox One, and PC. Its Nintendo Switch port is coming a later, but as Martin says, sharing Doom Eternal's main release date with another big Switch release is something of an honor. "The fact that we're coming out on the same day as Animal Crossing, it just speaks to the incredible diversity that we're seeing in games right now," he says. For more ripping and tearing, check out the other surprising Nintendo game that Martin pointed to as a point of comparison for what's new in Doom Eternal.