Does NHL 16 Hold Up? Where the Series Sits Going into NHL 17
Kat looks back on her thoughts from last year as she prepares for this year's version of EA's hockey simulator.

This article first appeared on USgamer, a partner publication of VG247. Some content, such as this article, has been migrated to VG247 for posterity after USgamer's closure - but it has not been edited or further vetted by the VG247 team.
Another crop of annual sports games are now upon us. Madden NFL 17 launched a couple weeks ago, and FIFA, NHL, PES, and NBA are just around the corner. But before we head into the new games, it's worth taking a look back.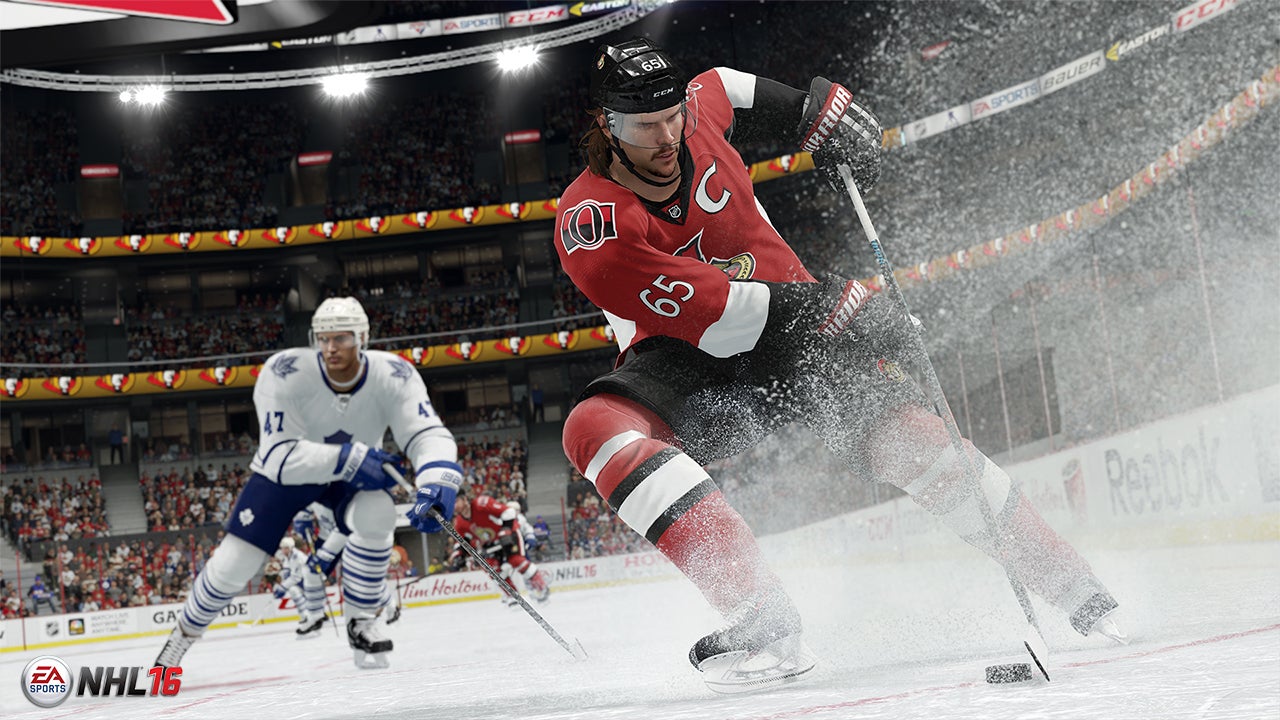 Sports games, for better worse, are very much driven by first impressions. Most of their flaws don't really become apparent until days, weeks, or months after launch, which can make the initial review seem overly positive. It's also easy be blinded by the issues of a previous year's game and end up overlooking the real progress made by the new version.
With that, let's go back and time and take another look at NHL 16. Was I too easy on it? Too hard? Was it a step forward, or a step back? Here are my thoughts.
What we said at the time
From my review: "There's a lot to like about NHL 16. EA Canada has worked diligently to bring back almost all of the features that were missing last year, with Be a Pro and EASHL being notably improved. The presentation has also received a really nice bump, and the gameplay on the ice is smoother and more exciting than ever. While it's more ambitious than it looks, though, the next step remains elusive. For now, we'll just have to settle for a really solid hockey sim."
After the disaster of NHL 15, EA was faced with the task of earning back the faith of the fans for NHL 16. They were successful... mostly. NHL 16 restored most (but not all) of what was cut in the transition to NHL 15 while revamping its core EA Sports Hockey League mode. Pretty much every mode ended up getting some kind of meaningful upgrade; and while it wasn't up the standard of NBA 2K or even Madden, it played a lot better than its predecessor. After a terrible generational debut, NHL 16 was a step back from the brink.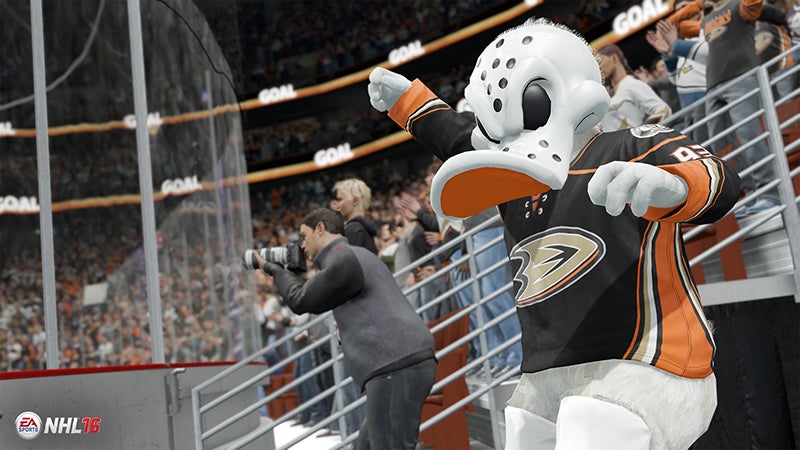 Hindsight...
NHL's main problem is that it lacks legs. It doesn't have FIFA's addictive local and online play; Madden's online leagues, or NBA 2K's extensive career mode. Its single best mode is the EA Sports Hockey League: A mode that isn't all that great unless you have a dedicated group of friends to play with. Playing with random people in the EASHL just isn't that fun. More often than not, it takes forever to get a game going; and once you're finally playing, half your team is useless.
The rest of the modes fall well short of EASHL. Be a Player and Be a GM are both sterile and lack the continual feedback loop or dynamic narratives of other sports sims. Hockey Ultimate Team is still stuck back in 2012 with its lack of sets, solo challenges, or really anything that might set it apart from its competition. Ranked online play is basic as can be, and doesn't even afford you the privilege of setting your team strategies ahead of time.
Most disconcerting of all, though, is that once all the bells and whistles wear off, it's hard to shake the feeling that not much has changed since the previous generation. The engine looks a little better (even if the character models are a tad misshapen), but Madden, NBA 2K, and MLB: The Show have all taken much larger graphical steps this generation. There's something off about the way this game plays, and I can't quite put my finger on it.
In any case, it didn't take my long to put NHL 16 away; and once it was in my drawer, it didn't really come back out again. Believe it or not, our former guides guru Bill Lavoy actually disliked it far more than I did, calling it his most disappointing game of 2015. Ouch. Don't mess with Canadians and their hockey sims: They'll take you down.
The content following release
NHL 16 received a pair of fairly large title updates that included bug fixes, additional jerseys, 3v3 overtime, and gameplay tweaks. The EASHL got a nice boost on the first patch, and the authentic United Center - home of the Chicago Blackhawks - was patched in as well.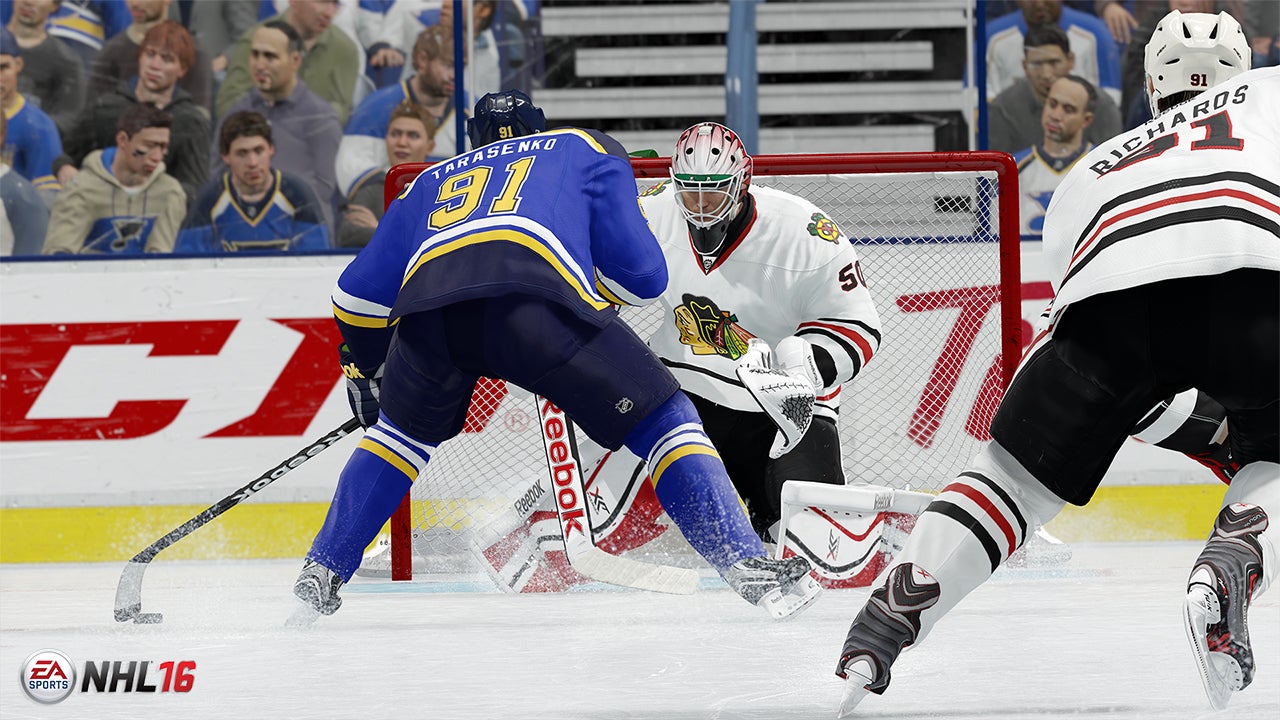 So where does the series stand going into NHL 17?
NHL should probably be cut a bit of slack. With fewer resources and a smaller budget than the other major sports sims, EA Canada is practically working miracles just to get the game out on time. Hockey fans should probably be grateful to have any simulation at all given the sport's niche popularity in the U.S. (and I say this as a hockey lover).
What troubles me is EA Canada's lack of vision for the series. Where pretty much every other sports series is full speed ahead this generation, NHL feels like it's stuck in place. NHL 16 was all about bringing back missing features from the previous generation, and NHL 17 feels like it'll be more of the same. We're three releases into the current generation, and we haven't even left square one.
(Don't get me started on how much it annoys me that GM Connected is dead forever. Flawed as it was, it was the one mode that kept me coming back months after release. Lack of resources be damned, I want GM Connected).
Frankly, it's hard to say what the next step should be. For better or worse, NHL's identity is Hockey Ultimate Team and the EASHL, and they're committed to that direction for the forseeable future. Everywhere else they're stuck bringing back features from the previous generation while blithely copying modes from other sports games. I don't know what NHL can do to get out of that hole, but the series needs NBA 2K's spirit of inventiveness. If resources are an issue, perhaps they'd be better off not riffing on the worst part of Madden: owner mode.
We'll see how NHL 17 turns out, but my optimism for the series going into the current generation is mostly spent. What was once one of the best sports games around has become at best an average sim in a cutthroat market. I don't know what the way forward might be for the series, but EA Canada might want to figure it out while they still can.