DJ Yoda teams with Gamer Disco for History of Gaming AV show and tour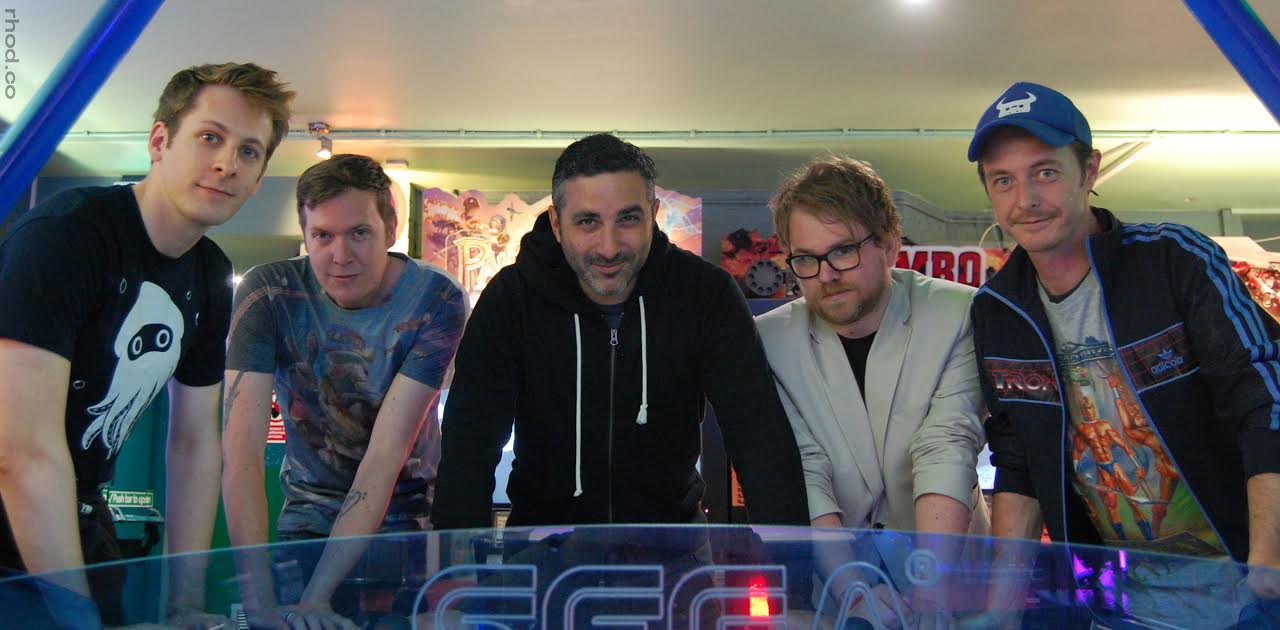 First gig set for IMAX in October.
DJ Yoda is teaming up with GamerDisco for a new History of Gaming AV show and tour.
After the recent critical success of his Stranger Things themed mixtape, Yoda will be mixing live game footage, music and samples for a new show based on 25 years' worth of video games, supported by the GamerDisco DJs and live acts.
The first show is set to take place at the IMAX Waterloo on October 8 with more shows due this year, followed by a full tour in 2017.
We sat down with DJ Yoda, director of events at GamerDisco Swanny, and head of GamerDisco talent, Rory Steele AKA DJ Jet Set Rory, to nerd out over just how to mash up chiptunes, drum and bass, and Outrun.
VG247: Why a video game AV show and why now?
Yoda: My audio-visual shows are traditionally a mish-mash of anything and everything I find inspiring. So there's been movies, TV shows, cartoons, music videos, animations, commercials, and, always, computer games. I love the idea of themed audio-visuals shows. I've done a full sci-fi AV show, an AV show of kids TV themes - it just made perfect sense to theme a show around the history of computer games. When I've included sections on things like Pac-Man or Street Fighter II in the past it's always just smashed it.
Jet Set Rory: Obviously, the "video" part of video games is an essential component of the medium. Since their inception, games have created iconic imagery with the technology available at the time, so there's a rich vein to tap into and celebrate video games in all their forms. We really hope audiences get a kick out of seeing their favourite titles but it will be a spectacular visual show, even for people who've never picked up a controller.
Swanny: Totally. Having first worked with DJ Yoda on the Halo 3 launch years ago, I've always been keen to get him involved with GamerDisco. Having seen the History of Hip Hop show, the sci-fi movies show, Breakfast of Champions, the Trans Siberian show, we kinda knew if anyone could make it work, it would be Yoda. We approached him with this and it all just came together really nicely.
Jet Set Rory: I think if video games were a living, breathing thing, this show is what would flash before its eyes as it was about to die.
VG247: What particular games standout as having music perfect for revellers to get down with during a live show?
"If video games were a living, breathing thing, this show is what would flash before its eyes as it was about to die."
Yoda: Well there are some classics like Super Mario or Tetris, and some deeper ones like Xenon 2 or Outrun, but sometimes it's about picking my own music and matching them to certain games. Some games give off a hip-hop vibe, others drum & bass or reggae or whatever.
Swanny: I grew up on IK+, The Last Ninja and games like Head over Heels on the C64… and those had great soundtracks, but it wasn't until my brother convinced my parents to get a Mega Drive (nice one Sion) that the Sonic theme made me bounce around the room and opened my eyes to how music and gaming could work so well together. It always goes down well at GamerDisco nights too because everyone knows it.
Jet Set Rory: Jet Set Radio is if not my all-time favourite game then damn close to being so, just a wonderful blend of gameplay and visuals and music fitting perfectly together. And it's got this mix of hip-hop beats and funk and dance, a little bit of the Shibuya-kei sound, that means it's pretty easy to drop into any party set.
Swanny: I just love how a sound, like the alert sound from Metal Gear can evoke a memory, or emotion of a particular experience. Like with drum & bass when you know the DJ is about to drop a track you love from years ago, you hear a riff and it gets you excited. The same is true for gaming if you hear the Sonic ring noise, or the Mario Jump noise while a regular dance track is playing. It triggers something in you and you start jumping about like a loon.
VG247: What can you do with a video game AV show that you haven't been able to do with your previous history of hip-hop and sci-fi themed AV shows?
Yoda: I'm excited about making a chronology, or a story out of the history of gaming. There's so much texture and difference between Pong and Pokemon Go. But a lot of it is about mixing various games together and creating new blends, and then choosing suitable music for each section that you can also party too.
VG247: As it's an interactive medium, will any of the video game content be played live?
Yoda: There's definitely scope for it. It's something we're working out and I'm excited about it.
VG247: Is there something you hear differently in video games that you don't hear in hip-hop or other genres of music?
Yoda: Definitely. It's like a blend between movie music and club music for me. There's that digital/techno influence, but there's soul and humanity in it too. And I love how you can pinpoint different era's in the sound just by the technology that was available at the time.
Jet Set Rory: With our own GamerDisco shows we play original video game soundtracks, remixes of great gaming tracks, and original chiptune that replicates that nostalgic sound, but at the same time we also mix in non-gaming music. If you look at a lot of artists today, you'll see little hints of how video games have inspired them, so it's not such a jump to criss-cross between game and non-game music. The variety of video games being created today means there is also a huge variety in soundtracks available.
There was a big move towards cinematic orchestral soundtracks once the games could handle it, and there are many examples of games that have used pre-existing songs from bands and artists to create their soundtracks, but just as the indie game boom in the last decade or so seen a diversity in how games can look and play, we've also seen a really fresh and exciting mix of how games sound.
Swanny: Also games like Killer Instinct, Starfox and Tony Hawk's Pro Skater had great soundtracks but for me, Wipeout adding Chemical Bros and Orbital was what really took gaming into the mainstream and got PlayStation into a club environment. Since then, great music and gaming have been synonymous.