UPDATE: Dishonored 2: Darkness of Tyvia E3 2014 fact sheet surfaces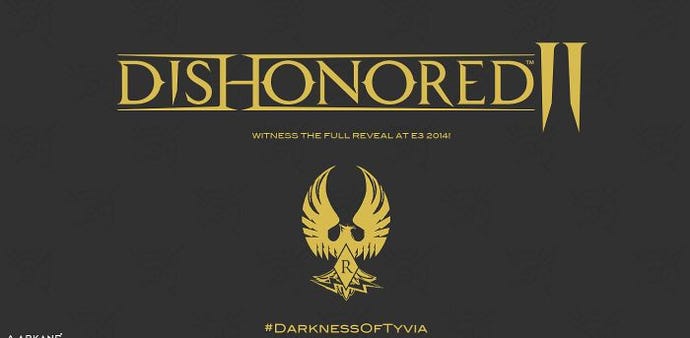 Dishonored 2 looks to indeed be a thing if a shot of a press fact sheet for E3 sent over to VG247 is legitimate.
UPDATE: Our local Bethesda rep has responded to the image below. They told us, "we don't comment on rumour or speculation."
Make of that what you will.
ORIGINAL STORY:
We are in the process of confirming its legitimacy with Bethesda at the moment, so hold your horses in the meantime.
The image follows an off-screen photo of a slide from a presentation posted earlier this week.
According to the fact sheet, the Arkane Studios game is being developed using id Tech 5 and will be released in 2016.
Players will step into the shoes of a new main character who must "annihilate the outsider" in the new location of Tyvia.
The character will also have new and updated powers, according to the slide.
It also mentioned DOOM beta access, which was previously announced as pre-order incentive for Wolfenstein: The New Order; however, there is a spelling error in there, so it was either cut-off or it is indeed a fake sheet.
However, our source claims the spelling mistake was due to it being an early draft of the document.
"In case you are wondering, the misspelling Access is due to being an early draft of the E3 Press-Fact sheet, which will head out at the end of March officially to the press. A corrected version is available."
The newer version is posted up top, while the original version sent to us is below
However, the website listed does take you to the Dishonored webpage asking for a log-in - at least it did at one time. Now, it only displays the message "Whoops, looks like something went wrong" when you try to go to the site.
Still, like we said, hold your horses. We've got a call into Bethesda right now.
Dishonored 2 will be released on PC, PlayStation and Xbox according to the logos.