Disaster Report 4 Plus: Summer Memories formally unveiled for PS4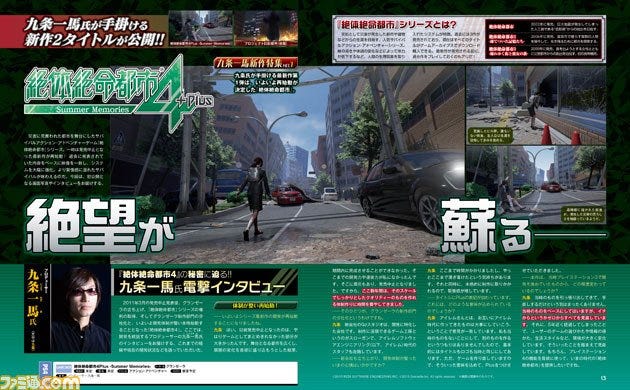 The Disaster Report series continues.
As teased in July and again in September, Disaster Report 4 Plus: Summer Memories is coming to PS4.
The game was unveiled in this week's Famitsu, as translated by Gematsu, but does not have a release date.
Set over the course of one week, Disaster Report 4 Plus: Summer Memories puts players in the role of a man or a woman newly arrived in a large city in search of a job. After disaster strikes, players will have to contend with the risks of starvation and disease. You'll even need to make sure you make use of toilets regularly. Their actions during this week will have consequences for the city moving forward.
Developed by a team made up mostly of former Irem staffers under the new Granzella label GZ Studio, the sequel takes advantage of the PS4 with some sort of connected feature, and players will find the locations they visit change over time.
This fourth entry in the series was originally announced as Disaster Report 4: Summer Memories, but was cancelled in 2011. Although the timing seemed related to the Tohoku earthquakes and tsunami in March that year, creator Kazuma Kojo said the project was behind schedule and the team couldn't deliver on its vision at the time.
Kojo reiterated this in an interview, saying the "Plus" in the title indicates that it's a total rebuild. In the years since the cancellation, he's been working on refining the game systems.
A trailer will be released on Friday so we can get a look at this new version.