Diablo Anniversary fun spills over into World of Warcraft with a Cow Level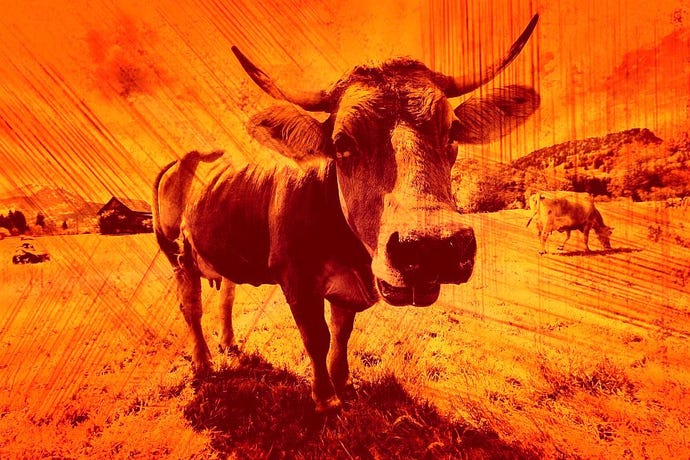 There is no Cow Level.
Yeah, yeah. I know, old joke. Anyway.
The Diablo 20th Anniversary celebration has spilled over into World of Warcraft, and yes, one of the fun things to participate in is a level filled with cows and loot.
According to Wowhead, the secret level with the cows is only accessible through a Treasure Goblin. These creatures will spawn in the Broken Isles landscape, in Legion dungeons and the Dalaran Sewers. When you see the fella, kill it before it finishes casting its Escape Portal, and a portal will appear and take you to the Secret Cow Level.
You will want to make sure you have a group with you because the Treasure Goblin has high HP and in order to kill him in time you will need all the help you can get, apparently.
Once you have stepped through the portal, you will find yourself thrust into a "special version" of the Yorgen Farmstead in Duskwood. Here, you will find Diablo-centric cattle and the elite Cow King who upon being downed will drop special items such as the Twelve-String Guitar and the Livestock Lochaber Axe.
The Cow King can only be looted once every 24-hours, per character, for the special loot. It's also said the cows inside the special Yorgen Farmstead instance scale, so you needn't be at max level in order to participate.
It should also be noted that World PvP in the level can be fraught with danger, but Wowhead says you can fly in the phased version of Duskwood to escape the ensuing PvP slaughter. Should you die in the level, you will be phased out.
If you head through the Wowhead link, which we've posted again here, you will find a list of items which can be looted from the Cow King and the Treasure Goblins, the latter of which are not on a daily reset. This means you can farm them as often as you like.
Heading through the link you will also find a list of more event loot found through the instance and from murdering Treasure Goblins.
The site has also datamined the update and found a level 66 item called The Stone of Jordan, which both Diablo and WoW players (Staff of Jordan, etc.) will be familiar with - but the site has yet to figure out what it's used for nor the source.
Other Diablo-themed fun in WoW includes: Wild Imps now look like mini-Diablos and the Diablo's 20th Anniversary achievement can also be earned via the Twelve-String Guitar.
Jump in an have fun. The event runs through January 11.