Diablo 3: Rise of the Necromancer and the Eternal Collection have a release date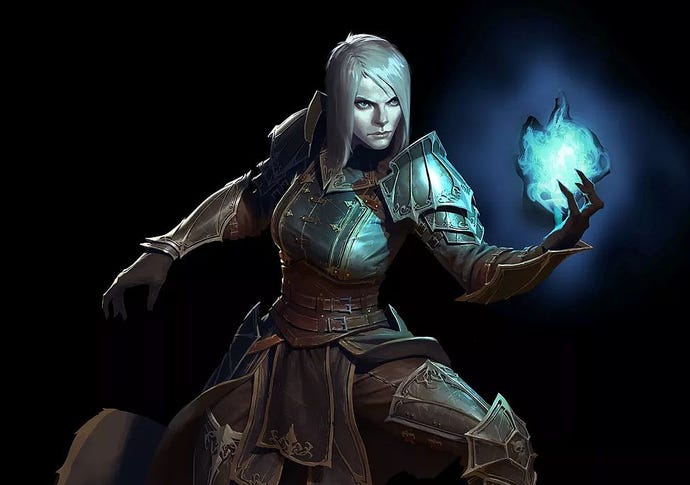 Blizzard will release Rise of the Necromancer for Diablo 3 next week alongside the Diablo 3: Eternal Collection.
The Eternal Collection was outed earlier this month when a rating for the Diablo 3 bundle was published on the ESRB website.
Diablo 3: Eternal Collection contains the Reaper of Souls expansion and Rise of the Necromancer. It will be made available digitally on PlayStation 4 and Xbox One. PlayStation Plus and Xbox Live Gold members will receive a limited time, special introductory price of $39.99 instead of the standard $59.99.
Both the collection and the Rise of the Necromancer pack will be available on June 27.
If the sizzle reel released for the expansion today doesn't do it for you, intro cinematics for the Necromancer were released earlier this month. Watch those here.
In case you need a refresher, here's what the Rise of the Necromancer pack includes alongside the additional content:
Half-formed Golem in-game pet
Cosmetic Wings of the Crypt Guardian
Two additional character slots
Two stash tabs (PC only)
Necromancer portrait, banner, sigil, and accent, and Blood Master pennant
Along with Rise of the Necromancer, patch 2.6.0 also contains Challenge Rifts, The Shrouded Moors zone, Temple of the Firstborn zone, and the Realms of Fate. This is free content for those who own the Reaper of Souls expansion pack.
Those who already own Diablo 3 will be able to download Rise of the Necromancer through the Blizzard Store for PC and Mac, and through the respective PlayStation and Xbox Stores for $14.99.