Deus Ex: Human Revolution gets Augmented Edition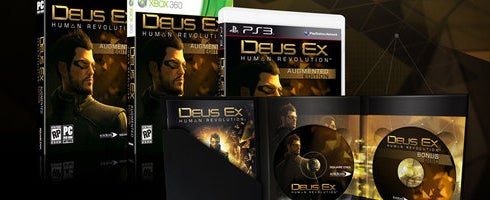 Square Enix has announced an Augmented Edition of Deus Ex: Human Revolution.
The special edition of the Eidos Montreal action title will feature the game itself as well as a behind-the-scenes DVD, a motion graphic novel and a 40-page graphic novel.
Two pre-order deals have also been confirmed by Square for Human Revolution. If you pre-order at GameStop, you'll get an extra playable mission that will feature a cameo from a character in the original Deus Ex and three weapons.
Those who pre-order the game elsewhere will only get two additional weapons: the Huntsman Silverback Double-Barrel Shotgun and the Longsword Whisperhead Extreme Range Sniper Rifle.
The Augmented Edition and pre-order offers have only been announced for the US thus far, but expect the European announcements to be not too far behind.
Deus Ex: Human Revolution launches early next year for PS3, 360 and PC. Watch the latest gameplay trailer for it here.