Detroit: Become Human makes me want a buddy cop game starring an android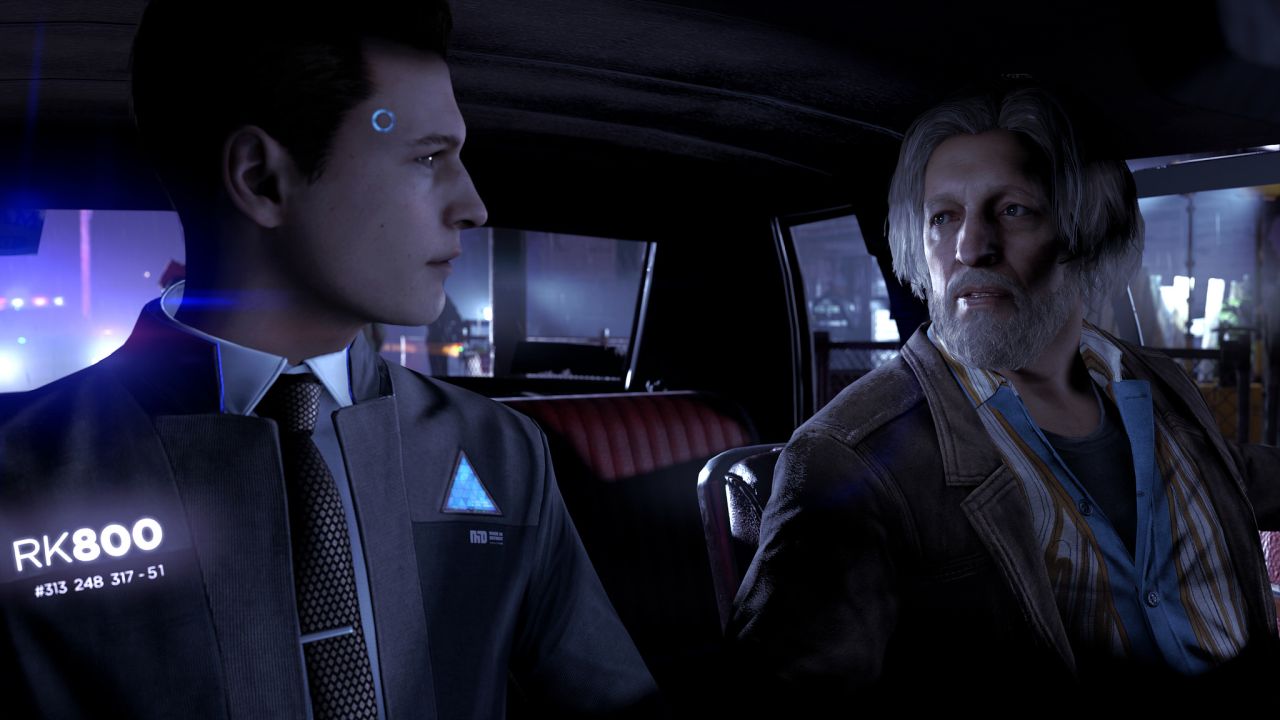 Quantic Dream's latest game puts you in control of three androids whose stories intertwine (assuming you can keep them alive).
There's Kara, a domestic bot who cleans the house and babysits the daughter of an abusive father. There's Markus, another general helper who looks after an elderly painter. And there's Connor, a cutting-edge prototype who is embedded with the police force as they try to solve a recent spate of crimes committed by androids.
Markus's story often slaps you in the face with clumsy racial allegories (you're forced to stand in a compartment on the back of a bus, for example) and Kara's forces you to witness drug-fueled domestic violence. Connor's story - while cribbing on every cop show you've ever seen - is simply about solving crimes, and that makes it by far the most enjoyable to play.
Early interactive sequences for Markus and Kara revolve around menial tasks, while Connor is out solving crimes, taking names, and pissing off his new partner, Hank Anderson. Narrative games like Quantic Dream's always struggle with allowing the player to interact with the world in meaningful ways outside of cutscenes, but picking through clues is the perfect solution.
Telltale realised the same thing with Batman. What do you do in a game where the gameplay exists in the conversations and cutscenes? You add in some mysteries to solve and let players piece the clues together. But where you can't really fail a crime scene in Batman, you can completely mess up every encounter you have in Detroit: Become Human.
When playing as Connor, Detroit: Become Human almost turns into an adventure game with the most ridiculous production values you could imagine.
You are never asked to combine a rubber chicken with a plunger, but you need to have a keen eye as you scan the environments, you have to scrub through visual clues, and you have to choose the correct dialogue options, putting crimes together as you highlight the correct information at the right time.
Make too many bad decisions and civilians could die, you could sour relationships with your human peers, or Connor could even end up deactivated. This adds weight to every choice you make.
Then there's the brilliant dynamic with your partner, Anderson, who (obviously) hates androids. He also has an alcohol problem. Somehow, he's still endearing. It might feel like I'm ticking off a checklist for cliche bingo, but this section of the story works for the same reasons GTA works because it feels like a 'greatest hits' of every gangster movie you've ever seen.
Basically, I wish the entire game was just this. While Kara and Markus have their moments - one unsettling scene in a junkyard stands out, if only as an audiovisual assault - their sequences often feel like a QTE where you're ducking, jumping, and sliding under metaphor. The woman gets a domestic violence plot, the black guy gets a story about racism.
Meanwhile, Connor's story almost feels like a different game entirely, and it's a game I really want to play.