Destiny: Why Zen Meteor is truly dynamite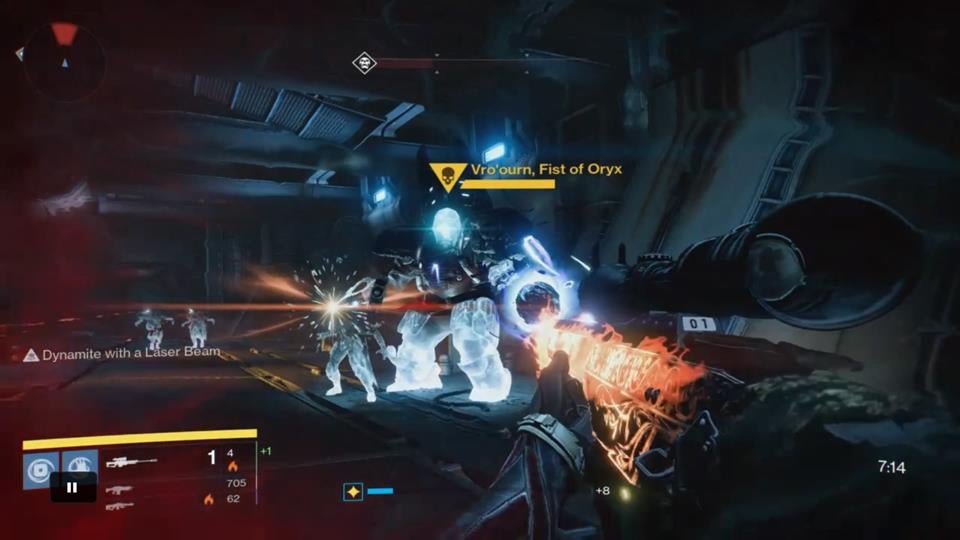 You see it. You want it. Can you get it?
Awesome in PvE crowd control, a potential beast in PvP, this Destiny: Year Two exotic sniper rifle simply gives you style you didn't have (but deserve).
"Complete awareness, complete focus. A mind sharpened by diligence to a single deadly point." So reads the Grimoire for Zen Meteor, only adding to its mystique as an extraordinarily satisfying exotic. As with fellow exclusive Jade Rabbit the gun has immediately impressed Guardians on PlayStation, adding a new meaning to packing heat: "bridging the gap between the physical and the numinous."
What makes Zen Meteor so special?
One of the first things we loved about Zen Meteor is how its exotic perks honour the song 'Killer Queen' by Queen. The innate perk 'Dynamite' describes the explosive ammo in its three-round clip, which summons an additional, higher-damage round if all three shots score kills. The timing between kills is very generous, noticeably longer than the usual multi-kill window, meaning that you can pick your targets at leisure. Even the high-damage round takes a full five seconds to disappear if ignored.
'With a Laser Beam' is the final perk unlocked, creating a "massive explosion" from the 'Dynamite' round, which is absolutely wonderful at clearing a crowded Court of Oryx floor of Taken adds, and similarly ideally suited for the Blighted Chalice strike final phase. Indeed, any PvE scenario in which weaker minions busily distract from larger targets can now be spectacularly turned in your favour.
The standing ovation is deserved for Zen Meteor becoming visibly lit whenever Dynamite is active. Immediately upon landing that third kill, the barrel of the gun is engulfed in flame as though pulled from the forge – an effect visible to anyone in the vicinity, not just the Guardian using it (unlike the gun-twirling coolness of The Last Word). In addition, the reticule blooms into an elaborate rosette.
Zen Meteor additional notes
We're fairly certain Bungie sent Zen Meteor to serve the PvE masses more so than the Trials of Osiris sniping menace who'll still prefer a snappier alternative like Eirene. The Meteor's scopes, comprising Soft Ballistics, CQB Ballistics and Smart Drift Control balance choices between recoil and range boost or penalty. The 'Underdog' perk, improving range and handling when health is low, is clearly aimed at PvE arenas besieged by sniper fire from Vandals and Hobgoblins. It cannot save your life in PvP. The final column is all about ammo reserve versus faster handling or greater stability. With special ammo dropping less often after 2.2.0, Field Scout could be the way to go for over watch Guardians.
The paradox with Zen Meteor is that it is such a high-impact (equal to Black Spindle) and has such generous aim assist and reload stats that it could be a go-to PvP weapon also. You can only respect the guy that's already lined you up before you emerge unsuspectingly from around the next corner. And, for DPS during boss encounters, even its higher Rate of Fire doesn't match Black Spindle for pure application. While not perfect in either scenario its style and versatility make it so appealing. There's only one negative and that's the stability, yet somehow this adds to the sense of menace.

How do I get Zen Meteor?
RNG, baby! But the drops have been generous so far…