Destiny: The Taken King - how to get Boolean Gemini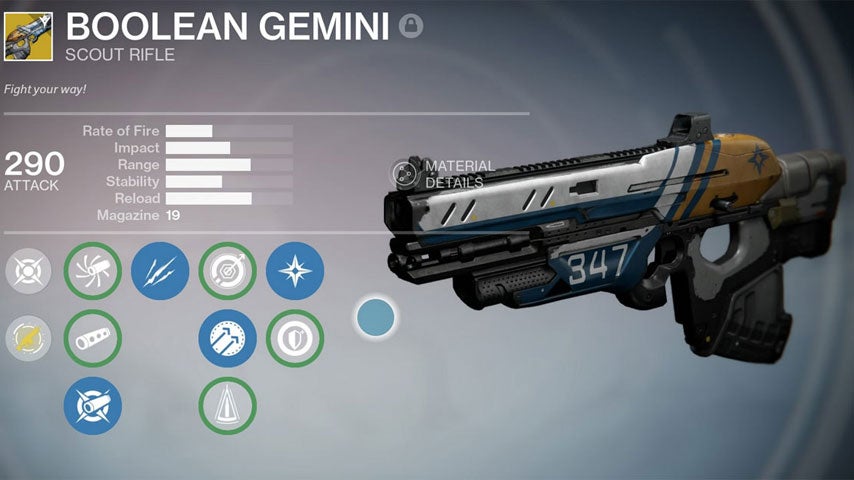 The easiest Exotic Primary out there is Boolean Gemini, a Scout Rifle with your name on it.
How to get Boolean Gemini
Boolean Gemini is an Exotic Scout Rifle with a base Attack stat of 290. It should please fans of Vision of Confluence and MIDA Multi-tool, neither of which has been upgraded for Destiny: Year Two.
Although it deals kinetic damage it makes up for the lack of elemental clout with an impressive impact stat, great maximum range and a lightning-quick reload. Depending on your scope choice its precision and stability make headshots an absolute breeze. For those looking for a speed boost, it offers a buff to agility after critical kills, and holds very stead under fire for cool and collected sniping.
Best of all, this Exotic is actually pretty easy to obtain. All you need to do is follow a few questlines and ensure your Queen's Wrath rank is three or higher. Once you meet these conditions, visit Petra Venj on the Reef and she'll hand it over at no cost. It's as easy as that.
Follow our guide and you'll quickly be rocking one of the most delightfully punchy guns in Destiny: The Taken King.
Boolean Gemini: basic requirements
These are the conditions you need to meet to obtain the Boolean Gemini.
Complete The Taken War: Petra
Complete Lost and Found
Complete The Wolves of Mars
Achieve rank three with the Queen's Wrath faction
The Taken War: Petra
The Taken War: Petra is available as soon as you've completed the initial story mission of The Taken King. Check for a quest marker on the Reef, then follow your quest marker; the steps are detailed below. The quest awards Queen's Wrath and House of Judgment reputation as well as experience - and any incidental loot you find on the way.
Speak with Variks
Taken Assault: Earth
This step requires you to visit the Cosmodrome on Patrol. You need to defeat two Taken Champions and gather a number of resources. The resources are random drops from Taken and Fallen enemies, and you should easily gather them all as you battle the Champions. Learn how to find and defeat Fallen Champions.
Speak with Variks
Speak with Petra
Taken Assault: Venus
As above, but on Venus.
Speak to Petra
Taken Assault: Mars
As above, but on Mars
Speak to Petra
Lost and Found
This quest is accessible after you complete The Taken War: Petra and have unlocked Patrol on Oryx's ship via The Taken King story Mission dreadnaught. it is given by Petra on the Reef. It awards Queen's Wrath reputation and experience.
Scour the Dreadnaught

Defeat 50 enemies in each of the following Dreadnaught locations: Hull Breach, Mausoleum, Hall of Souls

Search the Court
You must engage in Court of Oryx battles until you receive a Tech Witch's brooch in a random drop. Learn how to trigger Court of Oryx battles.
Speak with Petra
The Wolves of Mars
This quest is accessible after you complete The Taken War: Petra, and is given by Variks on the Reef. It awards House of Judgment reputation, experience and two armour upgrades.
Thin the Pack
Kill 300 Fallen troops at each of the following destinations: Earth, Moon, Venus. Majors and Ultras grant bonus completion.
Hunt the Archon
Track down and kill an Archon Priest in the Rubicon Wastes on Mars. From the Mars Patrol spawn in the Barrens, travel directly onwards to the Scablands, take a right to pass through the wall and on to Firebase Rubicon, then take the large tunnel. Once in the Wastes, stand facing the gate to the Iron Line, with a structure full of Interceptors on your right. If you turn left and travel a short distance you should see a small circular structure. Walk around it and you should encounter a few Fallen troops; you may need to wait a while. Murder them and the Archon priest will arrive.
Speak with Variks
A New Den
This is a story mission on Mars. You'll face three waves of enemies in the Iron Line.
Speak with Variks
Knock Knock
This is a story mission on Mars. You need to defeat a Walker, and can make use of Interceptors.
Speak with Variks
Prime's Path
This is a story mission on Mars. It includes a boss battle against Orbiks Prime in the Legion Keep. Watch out for its teleport.
Speak to Variks
Achieve rank three with the Queen's Wrath faction
If you are a new player, you may not have a high enough Queen's Wrath rank to immediately receive the Boolean Gemini from Petra upon completion of the three quests above. You can raise your rank by completing the Bounties Petra offers very occasionally, but the easiest and quickest way is to play the House of Wolves story missions. Visit your abaondoned quests terminal in the Vanguard centre on the Tower to kick things off.
That's it; enjoy your new weapon, Guardian. For more Exotics, quest walkthroughs and much more, see our complete Destiny: The Taken King guide.