Destiny: Rise of Iron Wrath of the Machine raid guide - how to beat Aksis, Archon Prime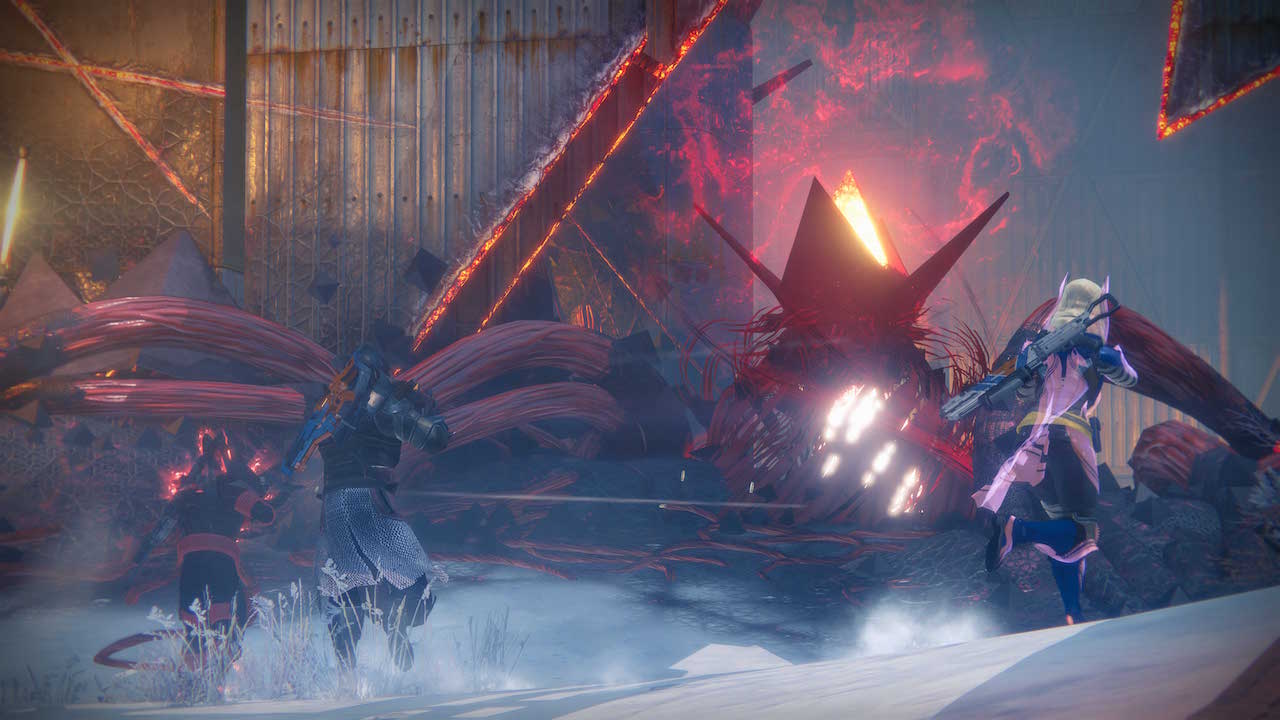 Defeat Aksis, Archon Prime for Metal and Flesh and Wrath of the Machine with our Destiny: Rise of Iron raid guide.
This Destiny: Rise of Iron raid guide page deals with the second boss of Wrath of the Machine: the Aksis, Archon Prime.
Resident Destiny expert Arekkz goes over the Aksis, Archon prime boss fight in the video above, if you're more of a visual learner; otherwise, here's our breakdown of what happens.
The fight is divided into two stages, with a loot drop between them, so we'll discuss each in turn.
Aksis, Archon Prime - first phase
This battle takes place over three rounds.
In keeping with the rest of the Wrath of the Machine raid, this encounter is best tackled in three teams of two, each focusing on an area - left, centre or right. Each team of two needs a SIVA Charge runner and a cannon runner.
To initiate the battle, enter the glowing red circle on the floor, then have the teams disperse to their territories. Adds will flood out of the three doors on each side and two central doors, and must be cleared as quickly as possible so as to make things easier when a Cannon Captain arrives on the right hand side.
All nearby players should immediately focus on and drop the Cannon Captain, using heavy weapons and supers. Three servitors will spawn as soon as the Cannon Captains die, and the Cannon Captains will each drop a cannon of the same element as their shields; the elemental order seems to be random each time.
The cannon runners should immediately collect the cannon and use it to attack their matching elemental Servitor. The appropriate Servitor is never in the same territory as the Cannon Captain who dropped the matching cannon, so teammates must call out where each Servitor is ("solar middle" and "arc left", for example) as the cannon runners collects their prizes, making it easy for them to go straight to the right area.
It's very important to hit the Servitor with a fully charged cannon projectile, so remember: aim at the Servitor and then hold the right trigger in. The projectile will lodge in the Servitor, but won't explode until the player releases the right trigger or it hits maximum charge. One fully charged projectile should kill the Servitor; don't use any more ammo then you have to right now, and drop the cannon to use your normal weapons if you need to. The only things you want to use cannon ammo on are Servitors, Cannon Captains and for Shank ambushes; see below for that.
Above all, this must be done very quickly: if the Servitor is not killed before it makes it to its home plate, the team will wipe.
While the cannon runners are killing the Servitor, the SIVA Charge runners should be killing adds but also ready to do their bit. When a Servitor is killed, it will drop a SIVA Charge. The cannon runner cannot pick up SIVA Charges due to a debuff countdown, so the SIVA Charge runners needs to scoop them up.
Wrath of the Machine monitors
This bit deserves a subheading because it's a bit tricky.
The SIVA Charge runners need to throw their payloads at red SIVA nodes (they're called "SIVA containment cores") that pop up, glowing, around the middle structure. The nodes spawn at the start of each of the three rounds on the monitors around the boss's pillar.
In the first round there are two nodes that must be destroyed, so you can afford for one SIVA charge runner to miss their target. In the second round there are three nodes, so everyone has to be on target. You must be fast; if the SIVA Charge runner is down, someone else should sub in immediately. Again, if the node is not destroyed with a SIVA Charge, the team will wipe. Make sure each SIVA Charge runner has a specific target so they don't double up.
After successfully destroying all nodes with SIVA Charges, all players should gather in the middle for a bridging stage. A huge number of shanks flood in from near the ceiling near the boss; everyone should just shoot them down, although if the cannon runner plonks a projectile down in the centre ahead of the shanks, they can all be blown up at once with a single charged projectile when they group up near it. The encounter then cycles back to the Cannon Captain stage.
The third round is where things get tricky, because there are seven nodes that need blowing up. More servitors will spawn in, so as long as the cannon runners keep enough ammo after the first one, it's just a matter of taking down a second and third Servitor - and they spawn very quickly. The SIVA Charge runners need to make multiple shots each, although you can afford to miss twice - but be aware that two of the seven nodes are off to the sides of the boss's pillar rather than on it.
After defeating all five nodes, you'll win the encounter. Collect the loot and prepare for the next phase.
Aksis, Archon Prime - second phase
The battle starts when you shoot the plate from Aksis's chest.
The second phase of the Aksis, Archon Prime fight is similar to the first in that you'll need to be killing Cannon Captains and Servitors in order to damage the boss with SIVA Charges.
It's all a bit harder, however, for a couple of reasons. First, Aksis is active. He has two ranged attacks - a series of three shots, and one charged shot that leaves a large damage over time area of effect SIVA swarm in its wake. He'll fool about a bit attacking you before the adds start and the Cannon Captain spawns as normal, including regularly teleporting between three zones close to where each team hangs out, as well as back to his central pillar. Learn where he lands after a teleport - it's important for later, and also if you're standing on a teleport zone when Aksis lands, you'll die instantly.
Second, you can't decide on your teams ahead of time, because three Guardians will be randomly "empowered", and this is how you'll decide your roles for the rest of the round. You must have one empowered Guardian in each of the three territories, so you'll probably have to do some quick communication to shuffle around.
When you've got everyone sorted out, attack the Cannon Captain as normal, collect the cannons, take down the Servitors and lob the SIVA Charges at the boss. Three hits will drop his shields.
When Aksis's shields drop, he teleports away. Aksis travels either to one of the three teleport zones he used before, and you can tell which way he's going by the particle effects that make a kind of wake. Call out where's he's going if you can, so the empowered Guardian on that side is ready to run up to Aksis.
This is really important: the closest of the three empowered Guardians need to stun-slam Aksis by running up to him, jumping on his back and holding the interact button.
After Aksis has been stun-slammed by an empowered Guardian, his critical hit zone will open and the empowerment buff shuffles; those who had the empowered buff may find themselves without it, and vice versa.
When his critical zone closes, Aksis will teleport. Once again, you need to make sure you have an empowered Guardian at each location ready to stun-slam him again. Communication is essential. However, you should also be whittling away at Aksis's health with snipers while his critical spot is open, even though this isn't the main damage phase.
You need to stun-slam Aksis three times each round. His critical hit will open for a longer period each time you stun-slam him during a round, and it's only after the third one that you really want to go wild with heavy, special and supers - as well as fully charged cannon shots, which do tremendous damage. The importance of high DPS cannot be overstated here: you must hit him hard, with Weapons of Light, tethers, and everything you have. Gjallarhorns and Sleeper Simulants are recommended. Don't bring a sword to this gun fight, obviously.
When Aksis's shields go back up he begins to prepare for an insta-kill wipe attack. The only way to survive this is to retreat to one of the four pillars at the back of the arena - behind you as you face Aksis's central pillar. It's super important that everyone gets on the same pillar as each can only be used once. The attack takes a while, so this gives you a good window to pop synths, adjust equipment if necessary, and take a deep breath.
When Aksis gets very low on health he returns to the central pillar and goes a bit crazy with attacks; this is where you really want to hit him as hard as you can. Anything you have in reserve should be used here, and if you don't have Heavy ammo on hand, well - you messed up. A lot.
You must defeat Aksis in five rounds. His enrage isn't much of an issue, but after four rounds you won't have a pillar to stand on when he does his wipe attack after the damage phase.