Destiny: Rise of Iron Thorn Exotic quest - how to get Year 3 Thorn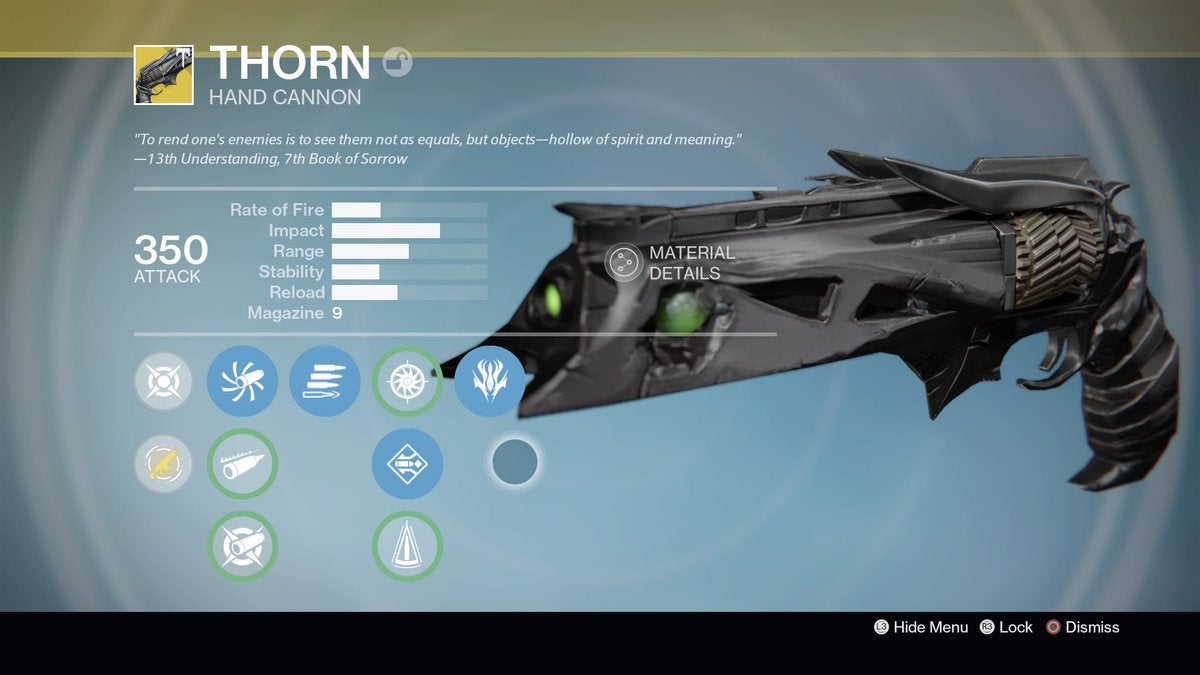 Destiny: Rise of Iron brings back the Crucible's most feared hand cannon. Here's how to get it.
Destiny: Rise of Iron players are already running about with Year 3 Thorn. You want in on that action, and who can blame you?
Unfortunately, there's currently no known way to trigger Destiny: Rise of Iron's Exotic quest for Thorn; you just have to hope you receive the Jagged Purpose Exotic bounty when handing in Shiro-4's Iron Lord bounties. Once you have it, the bounty appears on your inventory screen; you need to visit the Tower and speak to Eris Morn to turn it into a proper quest.
What we do know is what you'll have to do once you've receive the Exotic bounty and started the Thorn Exotic quest, thanks to Redditor SteviaSteve. Here's the lowdown:
1. Echoes of Darkness
Face The Wretched Eye strike and defeat Kovik, the Devil Splicers' high priest. No difficulty requirement.
2. Harvest of the Lesser
Wipe out Fallen in the Plaguelands to feed the weapon's appetite. You'll need to kill several hundred Splicers.
3. Feast Upon the Light
Use Void Damage to defeat Guardians in the Crucible. Thankfully there appears to be no penalties for deaths or losses, so you "only" need to kill about 125 players to complete this. Private matches will not progress the Exotic quest. Hopefully you still have a decent Void weapon somewhere; remember it doesn't matter what its stats are in standard, level-adjusted Crucible, so even Word of Crota will do.
4. Cleansed by The Light
Consume Motes of Light to Cleanse yourself and the weapon. Five Motes. If you don't have enough Motes, earn XP, play Crucible matches or cash in engrams.
5. Where it Began
Find a Skeleton Key and open the Strike Hoard at the end of "The Abomination Heist" Strike.
Manage all that and turn in the Exotic quest to score a Year 3 Thorn, already one of Destiny: Rise of Iron's most coveted weapons. Take it to the Crucible and ruin everybody else's day. You've earned it.