Destiny 2's Crimson Days event returns with new take on The Burning Shrine, really nice rewards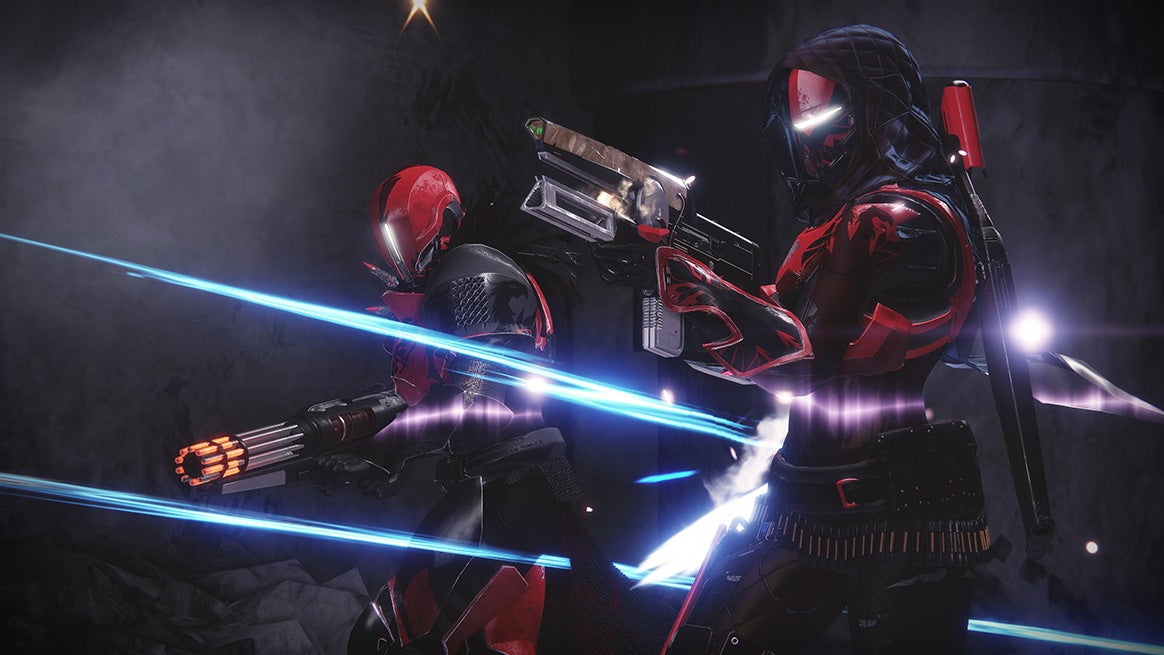 Crimson Days has returned to Destiny 2 along with a 2v2 Crucible playlist and a new take on Destiny 1 map The Burning Shrine set in a future timeline.
Bungie has provided more details on this week's Crimson Days event in Destiny 2.
The Valentine's Day-themed event returns after a hiatus last year, and like 2016, the usual Eververse fare such as emotes, shaders, sparrows, transmat effects and ornaments will be on offer.
Destiny 2's 2v2 Crucible this time around is Clash with a round-based twist. Here, players will need to stay in close proximity their partner so that abilities will recharge at a faster rate. Leave their side, and the enemies will gain a waypoint to the player location. This should sound familiar to those who participated in the event back in 2016.
According to Bungie, the "best way to earn rewards during Crimson Days," is to compete in the Crimson Days Crucible playlist, and the rewards have been tuned towards rewarding single-character play.
Most rewards will be found within a new Crimson Engram, with all contents on a "knock-out" list. This prevents the player from receiving duplicate items until they have earned all of the new gear.
"No matter which activity you play in Destiny 2 during Crimson Days, every player will receive both an Illuminated Engram and a Crimson Engram when they level up," said Bungie.
Crimson Engrams are only earnable through gameplay, and are not capped or limited during the event. To qualify, players need only to reach the level cap for their Guardian - 25 if they own Expansion 1; 20 if they don't.
There are also five new rewards which are exclusive to completing the following:
Complete the milestone "Welcome to Crimson Days" by finishing five Crimson Days matches and visiting Lord Shaxx in the Tower to earn the Fire of the Crimson Days Emblem and the Tirastrella Ghost Shell.
Complete matches in the Crimson Days Crucible playlist for a chance to earn the Undeterred Exotic Sparrow.
Complete either the Leviathan Raid or the Raid Lair: Eater of Worlds to claim the Dieselpunk Exotic Ornament for Wardcliff Coil from the final chest.
Complete the Nightfall Strike during the Crimson Days event to earn the Flaunting Dance Emote.
The Tirastrella Ghost Shell, Undeterred Exotic Sparrow, Dieselpunk Exotic Ornament, and Flaunting Dance Emote are shown below.
Crimson Engrams will only be earnable through gameplay, but as usual, Tess will have a selection of the Crimson Engram contents through the store in exchange for Bright Dust. Gear purchased with Bright Dust will also count towards the "knock-out" list described above.
Every reward item obtained from a Crimson Engram can also be dismantled for Bright Dust, including event-specific shaders.
Destiny 2's Crimson Days started today, February 13, and will conclude when the weekly reset rolls around at 9am PST on Tuesday, February 20.
Along with today's event kicking off, hotfix 1.1.2.1 was applied, which removed Lost Sector throttles. The hotfix also makes it so players can only open a Lost Sector Chest once per boss defeated.
Below you will find everything you need to know regarding information on participation and known issues.
Destiny 2 - Crimson Day Guide/Requirements
Participation Requirements
All players can participate in Crimson Days, but some Milestones and Rewards may not be available on characters who have not meet the following requirements:
Complete the Red War campaign
Achieve Level 20
Achieve Nightfall access
Achieve Leviathan Raid access
Earning Crimson Days Rewards
Crimson Days-themed rewards
Welcome to Crimson Days
Upon first logging in with each character for Crimson Days, players will be greeted with the "Welcome to Crimson Days" Milestone. This Milestone may only be completed once per character for the entirety of the Crimson Days Live Event, requires Tower access in order to be completed, and is required in order to gain access to the Crimson Days Crucible playlist.
Crimson Engrams
During Crimson Days, every time players earn an Illuminated Engram from leveling up beyond their max level, they will also earn a Crimson Engram. There is no limit to the number of Crimson Engrams a player may earn, and XP-boosting buffs and consumables accelerate the earning of Crimson Engrams equally with Illuminated Engrams. Crimson Engrams, like Illuminated Engrams, must be decrypted at Eververse Trading Co.
Activity Exclusive Rewards
During Crimson Days, players will be able to earn exclusive rewards from completing raid activities, the Nightfall, and by participating in the Crimson Days Crucible playlist. These rewards are not available through Crimson Engrams or Eververse Trading Co., and must be earned by participating in their listed activity during Crimson Days.
Vital Information and Known Issues
Welcome to Crimson Days Waypoint: Under some circumstances, players may not receive a waypoint leading them to Tower vendors for the "Welcome to Crimson Days" Milestone. Players may still complete these steps by simply speaking with the Tower vendor listed in the Milestone.
Crucible Tokens in Loot Stream: Upon completion of a Crimson Days Crucible match, post-game rewards may push Crucible Tokens out of view in the player's loot stream. Players should always receive Crucible Tokens upon Crimson Days match completion, and may find them in their Consumables inventory.