Destiny 2: Xur location and inventory, final Invitation of the Nine – May 17-20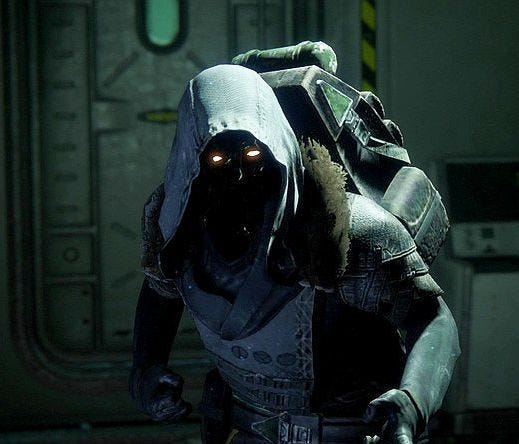 Hello, Xur. Welcome back to Destiny 2.
Our man Xur is back with new and returning wares in Destiny 2 this week. You can find him standing around (does he ever sit?) The Rig on Titan.
Items this week include a Hunter helmet, Titan gauntlets, Warlock leg armor and a sniper rifle.
Of course, Xur is also offering a new Invitation of the Nine this week. And it's the last one. Unlike similar weekly bounties from Petra Venj, you cannot miss out on any of Xur's invitations. So that's a plus.
Bungie said if you've fallen behind, you may resume progress. All you have to do is speak to tentacle face the weekend after you complete the current invitation. From then on, progress will continue weekly until you've completed all invitations.
You can find information on the invite and everything else the fella has in store below.
Xur inventory for May 17-20
D.A.R.C.I. is the Exotic Weapon this week. The intrinsic perk allows the user to see the health of an enemy and other critical information when using the scope. The perk provides better target acquisition and more precision damage. It has an extended mag, but loads much slower.
Destiny 2: Season of the Drifter – Invitations of the Nine
In addition to his Exotic inventory, Xur's offered a quest item for you to complete each week, for up to nine weeks. Each week you were invited to learn more about the Nine and unlock lore pages.
This questline is called Invitations of the Nine and tasked you with completing weekly bounties. Here's a complete guide to past invitations.
The last invite drops this week, and the Invitation is Death. It will cost you nine shards.
Things are a bit different this week: you will have to complete nine Crucible Matches in Competitive, Quickplay, and Rumble playlists.
In other words, there's no need to collect metaphysical samples from defeated enemies this week.
Invitation – Death – Objectives
Quickplay completions: 3
Competitive completions: 3
Rumble completions: 3
Remember: if you do not complete your invitation by Tuesday at reset, you will be unable to acquire a new invitation that week. But, as stated above, you can still pick up invites weekly until you have completed all invitations.