Destiny 2's World-Eater: what you need to know about the On The Comms quest ahead of the Leviathan Raid today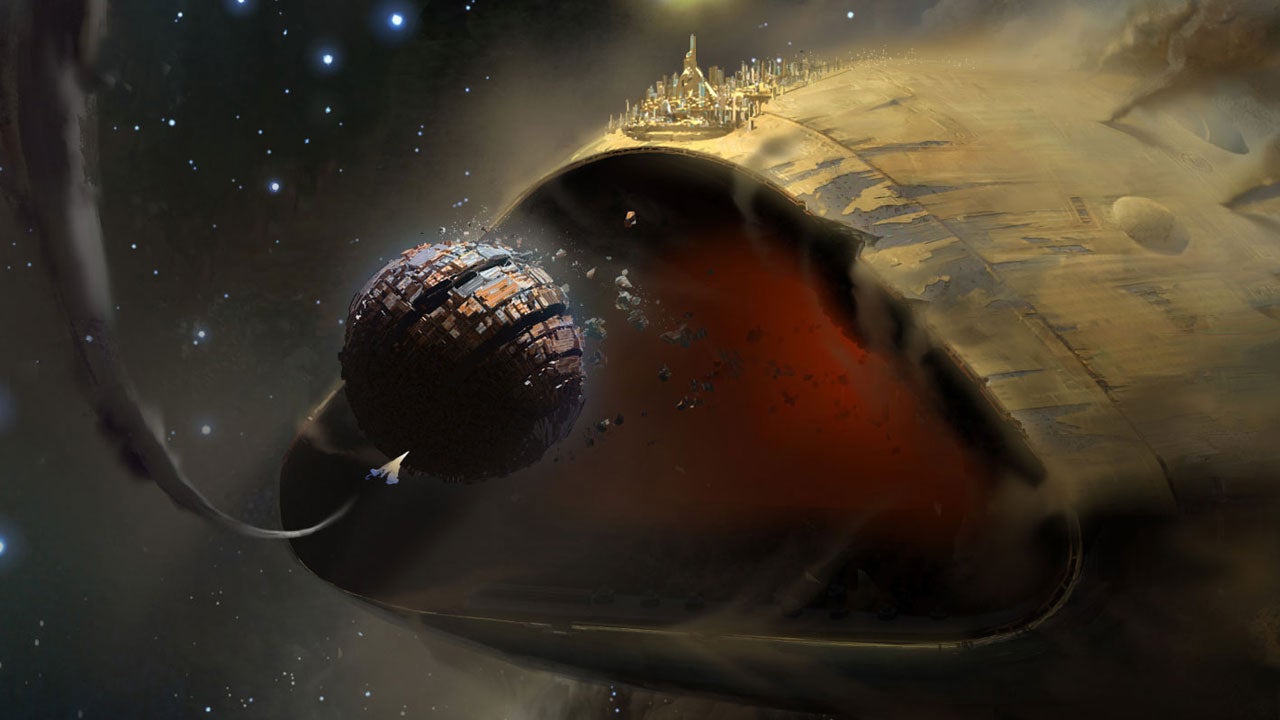 Destiny 2 players are on the trail of a mysterious objective which may tell us something about this week's Leviathan Raid. Is the World-Eater the final boss?
Update: in the weeks since this article was published, On The Comms has been more fully explored and revealed as part of the Legend of Acrius Exotic weapon quest. Visit that page for all the latest details on how to complete this quest and get your goodies.
If you've been playing Destiny 2 a fair bit (hopefully while using our Destiny 2 guide) you may have found a weird bit of loot while beating up high-level Cabal enemies - like the bosses met in some Public Events. It seems only to drop after you reach level 20.
Called On The Comms, the item occupies a Power weapon slot but cannot be equipped and used - just like the quest items you receive during Weapon Quests unlocked via World Quests in Destiny 2. This naturally leads us to assume that we've embarked on a Weapon Quest for some sort of new Power weapon related to the Cabal.
The item description suggests returning to Nessus to collect five Cabal communication fragments, which drop from defeated Cabal. It doesn't seem to matter which Cabal you beat up, as long as its on Nessus; I received two of my comms fragments by punching regular old Psions in the Lost Sector in The Cistern, for example.
Now here's where things get really interesting. The next stage of the quest does not seem to be available yet, but once you've got all five comms fragments the quest item description changes to:
"The decrypted communications indicate something is coming. Look for the arrival of the 'World-Eater.'"
The World-Eater, eh? Like the strange, fish-shaped ship seen in Destiny concept art and widely believed to be the flagship of the Cabal Emperor Calus? And also, perhaps, the Leviathan referenced by the name of Destiny 2's first raid?
The Destiny community has long assumed that the fist Destiny 2 raid will begin on Nessus, for a number of reasons, and Redditor TheyKilledFlipyap has done a great job of pulling together those clues as well as material from the booklet included with the special edition to lend weight to this theory. Warning, though: the link also contains spoilers and speculation based on story material from the end of the Red War campaign.
Putting the relevant bits together, it looks like Calus uses his enormous ship to literally eat worlds, both to tidy them out of the way so as to fit his aesthetics and so as to harvest them for raw materials. We know the Cabal turn planets into fuel, because Ghost talks about it during the final missions of the Red War campaign, and we also know they're big on mining for resources. That's especially true and observable on Nessus, and it sounds like some of them are doing something there specifically for Calus, not Ghaul.
To understand this you may need to remember that Ghaul, raised by the exiled and disgraced Consul to gain revenge on the Empire, went rogue with his army to pursue the Light and gain its power. Calus issues invitations to the rebel forces to return to his fold, as you'll hear multiple times in-game if you poke about, and it's entirely possible he might turn up to gather his former troops now that his rival Dominus Ghaul is out of the picture.
Since Ghaul is out of the picture, Calus and his enormous ship would make an excellent raid boss, right? Right. And a very good place to finish off the mysterious On the Comms Weapon Quest, which certainly looks like it might be a deliberate tease for the Leviathan Raid if all these theories hold water.
On top of that, by glitching around the Nessus map Destiny 2 players seem to have found evidence of how the World-Eater ship might look in-game. You can see it on Imgur.
The Leviathan Raid goes live in Destiny 2 today and will hopefully begin to answer some of our questions regarding the ongoing plot of this year of Destiny. Are you prepared? Our article on how to level up and get Power fast in Destiny 2 has been updated with all the latest tricks, and you'll find plenty of other tips and intel in our Destiny 2 guide.
We're hoping the Raid also delivers something similar to Rise of Iron's Isenfyre Tokens, to unlock the secret areas believed to be hidden in, uh, a special place accessible after the campaign ends. Fingers crossed.