Destiny 2: Shadowkeep Lectern of Enchantment guide: how to get Phantasmal Fragments, Cores, and access Nightmare Hunts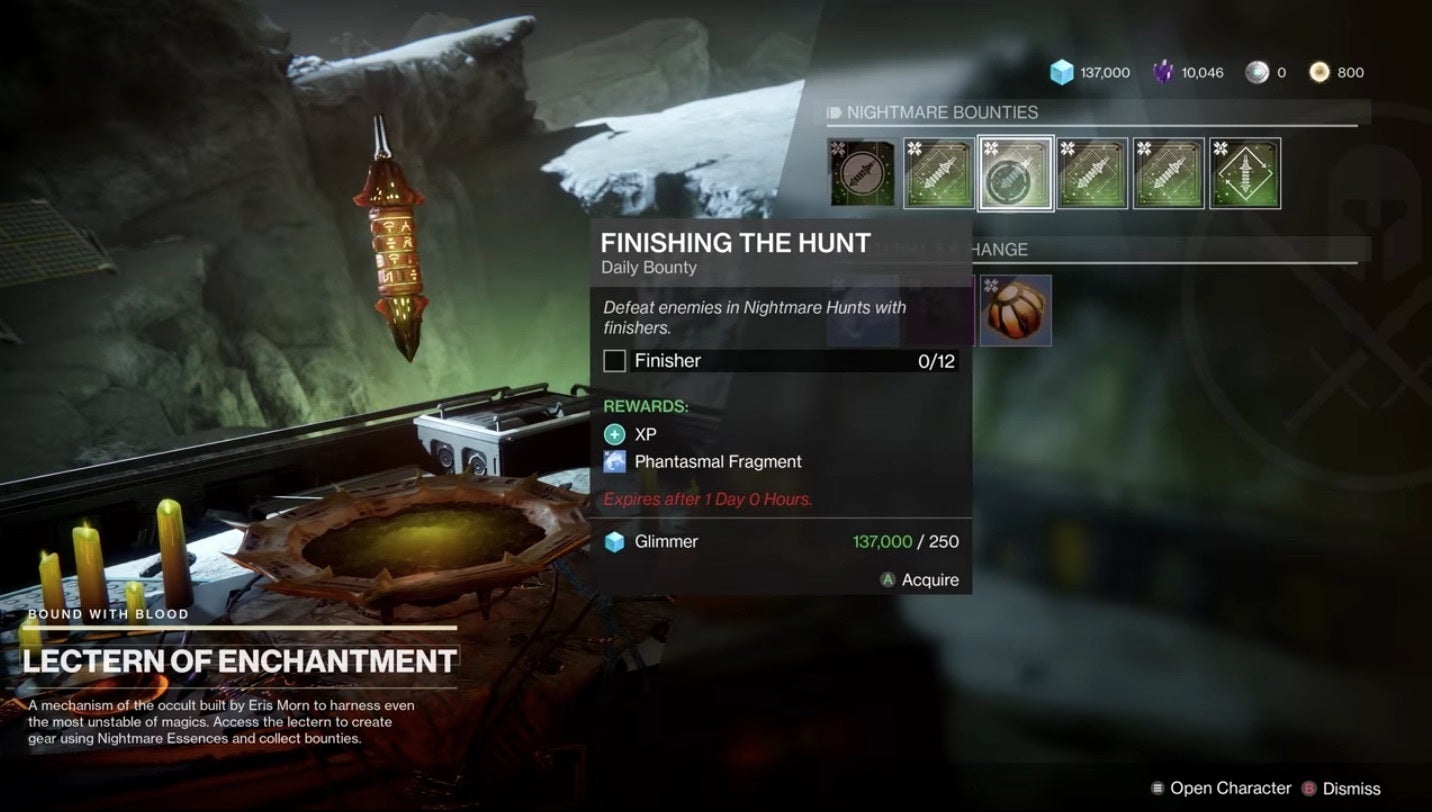 Destiny 2: Shadowkeep brings a new crafting station called the Lectern of Enchantment, as well as crafting items - called Phantasmal Fragments and Phantasmal Cores - into the mix . What's more, there's a new activity as well: Nightmare Hunts.
For those who took part in the Menagerie, you'll remember that you could use Runes in the Chalice of Opulence to create sets of armour and weapons. The Lectern of Enchantment works in a similar way, except you'll be using Nightmare Essence - along with Phantasmal Fragments and Phantasmal Cores - to create gear.
To gain access to the Lectern of Enchantment you need to progress the main Shadowkeep story and complete the In the Deep mission. Following its completion, you'll gain access to the Lectern.
How to get Nightmare Essence
You'll be able to gather Nightmare Essence by completing quests on the Moon. The first two pieces, "Essence of Anguish" and "Essence of Despair" will be granted in earlier missions, while you'll have to complete the "Nightmare Cometh" questline that pops after you've gained access to the Lectern to grab the rest.
Cleansing a piece of Nightmare Essence grants you some Dreambane armor, which is especially useful because it reduces the damage you take against Nightmare enemies.
Once you've cleansed a Nightmare Essence for the first time, you'll unlock it at the Lectern of Enchantment. There you can exchange a Phantasmal Core to gain another version of the Essence that rewards you with a more powerful piece of Dreambane armor or a weapon.
How to get Phantasmal Fragments and Phantasmal Cores
To exchange materials for armor with Eris, you need to have Phatasmal Fragments and Phantasmal Cores. These are globs of Nightmare Energy that can be used at the Lectern of Enchantment and with Eris.
Phantasmal Fragments are gathered either as a random drop from Nightmare enemies either on the Moon or in Lost Sectors around the galaxy, or by swapping 25 Helium Fragments at the Lectern of Enchantment. They're also acquired from daily Moon bounties.
Phantasmal Cores are much rarer, and much more powerful. These are obtained by exchanging 20 Phantasmal Fragments at the Lectern. You can also get them from weekly Moon bounties.
How to access Nightmare Hunts in Destiny 2: Shadowkeep
Nightmare Hunts are a tough new activity that grants Guardians "Powerful" equipment. You go on Nightmare Hunts as part of Shadowkeep's story but they're available on the map after you've advanced past the "Beyond" stage - which has a recommended power level of 850.
Nightmare Huntes come in four difficulty levels - Adept, Hero, Legend and Master - and you'll be facing Nightmare enemies in teams of three. Each difficulty level comes with its own modifiers, which will give you, your teammates, and enemies certain buffs and weaknesses.
If you want to access the hardest Nightmare Hunts and face-off against the toughest enemies on Legend or Master difficulty, you'll need to play in a pre-made Fireteam - given that it's Power level requirements are at the 950 Power mark. However, so that everyone doesn't just bludgeon through to the last levels, Hero and Legend difficulty will unlock on October 8, while Master difficulty unlocks on October 15.
Nightmare foes are enemies you've faced before throughout the whole of Destiny and Destiny 2 but will be far stronger and spookier. Bungie originally said there would be a "psychological element" to Nightmare Hunts, so maybe keep the light on and a soft friend to hand while you're playing.
Another wrinkle to Nightmare Hunts is that they have different modifiers that change your abilities and deliver buffs or nerfs to your fireteam and enemies. These modifiers will rotate on a weekly basis, much like Crucible playlists, to give you a fresh and interesting challenge each time.
Before you can get started with any of this though, you'll need to begin the main Shadowkeep storyline, which you can find out how to do here.
How to use the Lectern of Enchantment
The Lectern of Enchantment is located just next to Eris Morn in Sanctuary on the Moon.
There are special daily bounties you can complete via the Lectern, which range from killing a number of enemies or using a flashy new finishing move a certain number of times. As a reward, you'll get Phantasmal Fragments, which you can use in the Lectern.
For more on what's new in Destiny 2: Shadowkeep, here's how to equip your reworked Armor 2.0 mods.
And here's how to use the mysterious "The Gatelord's Eye" Artifact.