Destiny 2: How to return to the past and save Saint-14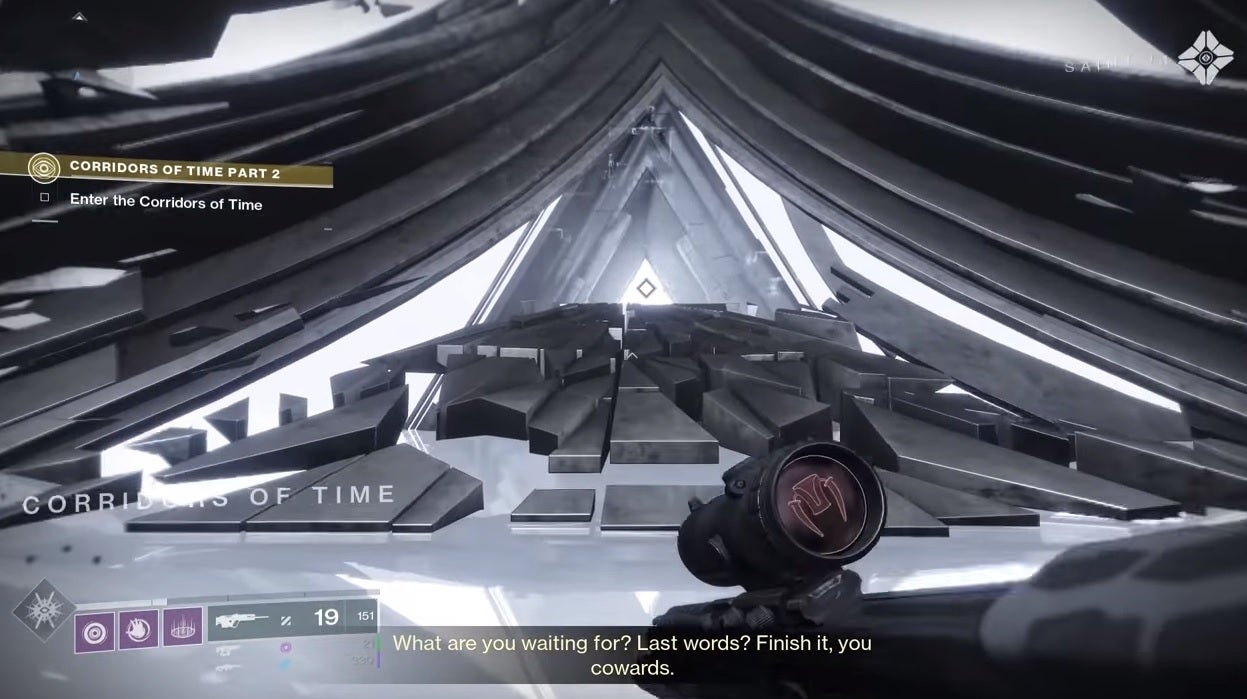 It's time to save a legend in Destiny 2, so have a word with Osiris and get ready for a fight.
Now that you've spoken briefly with Saint-14 and retrieved his Perfect Paradox shotgun, you'll now be able to go on a mission to rescue him from the Infinite Forest and succeed where Osiris failed. The Power requirement for this quest is around the 900 Power mark, so you might need to grind it out a bit before you get started.
How to save Saint-14
Osiris believes that your efforts so far have impacted the timeline, as he's picked up a signal from Saint-14's Ghost from somewhere inside the Vex Gate Network. Your first port of call is Nessus, where you'll be able to find a way into the network. You'll need to fight a bunch of Vex and place six Vex Transponders to find the Ghost and Saint-14.
You'll see a circle on the ground that indicates where to place the transponder, so don't worry about that too much. To complete this step, place a Vex Transponder at:
Exodus Black
Hallows
Watcher's Grave
Chamber of Water
The Tangle
The Cistern
The quest will then update you to head over to The Cistern and turn right when you see the first wall instead of heading towards the Pool of Luminescence on the left. You're looking for a thin hallway with a Vex Node in it which should let you enter the network. You'll find Saint-14's dead Ghost, but no Saint-14, so head back to Osiris to have a chat about your journey so far.
He'll then task you with collecting Light to charge the Sundial like you've done in the past to unlock Obelisks. You can do so by defeating 25 Guardians in Crucible and Gambit matches, getting 25 kills with your Super and collecting 25 Orbs of Light.
Once you've completed this step, return to the Sundial and speak with Osiris to get the quest step Corridors of Time Part 2. You'll be up against Agioktis, the Martyr Mind - who has four health blocks and is a bit of a beast - and waves of Vex as you to try to save Saint-14, so bring a good crowd control weapon and a decent rocket or grenade launcher.
Eventually, you'll be imprisoned and Saint-14 will break free to save you, before teleporting you back to the Sundial where you'll need to defeat a few more enemies to free him. Saint-14 will now be a permanent vendor on the Tower and can be found in the Hangar. You'll be able to pick up bounties from him as well as unique items and it's likely that this week's Exotic quest will involve him in some way.
For more Destiny 2: Season of Dawn guides, you can check out our guides on how to complete An Impossible Task and find Saint-14, the best Artifact mods and how to complete Recovering the Past and get Saint-14's Perfect Paradox shotgun.
You can also read how to unlock the Sundial and all the Obelisks so far, as well as how to earn this season's Ritual Weapons.
If you're new to Destiny 2, you can check out our Forsaken guide here as well as how to find Lost Sectors and cache codes.
For more Destiny 2: Shadowkeep guides, check out our pages on how to get the Season of the Dawn Ritual Weapons, how to find the Pit of Heresy Dungeon, Nightmare Essence Cleansing and how to get Phantasmal Fragments, Cores, and access Nightmare Hunts.
You can also check out where to find the hidden Jade Rabbits and all the dead Ghosts and