Destiny 2: Hard Light Exotic Auto Rifle is getting nerfed in the 2.8.1.1. update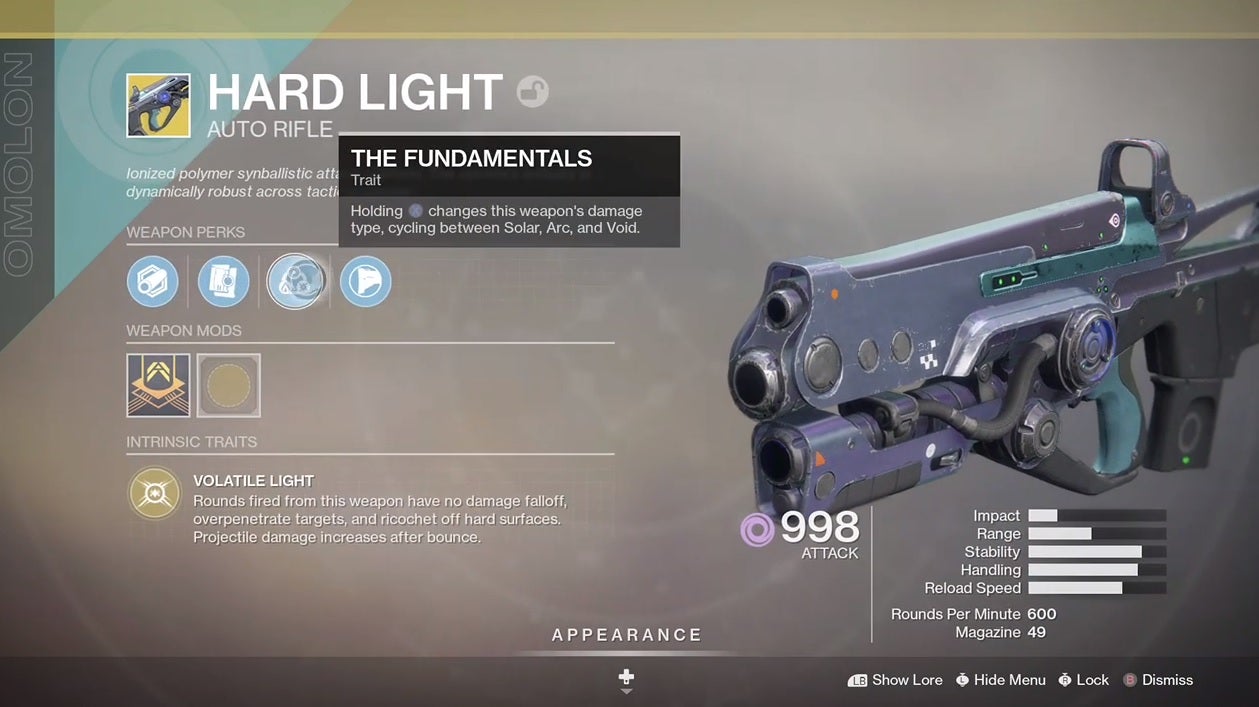 The Guardian Games are well underway and Titan's are still in the lead, but their success could potentially be thwarted in the latest update which intends to nerf the mighty Hard Light auto rifle.
The Exotic auto rifle Hard Light is the bane of many a players existence as it is far too OP in Crucible and other PvP matches. Auto Rifles received a slight adjustment in the 2.8.0. update recently which made Hard Light even better than it was by reducing screen shake when aiming.
This made it even deadlier for mouse and keyboard players taking precision shots, which made finding cover from opponents near impossible as you could plan where your ricochet trajectories would land.
Hard Light also comes with elemental damage types that you can switch between, so all in, you had little chance of surviving against a Guardian wielding this behemoth, nevermind a coordinated fireteam out for blood.
While the reduction in screen shake will remain after the new update today, Hard Light's long-range effectiveness will now be reduced, as well as its stability. This means that it'll become more difficult to land a precision shot and you won't be able to project your ricochets as effectively. You can check out the changes here:
Hard Light's damage falloff now floors at 0.7x (Auto Rifles use 0.5x standard).
Split ricochet bonus damage between PvE and PvP.
PvE damage remains at 2.0x damage.
PvP damage is now 1.35x damage.
Removed a hidden recoil adjustment that made the weapon more stable than intended.
A few bug fixes are also coming with this update, which comes later today. Hopefully, you'll still enjoy using Hard Light after this but if not, there are plenty of other Exotics to choose from, as it is quite the ageing weapon these days.
For more Destiny 2: Season of the Worthy guides, you can check out how to complete Into the Mindlab and where to find the EDZ, Moon and Io Seraph Bunkers.
You'll also find guides on this season's Artifact: Warmind Khaljali , where to get the Tommy's Matchbook Exotic Auto Rifle and the Fourth Horseman Shotgun.
If you're new to Destiny 2, you can check out our Forsaken guide here as well as how to find Lost Sectors and cache codes.