Destiny 2: Forsaken, hotfix 2.0.1, Last Wish raid release times and the biggest changes coming next week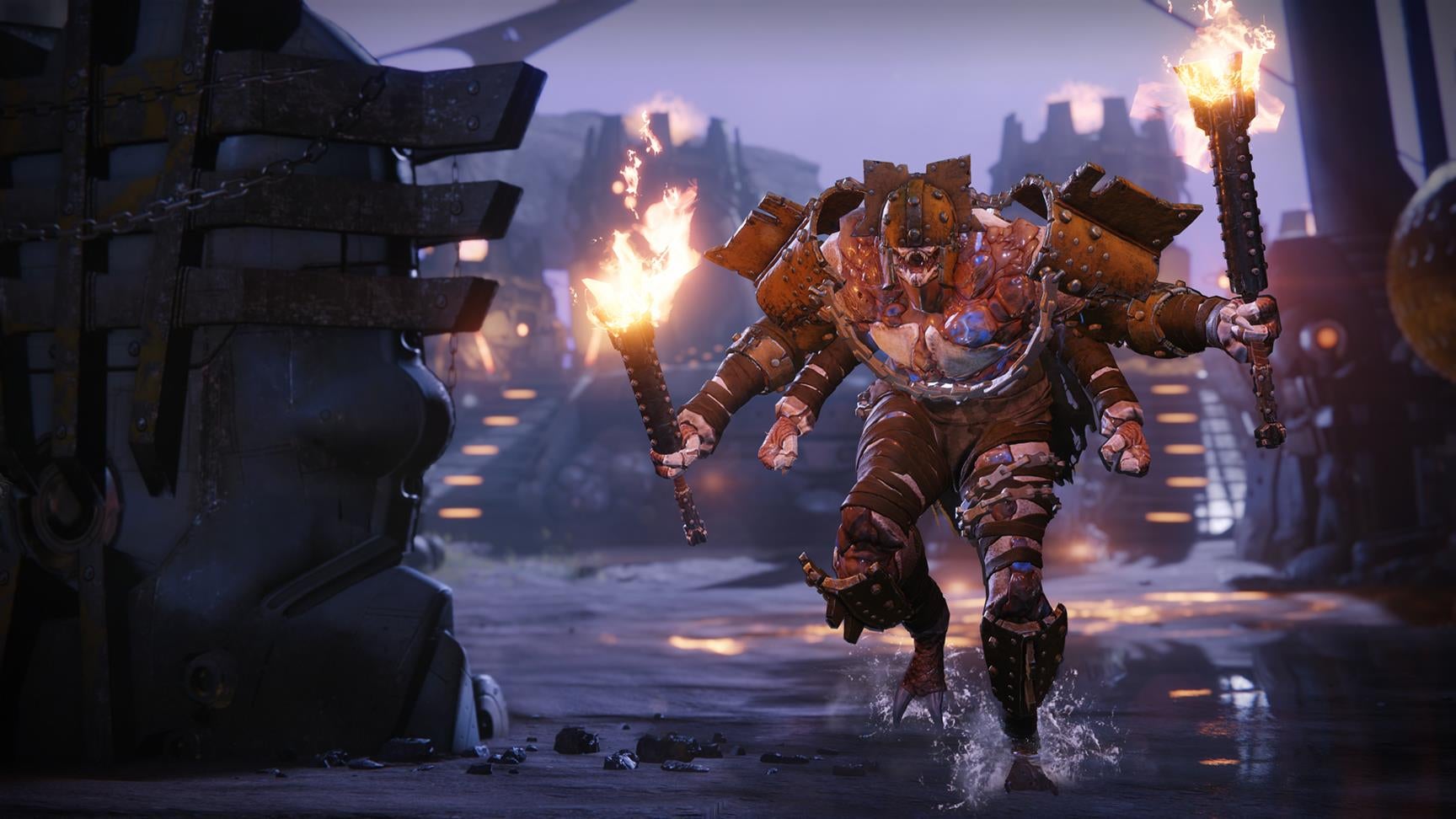 Destiny 2: Forsaken is now part of a complete bundle with Destiny and the previous expansions.
Bungie has detailed its launch plans for Destiny 2: Forsaken, the expansion's day one hotfix - and, of course, the Last Wish raid.
Destiny 2: Forsaken pre-patch: update 2.0.0 details
Forsaken launch preparations went into effect on Tuesday, August 28 when update 2.0.0 was released on all platforms. It not only brought some expansion content, it's also made changes that affect everyone, whether or not they own Forsaken.
There's a massive list of changes update 2.0.0 brought to the table, and we've posted some of the highlights below. The full list of additions and changes can be found through the official website.
General changes
Year 2 Weapon Slots will be live for all players
During this transition, weapons that overflow players' inventories will be sent to the Postmaster
Year 1 slots equipped with weapons that are moved during this update will remain empty until players equip another weapon
These Year 1 Power weapons will become Kinetic in Year 2: Alone as a God, Baligant, The Frigid Jackal, Hawthorne's Field-Forged Shotgun, Perfect Paradox, Shepherd's Watch, Silicon Neuroma
These Year 1 Power weapons will have their elemental attribute changed and locked to Solar for Year 2: IKELOS_SG_V1.0.1, IKELOS_SR_v1.0.1
These Year 1 Exotic Power weapons will remain in the Power slot, as exceptions to Year 2 weapon slot changes: D.A.R.C.I., Legend of, Acrius, Tractor Cannon, Whisper of the Worm
ll other Year 1 Energy and Power weapons will have their elemental attribute locked for Year 2
New ammo economy will be live to support Year 2 weapon slots
Exotic weapons, armor, and emblem collections will become unavailable until September 4
Players should grab their desired items before August 28
Updated collections will return on September 4
Some tooltips may not reflect actual item behaviour during the August 28-September 4 transition
Exotic weapons will lose their +5 Power mods in preparation for September 4
All remaining Legendary and Exotic gear will lose their +5 Power starting on September 4
Year 1 armour mods will be deprecated entirely starting on September 4
Nightfalls will not feature strike scoring until September 4
Xur will no longer display a vendor icon on destination maps
Xur will no longer be tied to Flashpoints
Xur's Fated Engrams will grant only pre-Forsaken Exotics
Swords will have the ability to accept shaders
Adding a timer to the status effect for Healing Rift, Empowering Rift, and Rally Barricade to communicate the time remaining before they expire
Wanted escapees from the Prison of Elders will roam the open world (they won't drop rewards until September 4, 2018)
Increasing the difficulty of all Lost Sectors (example: EDZ Lost Sectors will now require 240 Power)
Class changes
Hunter
Marksman's Dodge is now considered a reload; it can interact with Kill Clip, Rat King, etc
Celestial Nighthawk will grant 33% of your Super energy back if a target is killed by the Golden Gun shot
Wormhusk Crown will no longer start regeneration of health and shields
Wormhusk Crown will now grant a larger health and shield bump at the beginning of dodge instead of at the end
Warlock
Increased Healing Rift effectiveness
Empowering Rift now increases precision damage (previously, bonus damage was capped at the weapon's precision damage in PvP)
Skull of Dire Ahamkara grants increased Super energy gained from Nova Bomb kills
Killing higher-ranked enemies will grant more Super energy with Skull of Dire Ahamkara equipped
Transversive Steps has enhanced mobility, and will automatically reload your currently equipped weapon after you sprint for a short time
Titan
Rally Barricade no longer requires players to take cover to reload—it now feeds ammo to your magazine over time
Helm of Saint-14 now grants allies an overshield for a short duration when they're passing through Ward of Dawn
Mask of the Quiet One now increases energy gain from incoming damage, and will grant health from kills while critically wounded
Grenade changes
Axion Bolt
Increased base damage
Increased the amount of time it takes for tracking strength to lessen
Flashbang
Increased base damage
Incendiary Grenade
Increased base damage
Storm Grenade
Scatter Grenade
Re-tuned range and falloff ranges for the detonations for more reliable damage
Magnetic, Fusion, and Flux Grenade
Increased base damage
Damage is now the same whether a target has been stuck or simply walked over grenade when detonating
Magnetic Grenade now detonates a second time only if it's attached to a target
The second detonation no longer only occurs on the grenade itself and will now be applied to each individual target hit by the initial detonation
Skip Grenade
Increased impact damage of each Skip Drone impact for a higher total potential damage
Void Wall
Increased the damage of initial Void Wall wave
Destiny 2: Forsaken release and day one patch 2.0.1 launch times
On Tuesday, September 4, Forsaken will officially launch. You'll be able to access expansion content after downloading a day one patch. The patch will be available during server maintenance, which starts at 7am PT, 10am ET, 3pm BST and ends three hours later at 10am PT, 1pm ET, 6pm BST.
For Hotfix 2.0.0.1 patch notes on September 4, players should keep an eye on Bungie's Updates page or follow Bungie on Twitter for live announcements.
With that said, Bungie has provided a list of known and emergent issues since the launch of Update 2.0.0. Not all of the issues below will be resolved in Hotfix 2.0.0.1.
Aware of an issue impacting players' ability to obtain specific loot from the Nightfall strike "Strange Terrain." This issue should be resolved on September 4 with Update 2.0.0.1.
The XP bar is not showing XP gains for players at the level cap. This is a UI issue, and all players will continue to earn XP and Bright Engrams at their expected rates. This issue is expected to be resolved on September 4 with Hotfix 2.0.0.1.
Currently investigating an issue that causes the precision multiplier for some weapons with explosive rounds to be incorrectly capped, making them deal less total damage than intended.
Investigating reports of issues impacting sandbox gameplay, including Hand Cannon recoil on PC and aiming down sights not cancelling properly.
Some Year 2 Forsaken weapons and armor may drop prematurely from world loot sources. Items awarded to players early may see minor changes following Hotfix 2.0.0.1 and the launch of Destiny 2: Forsaken on September 4.
Some objectives that require Heroic strikes will not be achievable until Hotfix 2.0.0.1 on September 4.
Players who still have the "Spicy Ramen" quest will not be able to complete it because the ramen shop is no longer distributing expired coupons.
Gear Infusion and Level Requirements
Once Destiny 2: Forsaken is live on September 4, players can start increasing their Power and character level beyond Year 1 limits.
As with all increases to player Power in Destiny 2, infusing gear with a requirement above the current character level will make the infusion recipient unavailable for use until the player levels up.
Examples:
A player logs in to Destiny 2: Forsaken on September 4 at character level 30
The player receives new gear with a level 31 character requirement
The player infuses the new gear into their favorite Year 1 gear
This Year 1 gear is no longer available for use, since it has adopted the level 31 character requirement from its infusion material
The player must then increase their character level to 31 to reequip this gear
Players should pay extra attention to the character level requirements on their gear as they climb to max level.
Mod Changes for All
Mod changes will take full effect on September 4. Below is what players will encounter once Hotfix 2.0.0.1 becomes available.
Year 1 weapons will not accept Year 2 weapon mods
Elemental attributes on Year 1 weapons will be locked, and you will no longer be able to change them
Some targeted Year 1 Power weapons have had their elemental attributes changed and locked for Year 2
Year 1 armor will accept Year 2 armor mods
Year 1 Gear will not receive randomized perks
All Year 1 mods will be deprecated at the launch of Forsaken
Year 1 mods may safely be dismantled ahead of time in preparation for the Year 2 mod system
Destiny 2: Forsaken Last Wish raid launch times
Last Wish, Forsaken's raid, will be going live a whopping ten days later. Last Wish will be available starting Friday, September 14 at 10am PT, 1pm ET, 6pm BST.
This should give you enough time to gear up for the raid, though we're not yet sure what's the minimum Power level required.
Trials of the Nine, Solstice of Heroes, and beyond
Trials of the Nine is currently on hiatus, with no projected return date. As a result, the Lest Ye Be Judged achievement/trophy is no longer attainable. Bungie is likely working on tweaking Trials before bringing it back in Year 2.
As for Solstice of Heroes, the event - as well as Moments of Triumph - concluded on August 28.
Players are still able to Masterwork their Legendary Solstice armour (Resplendent). Be wary, however, patch 2.0.0 caused a few issues, which will automatically be fixed on Forsaken's launch day of September 4.
Here's what you will run into during that week:
Players will not be able to complete the Prestige Nightfall objective between August 28 and September 4 due to strike scoring being unavailable
After September 4, the Heroic Strikes playlist is being retired for a single, adjustable strike hopper. Players will need to complete strikes in this new playlist with at least one clanmate to unlock this Masterwork objective.
Valor ranks reset at the conclusion of Season 3 on September 4. If players do not unlock their Masterwork for achieving Legend in their Valor ranking by the end of Season 3, their Valor rank will reset, and they will have to begin anew in Season 4.
Even with the end of Solstice of Heroes and Trials of the Nine on hiatus, there are plenty of activities and events planned into summer 2019.
Below is just a taste of what's on the roadmap:
September 18 – The Iron Banner returns with the new Crucible map The Convergence
September 25 – New Crucible mode Breakthrough releases alongside new Crucible maps
October – Festival of the Lost returns – with a "twist"
Other – Weekly playlist updates, the Evolution of the Dreaming City, "additional surprises"
As a reminder, Bungie is hosting a limited-time, in-game demo for Forsaken's PvPvE mode, Gambit, on Saturday, September 1 for all players. It goes without saying that you'll need to grab Tuesday's patch to be able to participate.
Bungie has released more details about its upcoming Festival of the Lost which will feature a Haunted Forest, a quest to find Master Ives and a costume party! You can find more about levelling up, where to find Exotic weapons and more about the new subclasses here.
Destiny 2: Forsaken releases September 4 on PC, PS4, and Xbox One.