Destiny 2: Forsaken - How to get Malfeasance Exotic Hand Cannon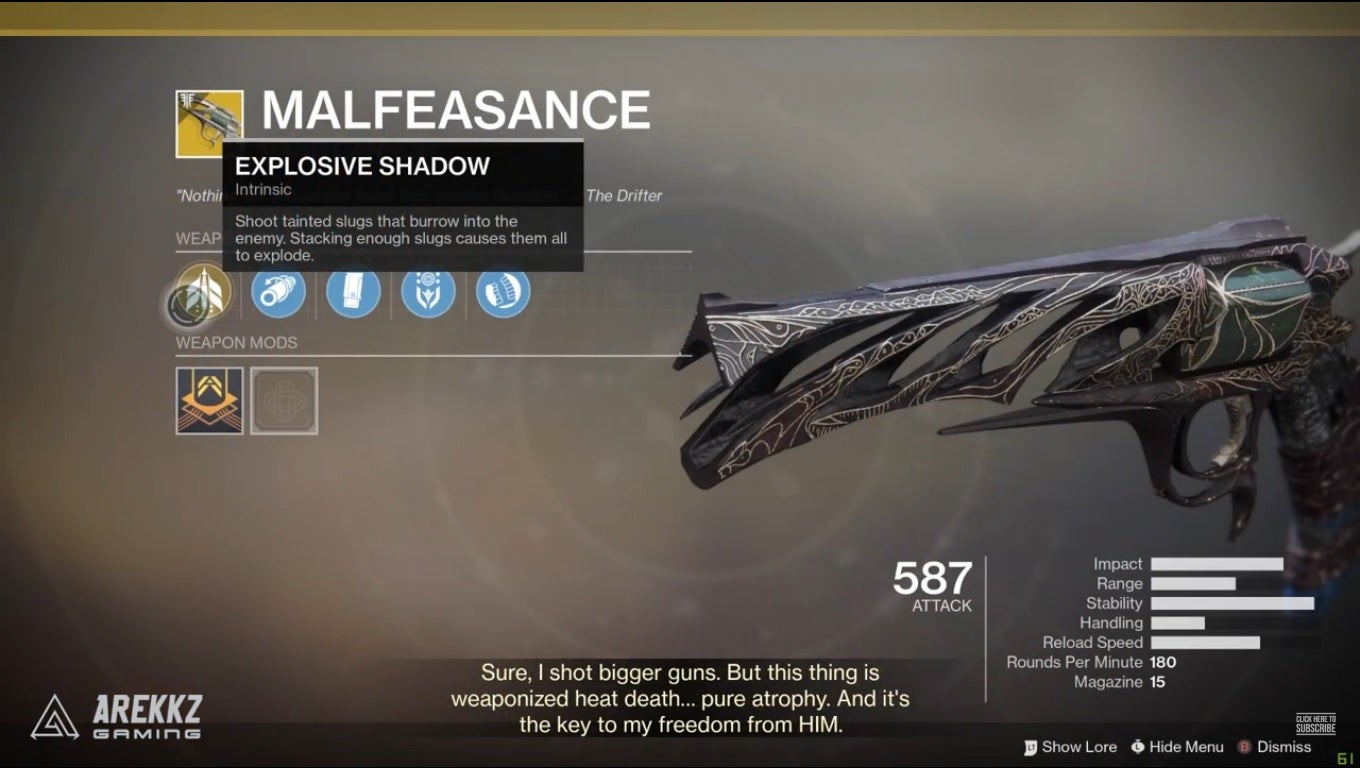 We've got another Exotic weapon for you to get your mitts on in Destiny 2: Forsaken.
Two of the most popular Exotic weapons in Destiny 2 right now are the Wish-Ender Exotic bow and the Exotic hand cannon, Malfeasance.
This Exotic weapon is tied to Gambit. It's not as difficult to get as Wish-Ender, but it is a luck of the draw whether you get a chance to find it or not.
So, let's take a look at how to get your hands on this Exotic hand cannon. Thanks again to Arekkz Gaming for the video guide.
During a Gambit match, there's a chance that in place of a regular Primeval, a special Ascendant Primeval will spawn. Upon killing this Ascendant Primeval, he will drop an item called The Seething Heart, which instructs you to go and speak to the Drifter.
The Drifter will give you a quest step called the City of Secrets, where you'll need to travel to the Dreaming City and defeat 25 Taken bosses or minibosses, who have a yellow health bar.
Upon killing your 25th boss, you'll receive the next step, The Corrupted. If you open the map, you'll see a new icon appear for this special version of The Corrupted Strike. This area supports six players, but you can't load into it with any more than three. Once inside, though, another three people can join you.
Follow the markers as you normally would until you reach Callum's Grave. When the dialogue from the Drifter ends, you'll receive a Depleted Weapon Core. Take this back to the Drifter to receive the next step, Business as Usual.
This next step involves playing Gambit, banking Motes and getting wins, but it can be a bit tricky. If you drop or lose any Motes during a match, you'll lose progress and there's a x2 loss penalty for each Mote lost. Fill both of bars up to 100% to unlock the final step, Lights Out.
For this step, you'll need to defeat 25 opposing Guardians in Gambit, whether that's by invading yourself or killing them when they invade you, as well as filling a bar for invader kills.
If you invade and kill all four Guardians during one invading session, this will complete this step in one. You can also have an ally invade and attempt this for you but will only give you one-third of the progress. So, you can either attempt to do it all yourself in one go or have allies invade on your behalf and team wipe the other side three times.
With that complete, visit the Drifter in the Tower to receive Malfeasance as your reward. Its main perk, Explosive Shadow, shoots tainted slugs that burrow into the enemy and stacking enough slugs will cause your enemy to explode. It also has Corkscrew Rifling, an extended mag, the Taken Predator trait for bonus damage against Taken and Gambit invaders and heavy grip.
Season of the Drifter has started, so check out our guides on how to succeed in Gambit Prime, how The Reckoning works and what Pinnacle weapons are coming to Destiny 2.
For all things Destiny 2: Forsaken, head over to our ultimate guide.