Destiny 2: Crimson Days - how to get The Vow bow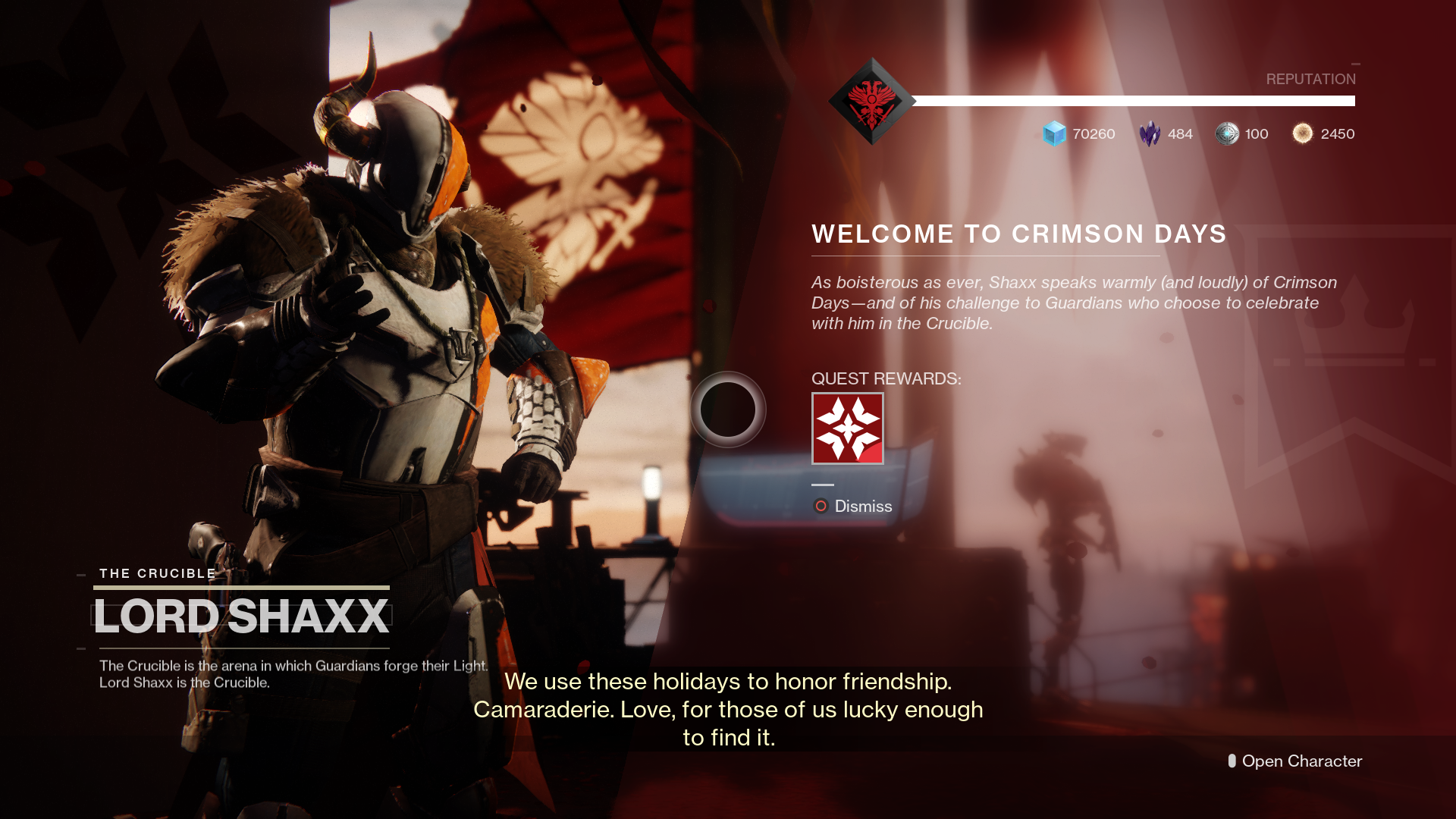 The Crimson Days event has started, so grab a buddy and jump into Destiny 2.
Crimson Days runs from February 12-19 and Lord Shaxx has several duo-themed bounties for you. Whether that's getting kills in the Crucible or completing strikes in a team of two, there's plenty to be getting on with.
Completing Crimson Days bounties will earn you Confectionery Hearts which you can trade for prizes, including The Vow bow. The Vow is available to all players, even if you don't own the Forsaken DLC.
Destiny 2: Crimson Days rewards
It's worth noting that The Vow isn't the most expensive item on this list, so I'd suggest completing a few bounties and saving up to get it first. You can buy the Warmhearted Gift several times and there's a chance it will drop the likes of Enhancement Cores, mod components and materials.
You can also earn Confectionery Hearts by playing in duos in the Crucible. You'll get five Confectionery Hearts if you lose and seven if you and your partner win.
Tirastrella ghost shell: 25 Confectionery Hearts
Undeterred Exotic sparrow: 50 Confectionery Hearts
The Vow Solar bow: 100 Confectionery Hearts
Dieselpunk Wardcliff Coil ornament: 125 Confectionery Hearts
Flaunting Dance emote: 150 Confectionery Hearts
Warmhearted Gift: 15 Confectionery Hearts
If you're willing and able to complete everything, you can earn the Sugary Shell for your Ghost by completing every Triumph related to Crimson Days. The Sugary Shell has some very interesting perks, including Guiding Light which increases all XP gains.
You'll need to complete nine triumphs to unlock the Sugary Shell:
Purchase Shaxx's rewards
Complete 22 Crimson Doubles matches
Win 11 Crimson Doubles matches
Defeat 77 Guardians near their partner, activating the Reunited buff
Defeat 77 Guardians when they are far from their partner
Defeat 77 Guardians after you've killed their partner
Avenge your partner twice by earning Blood for Blood medals
Complete 11 Crimson Days bounties
Complete a Nightfall in a fireteam of two
Once you've done all of that, the Sugary Shell is yours. You have until February 19 to complete everything, so there's plenty of time left to do so.
If jumping into the Crucible isn't your cup of tea, check out our Destiny 2: Forsaken guide for more challenges, Exotic weapons quests and more.