Destiny 2 contains so much story content Bungie hopes "people complain" about it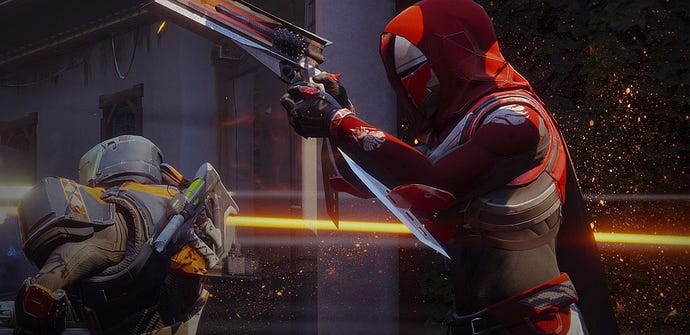 Bungie is ready to tell Destiny players some stories, and will do just that when Destiny 2 drops in September.
Destiny 2 players should prepare themselves for plenty of changes in the game, one of which is amount of story elements to the point of overkill, according to senior narrative lead Jason Harris and cinematic lead Matthew Ward.
The duo may have said this jokingly, but Destiny 2 will reveal plenty to players regarding the story of Ghaul and their Guardians where as Destiny was more about laying the foundation for the world.
"I think it's important to really understand the studio spent a lot of time world building," said Harris in the IGN First video posted below. "I can't emphasize enough that we are ready to tell stories in this world. Big, expansive, and cinematic stories.
"We certainly learned a lot by listening to people, by playing it with other people, by exploring the world in a one to one manner with our audience," added Ward. "As we explored it, we found stories that we personally wanted to tell.
"We're learning from all the feedback we got from Destiny 1, and applying it."
The story in Destiny 2 features quite a bit on loss and the internal struggles of NPCs. Titan Vanguard Commander Zavala, Warlock Vanguard Ikora Rey, and Hunter Vanguard Cayde-6 are all struggling with what it means to be a Guardian in the game.
Each one of them has a connection to the loss of Light, which has been taken away, and they will ultimately have to learn how to overcome this void. Players will face the same struggle, wonder whether they are still a Guardian without the light.
Of course, there's also the story of The Traveler, which the Cabal Red Guard have taken over. Once House of Wolves and The Taken King were released, Destiny 1 pretty much failed to mention The Traveler again.
"I think players are ultimately going to see a wide variety of story channels and an eclectic number of outlets to see story infused throughout the game," said Harris. "There is story everywhere."
"I hope people complain about how much story we have," added Ward. "That would be the reddit thread I'd like to read."
Originally slated for release on September 8, Destiny 2 was moved up a couple of days in order to help ease stress on the game servers.
Destiny 2 will now release on September 6 for PS4 and Xbox One and is also coming to PC.
Before release though, two beta tests will take place.
The first Destiny 2 beta kicks off next week on PlayStation 4 and Xbox One, July 18 and July 19, respectively. These dates are early access for those who pre-ordered the game. The beta will open up to everyone else on July 21. You can look over Destiny 2 beta start and end times through our handy guide post.
Those participating in the beta will be able to jump into the opening mission Homecoming, the new Crucible mode Countdown along with Control, and The Inverted Spire Strike. They will also be able to try out the new Subclasses.
And for one hour on Sunday, July 23, testers can tour The Farm which is the new social space in Destiny 2.
The second beta test will be held on PC sometime in August.