Destiny 2 Challenger's Proving Quest | Get Cabal Gold, Decrypting the Darkness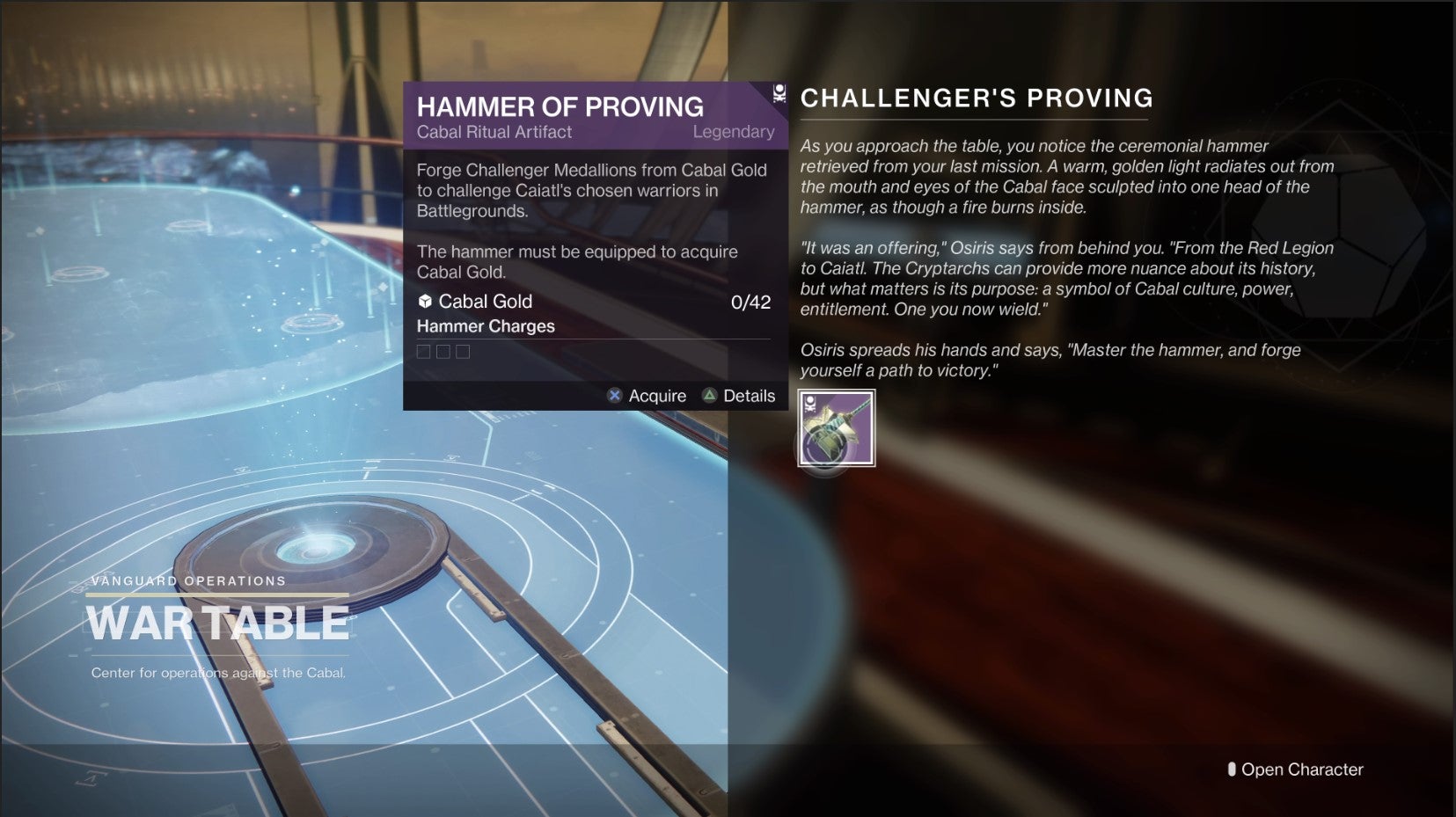 Destiny 2's Season of the Chosen is here and Calus's daughter Caiatl has come to our solar system to offer us a partnership. However, we are going to have to prove ourselves by battling the Cabal once again.
The new season has a main quest to follow to get you acquainted with the systems and the new areas.
This series of quests will take you all across the galaxy, and into never-before-seen areas of the Tower which offer interesting new ways to gather loot.
First, you'll take on the A Challenger Rises quest, before moving onto the meatier 12-step Challenger's Proving quest. This second quest runs you through more fresh activities, and tasks you with collecting a new currency: Cabal Gold.
Here's how to complete every step!
Destiny 2 A Challenger Rises quest
To start the A Challenger Rises quest, you simply have to turn on the game. You'll be greeted by two cutscenes, one showing Lord Saladin unsure about the arrival of the Cabal and the other our first meeting with Caiatl.
We are going to try and weaken her position and the Cabal's confidence in her leadership.
After this, you will be thrown into a matchmade event that will teach you about the new activity, Battlegrounds. These are fairly lengthy combat arenas.
You'll land on Nessus and be tasked with killing a bunch of Cabal. Eventually, a powerful one will land and you will have to kill them. They will grant you an Access Code. You will need three to move on. Once you are ready, put the codes into the terminal.
You will then be directed to a new area, so get on your sparrow and move. Once you arrive, surprise! Fight more Cabal. Eventually, a powerful Cabal will land that drops a bomb. Throw that bomb at the exposed generators. There are three you need to destroy.
After this, a boss will spawn. Damage them until they become immune. To deal more, you will need to kill another highlighted Cabal which will bring down the shield. Do this over twice until the boss falls.
They will drop the new Seasonal Artifact called the Bell of Conquest. Congratulations, you are now ready to move on.
How to complete the Challenger's Proving Quest in Destiny 2
You will now be directed to a new area in the Tower, The H.E.L.M. This will be your base of operations for much of this season. Walk up to the directed terminal and pick up the Challenger's Proving Quest. Then watch the interaction between Osiris and Crow.
You will be directed towards the new Umbral Decoder. The Cryptarchy have taken the Drifter's plans and made a new design for you to decrypt and focus these special engrams.
Walk up to it and you'll get a small sub-quest teaching you how to use the device. Tyra Karn will talk to you about that.
Decrypting the Darkness in Destiny 2
You'll be gifted a prismatic lens to help you craft and focus the Umbral Engrams into what you want.
For now, you will only have a limited choice though. Interact with the Prismatic Recaster and select Umbral Affinity. Then head to the decoder side of the table and decode your first Umbral Engram of the season. Hopefully, it was something good.
Now, back to the main quest. You will get a message from Lord Saladin about a nasty Cabal commander you need to hunt down.
Head to Europa to face him in the second Battleground. The same rules apply to the Nessus encounter you did earlier, but it's a tougher challenge. Once the boss is dead, you will get the Hammer of Proving.
Where to get Cabal Gold in Destiny 2
Return to the H.E.L.M and get a little lesson about how to use the new seasonal device. This acts similarly to the Cryptolith last season, in so much that it needs to be charged up in order to use.
Except instead of charges, you need Cabal Gold to socket into it.
You can earn Cabal Gold all over the place. Strike playlists, Gambit, Crucible, (heroic) public events, dungeons, Nightmare Hunts and the Blind Well all grant the currency so you have a ton of choice.
However, Bungie's official support Twitter has said that raids and dungeons are both bugged, and won't reward you with any Cabal Gold.
The fastest way to grind out a large Cabal Gold then, is to run heroic public events on whichever of your favourite planets you feel the most familiar with. However, for this first step, you can just run a couple of Crucible matches, or a single Playlist Strike.
| Where to get Cabal Gold in Destiny 2 | |
| --- | --- |
| Activity: | Cabal Gold Reward: |
| PvP (Crucible) | 8 |
| PvP (Gambit) | 8 |
| Playlist Strike | 14 |
| (Heroic) Public Event | 8 |
| Dungeon | Bugged |
| Raid | Bugged |
| The Blind Well | 14 |
| Nightmare Hunt | 14 |
Pick your poison and do it until you have gotten 14 Cabal Gold. Once you've done that, go to your quest menu and open your Hammer of Proving. Use that money to make a Challenger Medallion which you should socket into the hammer.
Now head to the Strike playlist and select the Battleground playlist. From here do another Battleground. Fight Basilius The Golem and take him down. Then the fun part.
Go over the chests behind the main loot chest at the end of the mission and smash your hammer down to open it.
Now head back to H.E.L.M. Head over to the War Table and collect a new Umbral Engram. You'll now use the Hammer of Proving to focus it. Head over to the Prismatic Recaster and make your choice.
Right now, you will likely only have Tier 1 focusing so choose if you want a weapon or armour. You'll also see in the other tiers, you need to complete challenges and use certain kinds of weapons to be even more specific with your focusing.
Then decrypt your focused Umbral Engram. Then return to the War Table and get a debriefing from Lord Saladin. You now know how to use your Hammer of Proving, the Prismatic Recaster and do the Battleground activity.
Get out there and start smashing chests with your big hammer!
With this part of the main quest for the Season already completed, here's how to unlock the new stasis Aspect of Influence in Destiny 2.