Death Stranding cameos - what famous faces are in Death Stranding and where to find them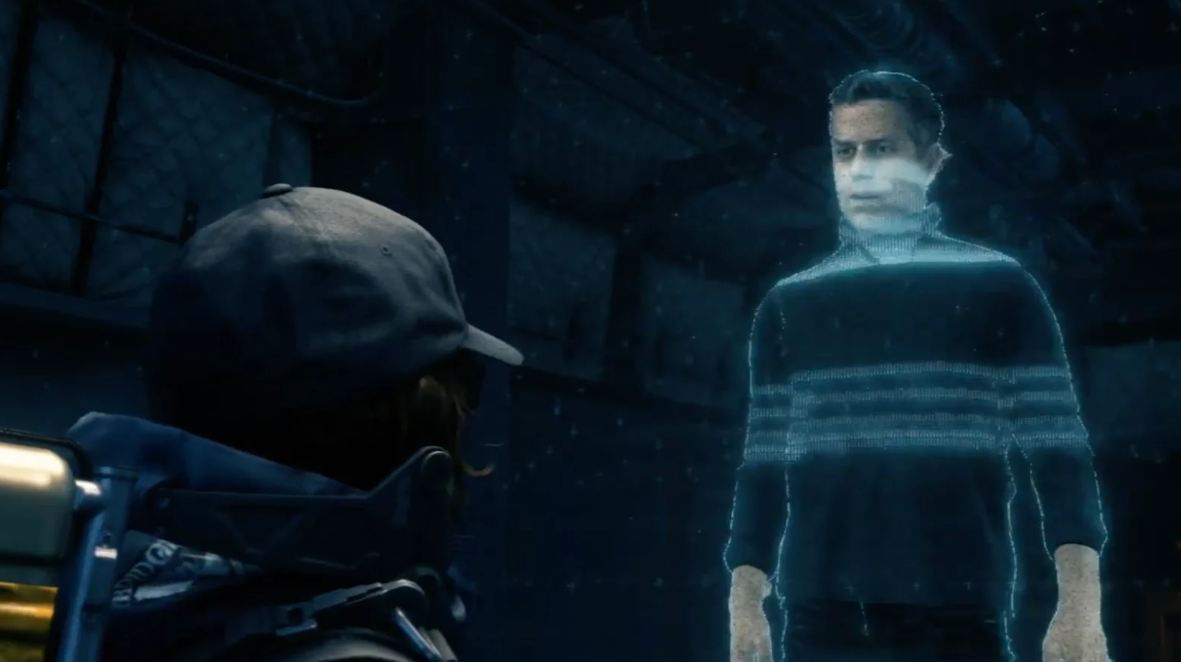 If there's one advantage of being Hideo Kojima, it's his profile. He's probably the most recognisable game developer in the world, and as such he's got loads of famous mates.
If you had loads of celebrity buddies and you were making a game about a baby in a jar, what would you do? That's right, you'd scan them and put them all in the game as holograms so they can send the player on missions. Of course you would!
If you're thinking about tracking them all down in-game or you're just curious to see exactly which celebrities pop up in Death Stranding, we've got you covered.
Death Stranding Celebrity cameos in the Eastern Region
For the first section of the map, you've got two famous faces to track down. Here's who they are and where you can find them:
Musician - Daichi Miura
Daichi Miura has visited me today and brought bottles of tea and eclairs (sweets)! Thank you very much, I gotta work hard! pic.twitter.com/mvhAdVpbJy

— HIDEO_KOJIMA (@HIDEO_KOJIMA_EN) April 9, 2018
You'd be forgiven for not knowing who this is, but this singer/songwriter is a big deal in Japan. Simply keep an eye out for the Musician missions and you'll track him down directly southwest of the Distribution Center West of Capital Knot City. Raise that connection level and he'll grant you a harmonica that you can use to soothe that jar baby, BB.
Ludens Fan - Geoff Keighley
Poor Keighley - he could have been called Journalist or Presenter, but he's been tarred with the fan brush by Kojima here. Keighley is best known for hosting and organising The Game Awards, an important industry event full of celebrations and *ahem, let me just do my best American voice* wuuurld premeeeyrs. You can find old Keelers east of the Distribution Center West of Capital Knot City.
Death Stranding Celebrity cameos in the Central Region
Here's some more for the second region in the game.
Craftsman - Hermen Hulst
Three years ago we gave @KojiPro2015_EN a copy of our @DecimaEngine in this box. Today @HIDEO_KOJIMA_EN came back to @Guerrilla to show us the incredible things he's making with it in #DeathStranding. So impressed! pic.twitter.com/8dLpdIh1bI

— Hermen Hulst (@hermenhulst) January 15, 2019
Hulst is the former boss of Guerrilla Games, who Kojima Productions borrowed the Decima Game Engine from, previously used for Horizon: Zero Dawn. Just today he was announced as the new head of Sony WorldWide Studios. You can find the game developer during Episode 3 at a shelter southwest of Lake Knot City.
Thomas Southerland - Edgar Wright
Edgar Wright finally made it to come visit Kojima Productions????? pic.twitter.com/DNXwVjzjKe

— HIDEO_KOJIMA (@HIDEO_KOJIMA_EN) August 27, 2018
The famous director behind Shaun of the Dead, Hot Fuzz, and Baby Driver appears as a character called Thomas Southerland. He's in charge of the Distribution Center South of Lake Knot City.
Film Director - Jordan Vogt-Roberts
So @HIDEO_KOJIMA_EN let me play DEATH STRANDING❗️The world is next-level immaculate. It's like freebasing pure Kojima & Shinkawa. Remember when FURY ROAD blew you away but also made you (in the best-most-thankful way) ask "wtf" how does this miracle exist? YOU. ARE. NOT. READY❗️ pic.twitter.com/RkVxtZCcbj

— Jordan Vogt-Roberts (@VogtRoberts) February 6, 2019
Another movie director, though this one plays an actual movie director in Death Stranding. You may know Vogt-Roberts for Kong: Skull Island. He's also directing a Metal Gear Solid movie at some point in the future, if it ever happens. You can find him southeast of the Distribution Center South of Lake Knot City.
Collector - Hirokazu Hamamura
Received the gorgeous gift (flower and champagne!) from Mr.Hamamura, thank you very much. Took a photo with the Pod that comes with our Special Edition. Now we are entering the hell (Hades) more than ever??????☔️✋?#DEATHSTRANDIG #デススト
TOMORROW IS IN YOUR HANDS. pic.twitter.com/YYJQjOkgVW

— HIDEO_KOJIMA (@HIDEO_KOJIMA_EN) May 30, 2019
Hirokazu Hamamura is the former editor-in-chief for Famitsu magazine and he now runs publisher Enterbrain, the company behind loads of Japanese websites and magazines - there's definitely no conflict of interest here, no sir. In-game he's a collector of retro consoles and you can find him south of the Distribution Center South of Lake Knot City within a ravine. Bring a ladder.
The Wandering MC - Conan O'Brien
We've done a full walkthrough on how to find Conan O'Brien because this is how you get one of the most useful items in the early game - the Sea Otter Hood.
Alex Weatherstone - Errolson Hugh
A real cool guy, Errolson Hugh of "ACRONYM" visited us. pic.twitter.com/MeBM5AzAYo

— HIDEO_KOJIMA (@HIDEO_KOJIMA_EN) September 6, 2017
You can find the fashion designer behind the Acronym brand in the Weather Station - do you see why he's called that in the game now? Weatherstone? Weather Station? Wow. This is the guy who made Adam Jensen's coat in the recent Deus Ex games though, so give him some props. He also has a cool face, as Kojima says.
Veteran Porter - Sam Lake
With @HIDEO_KOJIMA_EN @Kojima_Hideo. He is an inspiration. #DeathStranding dares to push the boundaries. It's wonderful to be able to compare notes. Happy and honored to call him a friend. @remedygames @ControlRemedy pic.twitter.com/ctpnP25MNK

— Sam Lake (@SamLakeRMD) January 17, 2019
The boss over at Remedy, developer of Control, and the face of the original Max Payne, Sam Lake appears as a grizzled porter - a vision of you in the future. During Episode 3, you can find Lake northwest of the Timefall Farm.
Phillip North - Tommy Wirkola
A genius Norwegian filmmaker TOMMY WIRKOLA known as "Whay Happened to Monday", "Hensley & Gretel", and "Dead Snow" has visited me today. Thank you. pic.twitter.com/JfJwUrQA78

— HIDEO_KOJIMA (@HIDEO_KOJIMA_EN) 15 December 2017
Another movie director! I know! You might know Wirloka, the Norwegian filmmaker, for Hansel & Gretel: Witch Hunters. You might also not. Who knows? He runs the Distribution Centre North of Mountain Knot City.
Novelist's Son - Manabu Makime
Yuji Sakamoto and Manabu Makime has visited at Kojima Productions. It's been 20 years meeting Yuji Sakamoto. We talked a lot to fill our missing days. pic.twitter.com/BJqqZJLqLC

— HIDEO_KOJIMA (@HIDEO_KOJIMA_EN) May 10, 2018
A Japanese novelist known best for Purinsesu Toyotomi, a book I've never heard of because I don't live in Japan, also appears in the game. You can find him south of the Distribution Centre.
Engineer - Junji Ito
Had dinner with Junji Ito, haven't met for few yrs. Was a wonderful night. pic.twitter.com/MIRxNbKduu

— HIDEO_KOJIMA (@HIDEO_KOJIMA_EN) June 28, 2013
A Manga artist famous for his horrific creations, Ito was once pegged to collaborate with Kojima on Silent Hills. Now he's a hologram who tells you to deliver a parcel. You'll find him as part of the main quests in the Central Region.
For more, here's some Death Stranding tips to top you off.