Dead or Alive 6 character roster - all characters and newcomers listed
Renowned more for its jiggle physics than fighting in recent years, Dead or Alive 6 is the first main branch entry into the series for a good while. Here's a full roster list of every character revealed so far.
This looks to be a more serious fighter than we've seen from Dead or Alive in the last few outings, with a greater emphasis on the core combat mechanics rather than saucy character design. With that said, Dead or Alive has always been a competent fighting game, and a return to its quick, combo and counter-heavy roots is an exciting prospect.
The roster so far is largely made up of series mainstays that made their debut either in the original Dead or Alive or Dead or Alive 2, but what with this being a new major entry in a fighting game, we've also got some new fighters joining the fray for Dead or Alive 6. The roster is swelling to be quite significant in size now - but if the final list will reach the heady numbers of DOA5 (nearly 40 characters) remains to be seen. As you'll see below, even if this is the final list the Dead or Alive 6 character roster offers quite a diverse set of fighting styles.
It's very likely that after launch the number of Dead or Alive 6 characters will continue to be expanded with DLC, and a few pre-order bonus characters are already confirmed as DLC. We'll update this page as and when characters - on-disc or DLC - are revealed and officially added to the character roster list.
Dead or Alive 6 character roster list: all confirmed characters
Ayane: the legendary purple-haired Kunoichi - and a series staple. She has a fast, furious and unpredictable fighting style.
Bass: king of the ring professional wrestler 'The Muscle' Bass returns. He's still riding his hog - and embarrassing daughter Tina.
Bayman: Bayman is a Russian assassin best-known for his less-than-stealthy bright orange combat attire. He knows all sorts of CQC techniques that'd rival even Solid Snake...
Brad Wong: drunken Master Brad Wong is always off his head, but that lets him use the wild, often confusing Zui Quan fighting style. He loves beer.
Christie: the world of DOA is full of assassins, and none are perhaps as deadly as Christie and her Snake Fist fighting style. Plus, she's a Brit. What's not to love?
Diego: newcomer Diego was raised on the rougher backstreets of New York City. As such, he's got a rough-and-tumble street fighting style.
Eliot: an orphan, Eliot was chosen to be the stole pupil of a martial arts master. Now, he competes in tournaments like DOA to prove his prowess.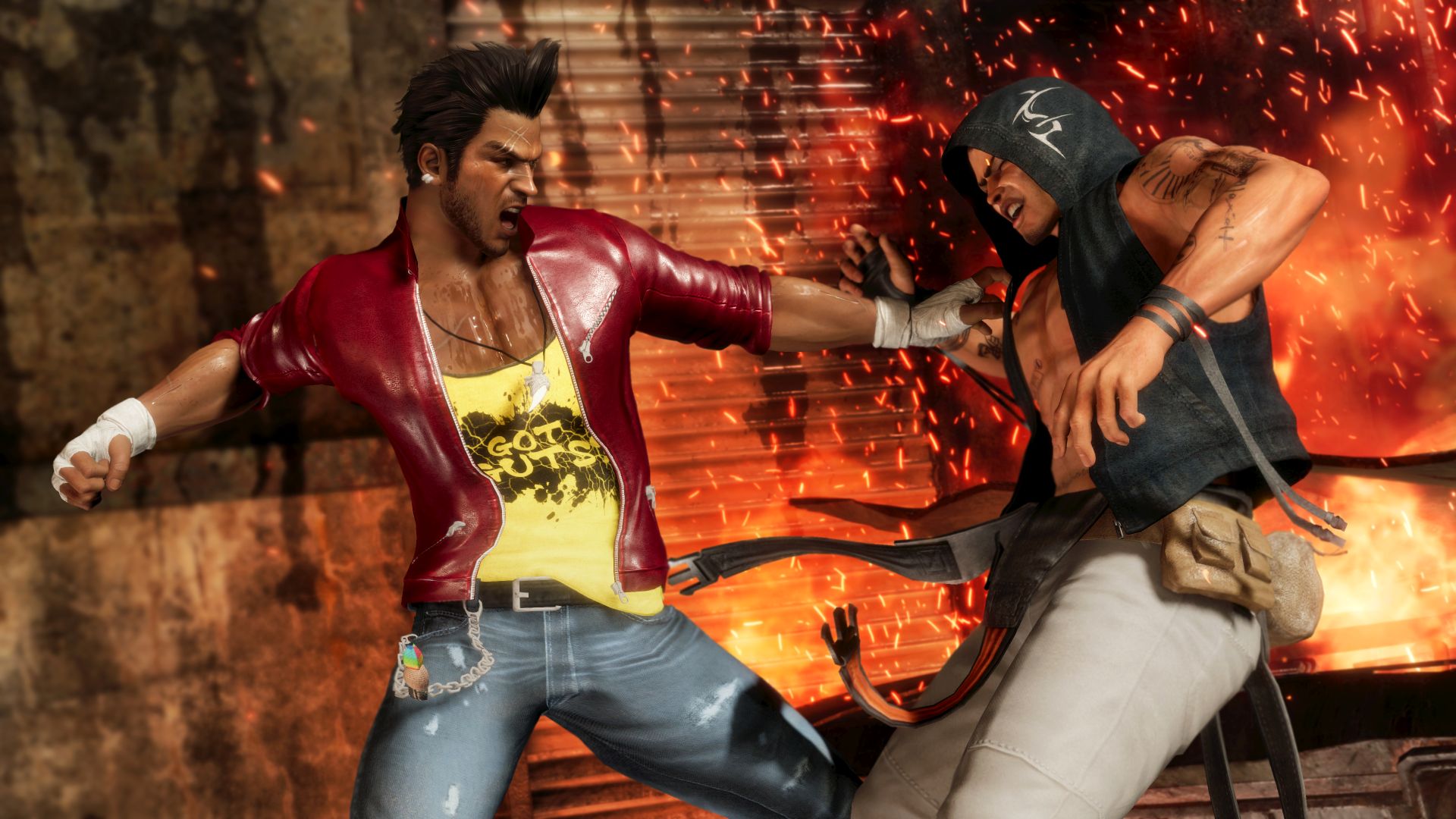 Hayabusa: video game royalty, Hayabusa is of course also known for Ninja Gaiden - and appropriately fights with the Hayabusa Style Ninjitsu.
Hayate: there are so many bloody ninjas in this game. Hayate uses Mugen Tenshin Ninjutsu - giving him swift, powerful moves.
Helena: in a sense Helena is partially to blame for all of this, since her father started the DOA tournament. She's a skilled martial artist herself, fighting with the elegant Pi Gua Quan style.
Hitomi: half Japanese, half German, Hitomi is all Karate master, and is a solid balance all-around fighter, quite capable in all facets of combat.
Honoka: still a schoolgirl, Honoka is a kung-fu master in her own right, and has developed her own style that she rather originally called Honoka Fu.
Jann Lee: with a surname shared with his obvious inspiration Bruce, it's easy to guess exactly how Jann Lee fights in DOA.
Kasumi: the Kunoichi of Destiny has an updated look for this latest addition to the series. She's usually a good character for beginners, with a simple but varied move-set and strong strikes.
Kokoro: using the Ba Ji Quan fighting style, Kokoro's elegant fighting rather resembles dancing - but it's far more deadly than it looks, especially if she manages to throw you.
Mila: hailing from Spain, Mila represents a more modern form of fighting - the world of Mixed Martial Arts. She has an appropriately aggressive style, including a brutal ground game.
Leifang: series favorite Leifang is back with a new bright yellow outfit. Her fighting style seeks to turn the aggression and power of opponents back against them.
La Mariposa: also known as Lisa, this ex-professional wrestler still fights in her Lucha Libre fighting style - meaning you'll spend a lot of time in the air.
Marie Rose: Swede Marie has ended up as Helena's maid, but she's pretty deadly for a maid, able to use the Russian Systema fighting style. She might be small, but she packs a serious punch.
Nico: newcomer Nico is a blue-haired scientist from Finland, and combines Pencak Silat - an old South-east Asian martial art - with technological gadgets. Doing so allows her to deal out serious damage.
Rig: in a very acute case of name-influencing-job, Rig was once a worker on an oil rig. Fair enough. He's a Taekwondo master, and is more acrobatic and agile than his brute force looking appearance might suggest.
Tina: series favorite Tina is back with her all-around-solid professional wrestling style - and she's finally stepping out of the shadow of her famous father.
Zack: dapper man Zack is now probably more famous for his exploits running a beach volleyball holiday paradise island, but he's also a powerful Muay Thai fighter - though his style isn't exactly conventional...
DOA 6 DLC characters:
In addition to the core roster, a few additional Dead or Alive 6 characters who'll be available as downloadable content. Some have already been announced for DOA6, even - mostly as pre-order bonuses. Here's the DLC for DOA6, and how to get them:
Nyotengu (DLC - pre-order bonus)
Phase 4 (DLC - pre-order bonus)