Darksiders: Genesis' Creative Director on Returning to the Series He Helped Create, Bringing Back War, and More
The creative director behind Darksiders: Genesis tells us about co-op, bringing back War, and reinventing the action of the series.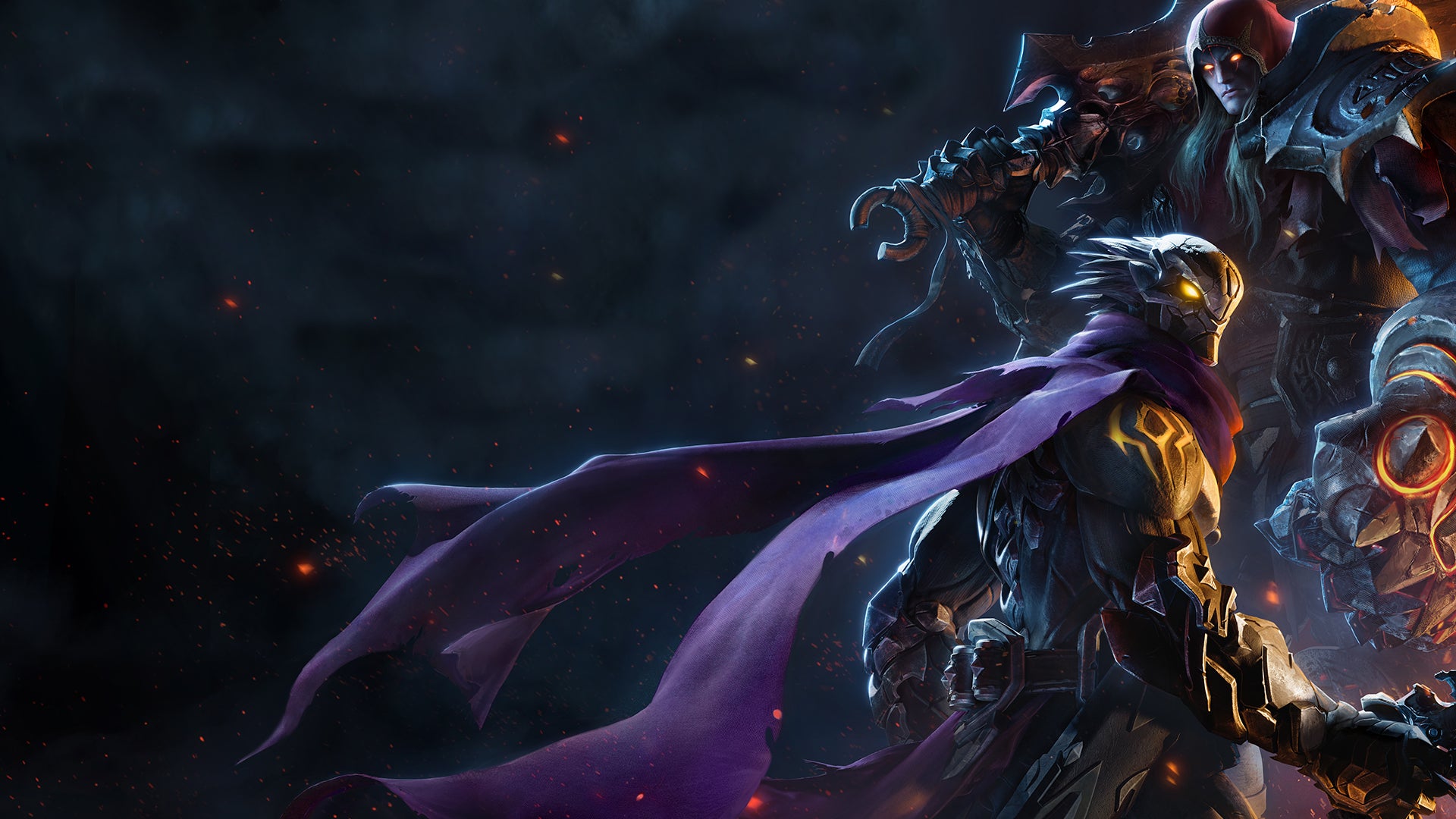 This article first appeared on USgamer, a partner publication of VG247. Some content, such as this article, has been migrated to VG247 for posterity after USgamer's closure - but it has not been edited or further vetted by the VG247 team.
THQ Nordic has an estimated 80 games in development, and one of them—surprise—is a new Darksiders game. It's not Darksiders 4 though, even if it does finally let us play as the fourth horseman. It's Darksiders: Genesis, a co-op prequel to the Darksiders series set immediately after the council has initiated the horsemen. It stars War, the familiar protagonist of the first Darksiders from 2010, and Strife, the fourth horseman who is playable for the first time.
"From the very, very beginning in DS1, we thought, like, 'We're going to make a game where the four horsemen are playable.' And that has still not been realized to this day by anyone, but at least in our game you get to play as two of the four," Joe Madureira, the studio creative director at Airship Syndicate, tells me of the new game. "And so we introduce Strife, who has not been playable before. Then we brought back War, who was from the first Darksiders, so hopefully there'll be a lot of nostalgia there. Strife is sort of this loud mouth, he's the funny one. He introduces a little humor into the series."
While Madureira had no part of Darksiders 3, he helped found the series as creative director of Darksiders at Vigil Games. He's known largely for his work in comics, from Uncanny X-Men to the ill-fated Battle Chasers, the latter of which he helped adapt into a video game at his studio Airship Syndicate in 2017. While Darksiders slipped away from his creative control, it's returned with Darksiders: Genesis, to be published by THQ Nordic.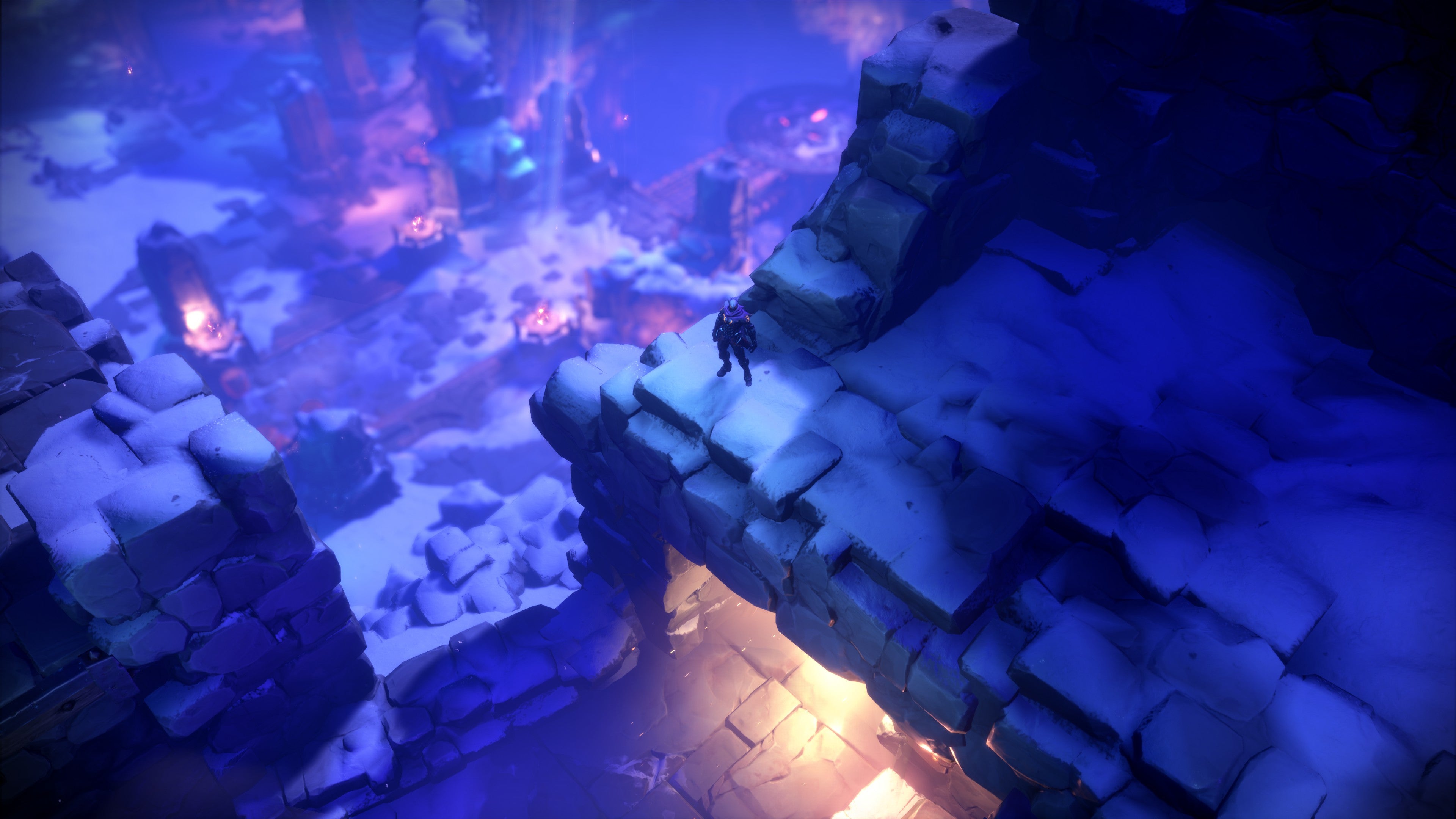 Darksiders: Genesis is a very different sort of game from the 3D action-adventure game players may be anticipating. Instead, it takes on a top-down perspective, and has a lighter hack-and-slash feel. "The very, very initial one sentence pitch for it was like Tomb Raider: Guardians of Light with Darksiders," Madureira says. That changed over time, as the combat shifted more to a Diablo hack-and-slash style, only with a more Darksiders-esque, arcade-like simplicity. It's also meant to be played co-op, but in my extended demo I played solo, switching between War and Strife on the fly with a button press.
Strife is a character who is at his best in one-on-one battles, and has pistols and other weapons that hone in on single targets. Abilities run on a cooldown, which makes switching between characters handy in single-player. War, meanwhile, feels more familiar if you're nostalgic for the first Darksiders, with a heavy sword and a knack for crowd control. In co-op, this dual effort is allegedly helpful in large-scale battles; especially boss fights—as I learned the hard way with many deaths and zero victories in a boss-specific demo where I wrestled an intimidating foe on a bed of gold treasure.
Darksiders: Genesis leans closer to RPGs than its predecessors, with skill trees and ability upgrades. "But obviously we don't have the level of loot drops of Diablo games," Madureira adds.
"So in single-player there is sort of a strategy of when to switch to each horseman to use them to the best of their ability in that situation," says Madureira. "And then in multiplayer, you don't have to worry about that because you're both there. And you can't both be Strife, it's either you pick one or the other." Madureira assures me that despite the obvious leg up in playing co-op, overcoming bosses and playing the whole game single-player is possible too.
Multiplayer will also urge players to work together to solve puzzles. In one example Madureira explains, if someone is playing co-op they'll have to each pull a separate lever and keep them down to, say, open a door. In single-player, that second lever doesn't exist; it's just one. Meanwhile, co-op spawns in unique puzzles that require War and Strife to work together.
Playing the demo, I wasn't informed that Darksiders: Genesis was supposed to be played co-op, as a representative from THQ Nordic simply activated the demo on the PC I had finished another game's demo on. I missed the spiel from Madureira and company. I mention this, and note that I assumed it would be the sort of game where eventually all four horsemen would be playable, much like the original vision the first Darksiders had. I ask if this is still the aim.
"Yeah, that would be cool. If they would double our budget and schedule, that would be awesome," he says with a chuckle. "We would love to do it, but for now it's the first dipping our toe into the pool having these two horsemen be playable simultaneously, and it's been a challenge you know making it fun for two players."
I won't lie: I found my playtime with Darksiders: Genesis often tedious. The top-down map design isn't that legible; it's hard to know what walls are climbable and even where to go in some cases. In one part of the demo, I went a terribly long way around, thinking I had to solve a certain puzzle involving carrying fire balls because I couldn't find the path onward. That puzzle's solution, apparently, was off the critical path and optional. My path onward in the demo was unclear, as a nearby wall I had to scramble up didn't look like it would be possible to climb. Madureira admits that it's likely the fire ball-related confusion will be taken out the next time the studio shows the demo, and it will be proper co-op to show off the finer details of working with another player too. Regardless, the combat is largely fine.
"Every level actually has secrets in it that in some cases you can't do it your first time through," he explains when I mention I struggled with knowing where to go. "Like you haven't gotten the gear item yet but you'll hopefully notice that stuff and go, 'Oh, I think I know what I have to do now. I'll go back to that mission.'" With every level's completion, players will be graded and their performance tracked, encouraging replayability.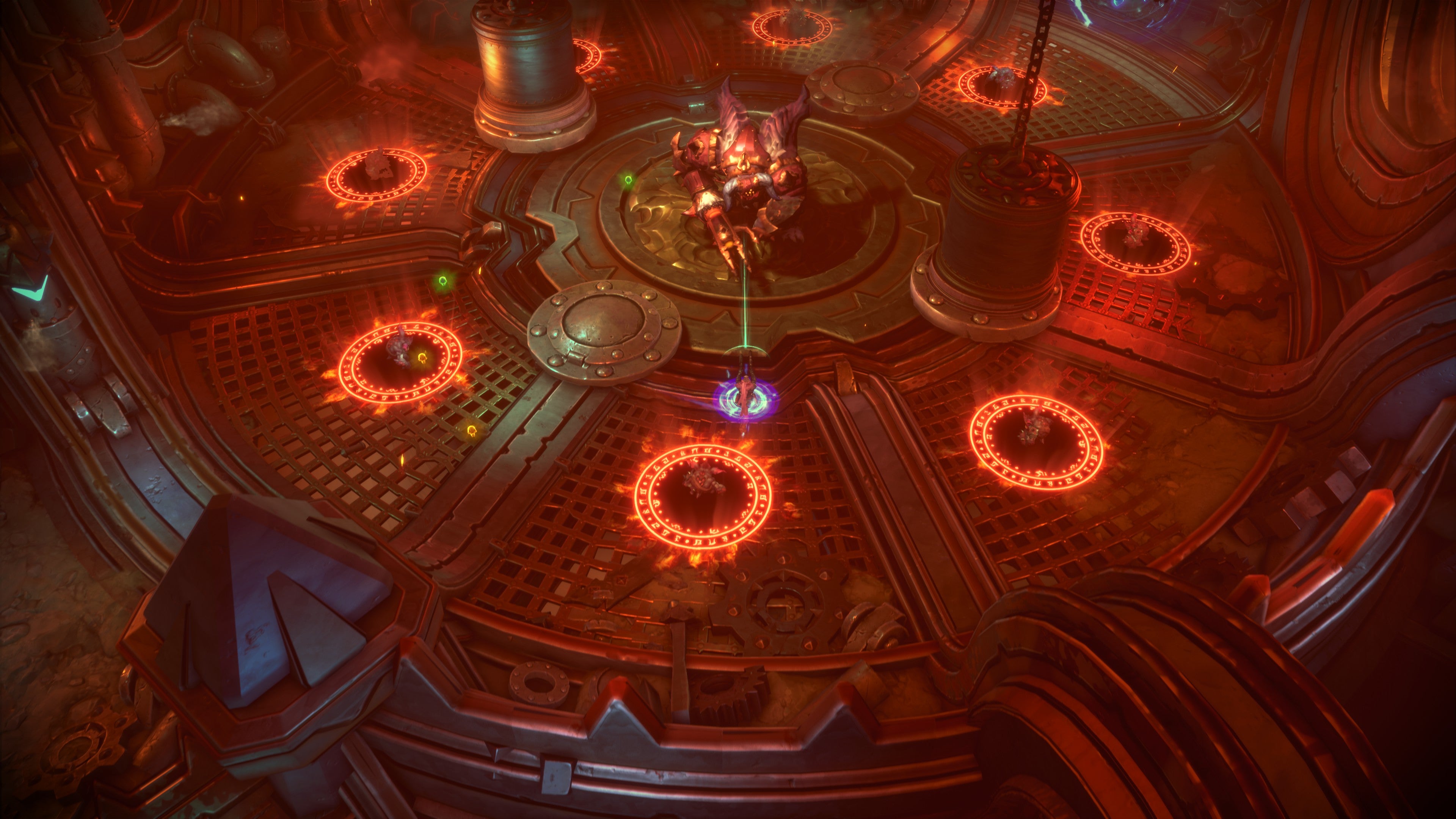 Later in the story-led demo (separate from the boss demo), I found myself in an area quickly filling with lava. The sequence has you dangling across ledges as you shimmy along, sometimes leaping and grabbing giant pillars. With it being a top-down perspective, I'd often miss the jumps. I found myself stuck for a solid 20 minutes in this section, and had to start from the bottom over and over. After speaking to colleagues in the press, I wasn't alone in this either.
Still, Darksiders: Genesis is a completely new sort of experience for the series, taking the horsemen into uncharted territory, and throwing co-op into the mix. Some bumps, albeit big as the ones I experienced in their tedium, are at least to be expected. Madureira's hopeful that fans, old and new, will come around to it though.
"I would just stress that it's definitely a new experience," says Madureira. "We wanted to make it fun for new players, so don't feel overwhelmed if it's like, 'Oh I've always wanted to check out Darksiders but there's three whole games I don't know about.' It's totally fine; [Genesis] is a good jumping on point. It does connect to the existing games, so it's really cool for fans that have played it. Also if you do play this and you like it, and you want to go into DS1, you'll have all this juicy backstory going into it. We jokingly called it Darksiders: Rogue One, because it's sort of like the prequel before the prequel, and it ties into the first part of the game, which is DS1."