Dark Souls 3: Catacombs of Carthus to High Lord Wolnir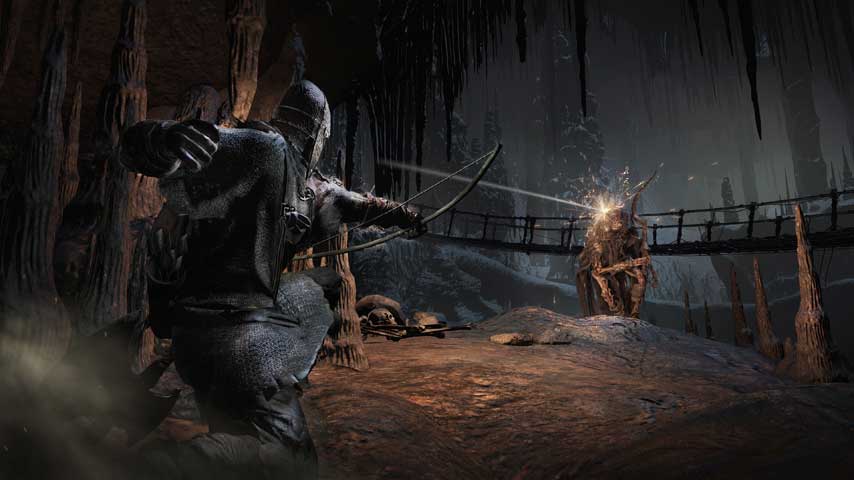 Just a few more odds and ends to tidy up before we leave this place forever.
Dark Souls 3: Catacombs of Carthus to High Lord Wolnir
We're nearly done with Skeleton Land. If you rested at a bonfire at any point during your explorations of the Smouldering Lake, the bridge ladder will have reset, so use fast travel to return to the Catacombs of Carthus bonfire.
Head down the boulder corridor and deal with the three rats on patrol and the shotel skeletal knight. Take the path and kill the skeletal knight.
We need to speak to Anri of Astora now, and he's only accessible via a stalagmite-disguised side path leading off from the room with all the skeletons you normally escape by crossing the bridge. The skeletons can and will follow you up to Anri, so you need to deal with them first.
There are two ways to do this.
Sprint across the bridge and let the skeletons follow you, chopping it down to clear the majority of them. Drop down to the narrow path and make your way back, carefully clearing out any skeletons you meet, then make your way to Anri. You'll need to return to a bonfire to reset the bridge so you can cross to the boss arena.
Aggro the skeletons cautiously by advancing into the room, then sprinting a long way back so you lose the pack. This allows you to pick them off as you creep back towards them, or even to go all the way roun to the grate and snipe them through the bars; be careful of the rats if you decide to do this. After speaking with Anri you can cross the bridge as normal.
However you manage it, speak to Anri. If you have seen or killed Horace, you can tell Anri where he is. This has consequences, so if you don't mind spoilers, check our NPC guide and endings guide before you decide what to do here. If you killed Horace, Anri will give you the Ring of the Evil Eye.
Now we can head for High Lord Wolnir. Take the path on the far side of the suspension bridge. Enter the next room and touch the goblet on the altar to be summoned to the boss arena.
Continue to High Lord Wolnir boss fight.