Dark Souls 3: Ashes of Ariandel walkthrough - Chapel of Ariandel to Sister Friede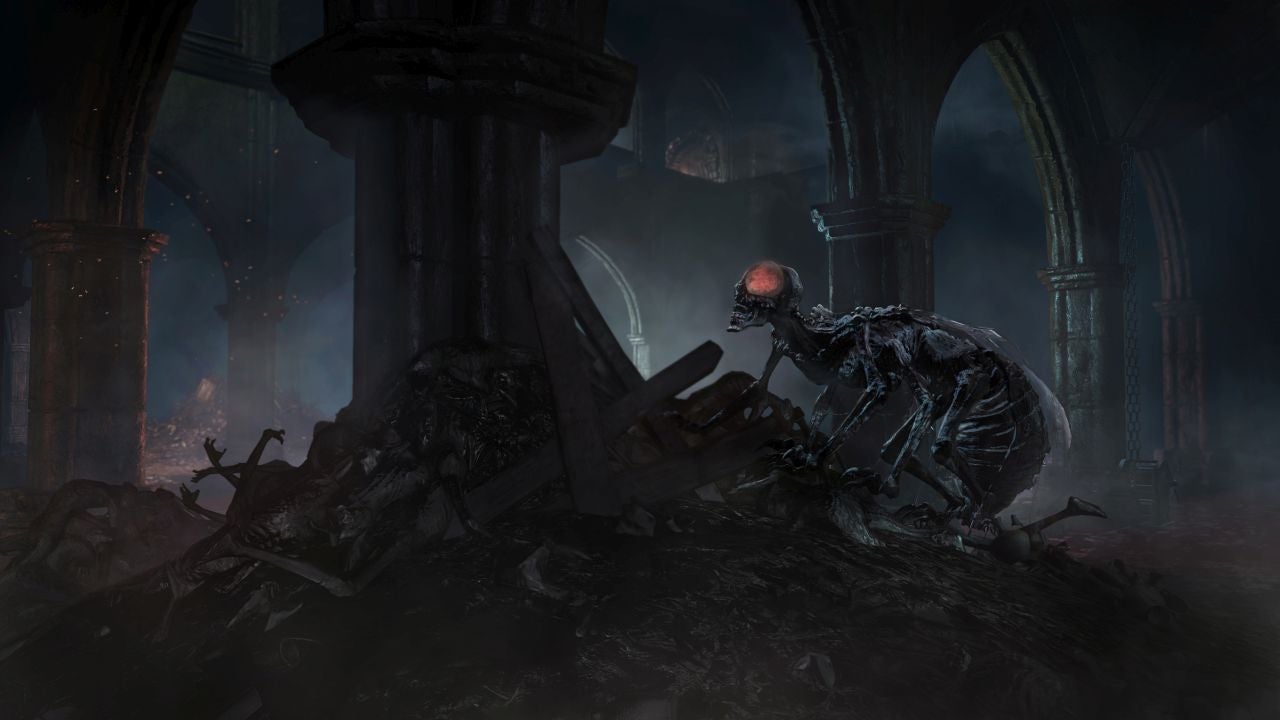 Dark Souls 3: Ashes of Ariandel comes to a head in the depths of the chapel.
Our Dark Souls 3: Ashes of Ariandel walkthrough continues now with a charming wander through a disgusting charnel pit. A charnel pit, for those of you who have played X many From Software games and never come across the term in a walkthrough, is where the dead bodies go.
Take the stairs down from Ariandel Chapel back to the bug-filled basement accessible from Snowy Mountain Pass. From this entrance, your goal is the right hand corner on the opposite side. Be careful as you cross the room, skirting the pit, as some of the bugs will aggro. There's a single bug in the correct corner; kill it and then attack the walls to find an illusory wall concealing the safe route down.
There are so, so many bugs down here. They have a lower detection radius than the ones upstairs, so it's not too bad, but be careful of them anywhere – they are capable of inflicting blood loss if they grab you, which they do after a short leap. Fight them one by one or in small groups – and look up regularly for the red eyes of the ones clinging to the ceiling.
The item in the middle of the room is a blood gem, and Vilhelm's set is available in the corner. Then you want to turn the crank behind one of the pillars on the opposite side of the pit from the stairs. This will open a path upstairs we'll check out shortly.
Now for some optional treasure hunting. Your goal is an illusory wall along the right hand wall as you face in from the stairs; listen for the crystal lizard chime behind it to find the spot if there are no messages or bloodstains. There are two crystal lizards down here and nothing else, so this is a good place to sprint to if you've died in the pit a few times and just want to get through it; if you go far enough away from the bugs and break line of sight, they lose interest.
Livid Pyromancer Dunnel
Now, if you go out through this room and onto the ledge outside you can drop very carefully down from tree root to tree root (don't be tempted by the grey rubble) to arrive on a root hanging out over a platform near a coliseum. Drop down onto the long platform with Spook or the Cat's Ring to collect the Pyromancer's Parting Flame and two homeward bones.
If you use an ember here you'll be invaded by an NPC Mad Dark Spirit - Livid Pyromancer Dunnel. Use your ember when you get to the bottom, but as far away from the Coliseum as you can, so he doesn't attack the moment he spawns in.
For once, this guy's actually not too bad for Cheeseburger Assassins, because he's not bright but he is squishy. Advance really slowly and don't go down the stairs at the end of the pathso he doesn't attack.
Equip your best arrows and ping Dunnel with headshots and he'll spend a while just casting pyromancy spells, which don't reach you. After a few rounds of this he usually runs straight towards you for melee attacks. Keep shooting as he runs and you can easily get him down to one-third health before he reaches you if you're good with your bow.
Get down onto the arena floor before Dunnel reaches you, though, because there's no room to dodge on the narrow path. With his health so low you should be able to make it through the duel before he can use any of his very nasty area of effect spells and fry you.
Defeating Dunnel nets you the pyromancy spell Floating Chaos. Don't worry too much if you can't beat him just yet; he'll still be available after you fight the bosses in this area.
Speaking of which, we're done exploring; it's time to go talk to Sister Friede again. Make your way back to the Ariandel Chapel bonfire with one of those homeward bones.