Dark Souls 2: Crown of the Old Iron King - Tower key secrets, Simpleton's Ring, Flame Butterflies, Pilgrim's Spontoon, Baneful Bird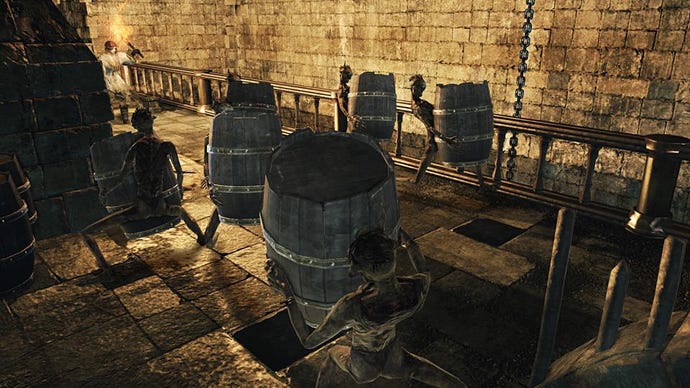 Let us show you to some sweet loot that opens up once you have access to the Tower Key.

The following are walkthroughs and locations of loot that becomes accessible once you obtain the Tower Key. For help in finding the Tower Key, head here.
Teleport to the bonfire on the upper floor of Blume Tower and go over to the gated area (i.e. not up the small stairs). Go around the corner and down the stairs until you reach a circular room, then turn right.
You can now take the lift to three different locations, as detailed below.
Simpleton's Ring
Take the lift to the doorway above you. It doesn't stop so be ready to jump as the lift moves. Go around the corner and down the stairs to the room with the chest on one end. Kill the two Possessed Armors and pick up the Old Radiant Life Gem next to the flaming statue. Go to the opposite side and through the door onto the balcony to find the Simpleton's Ring on the far right.
Flame Butterflies
Using the lift to cross the small gap and reach the path on the other side, open the door at the end on the right. Inside is a chest and several doors. Don't try to fight the Giant Club Demon but instead head into the third door from the left and use a Smelter Wedge on the Ashen Idol. This will make the Giant Club Demon mortal, so head back and kill it, opening the chest for a Life Ring +3.
Don't worry about the first door as there's nothing behind it, but there's a Broadsword +7 behind the second door, along with ten Titanite Shards and a Petrified Something. Behind the last door are five Flame Butterflies.
Pilgrim's Spontoon
Get in the lift and head down to the bottom, where there's a narrow ledge leading to an alcove. Step onto the ledge careful not to fall, and you'll find a chest with a Pilgrim's Spontoon.
Baneful Bird Ring
Go to the Throne Room in Blume Tower and up the stairs where you came across the very first Ashen Idol. Go around the corner and down the next set of stairs and when you get to the next room head right and get on the lift at the end of a ledge. Travel to the top and you'll find a Baneful Bird Ring near railings in the corner. The Baneful Bird Ring reduces stamina loss when blocking.