Cyber Monday video game deals: The best PS4, Switch and Xbox offers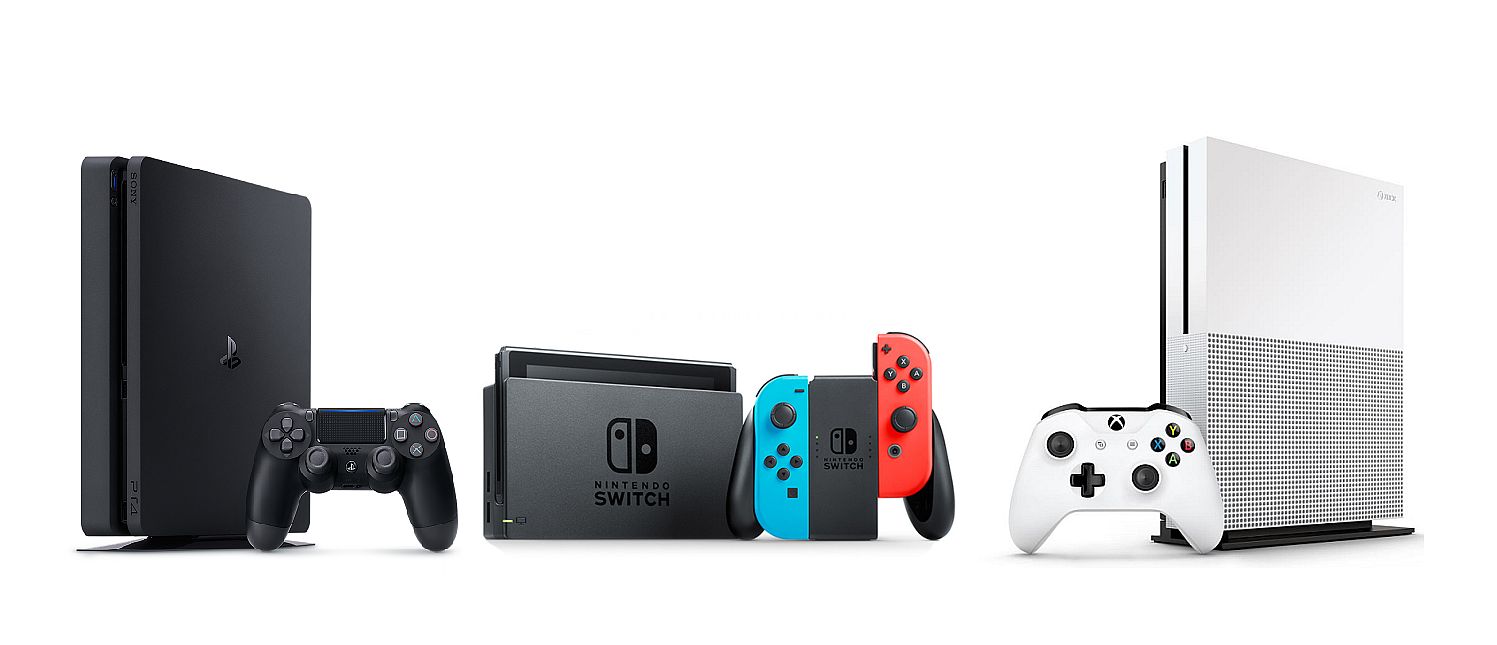 Cyber Monday is here. Forget about that other shopping event that took place last week. It's old news. I hope you got yourself a nice little deal on that Bosch UniversalRotak 550 you've always wanted, but fingers crossed you saved a little bit of money for the video game Cyber Monday offers we've got for you below.
Generally, Cyber Monday is your very last chance to snap up those great deals, And occasionally you'll find retailers going even lower than they did on Black Friday. Some may argue it's an even bigger shopping day than Black Friday. The deals will tell the story on that.
If you want to stay up to date on all the wonderful savings that come with this year's Cyber Monday, you've come to the right place. This page has all the best PS4, Xbox One and Switch deals that are out there, so you don't have to go hunting for value yourself. Treat yourself to that [insert video game-related product] you've wanted for months. You deserve it.
PlayStation 4 Cyber Monday Deals
While we're pretty confident we've hit all the major Sony deals that are available on Cyber Monday. Browse the list below for the best PS4 Pro and PS4 Slim deals, most of which come bundled with games.
PS4 Pro
Cyber Monday is over, as are most of the available deals. There's still a decent PS4 Pro bundle deal in the UK, but you need to pay a little more than you would have on the big deal itself.
PS4 Slim
If you're looking to jump on the PlayStation ladder, you'll get amazing value for money on a PS4 Slim at the minute. For less than £200, you can get a 500GB PS4 Pro with either FIFA or Modern Warfare from Asda. Americans win big with the skinnier PlayStation, though: a 1TB PS4 with The Last of Us Remastered, God of War and Horizon Zero Dawn for $199.99. That's a phenomenal price for that package.
PlayStation Plus
You'll need some games to play on your new console, and a PS Plus subscription will give you two new ones every month at no additional cost. Maybe a 12-month membership is something you should think about picking up. The best price we've seen for a year of PlayStation Plus is £34.85 on ShopTo, which is around £20 less than the regular price.
PS4 Controllers
Amazon is flogging DualShock 4 controllers for £29.99, so grab one while they're going. In the US, you can pick up a controller from Walmart for under $40.
PlayStation VR, Headsets and Storage
The best PSVR deal we've spotted is the Mega Pack for almost £100 off. This is a really great bundle if you're keen on checking out what virtual reality is all about. Speaking of things you can wear while playing video games, Argos has knocked a fiver off the Sony Gold Black Wireless 7.1 Gaming Headset. It comes with some Fortnite goodies, so it would no doubt make a lovely Christmas present.
And if you find yourself constantly deleting games on your PS4, in order to make room for more, maybe you need a new hard drive. Purchase one of the external HDDs we've found and then enjoy the fact that your console can hold more than a handful of games.
PS4 Games
Who loves cheap games? You (probably) love cheap games! Get on some of these last-minute deals and inflate your library with some great titles like Resident Evil 2, Red Dead Redemption 2, Borderlands and more.
Xbox One Cyber Monday Deals
You've come to the right place if you're looking for the best Xbox One deals out there on Cyber Monday. We've got cut-price consoles, games, accessories, and more for you to throw money at.
Xbox One X
Xbox consoles have had some great price cuts in recent weeks. If you're looking to upgrade before Christmas, you should check out these excellent Cyber Monday prices on Xbox One X bundles. The beefier packages are naturally a tad steeper, but Amazon has some exceptional sub £300 bundles for you.
Xbox One S and Xbox One S All-Digital Edition
You've set a hard budget of £200 for a new console, though, haven't you? Don't feel dejected, pet, because there are plenty of Xbox One S bundles for under £200. Hooray and all that! The 1TB Xbox One S that comes with Star Wars and Rage 2 is a wonderful price at only £179.99. Now, if you believe the digital future is the digital present, then grab yourself an Xbox One S All-Digital Edition bundle with three games for only £129.99.
Xbox Live Gold and Game Pass
Like PlayStation Plus, Xbox Live Gold is pretty much a must these days. You can't play online multiplayer without it, and you obviously don't get the monthly Games With Gold games without it. ShopTo has the best price currently: 12 months of Xbox Live Gold for £37.85. And Microsoft is running a promotion, right now, where you give them £1 and they give you three months of Xbox Game Pass Ultimate. That is a stupidly good saving; you'd be really silly not to jump on that.
Xbox One Controllers
Want a garish, manky, multicoloured Xbox One controller? Head on over to Xbox Design Lab and make it so. I mean, you can make a nice one, too. It doesn't have to look shit.
Xbox One Headsets and Storage
Audio is so important when playing a video game. Don't settle for shoddy sound: take a look at the SteelSeries Arctis 3 headphones. They've been designed to work on all consoles, but they're said to be extra special on Xbox One because they're compatible with the native surround sound that's built into the Xbox One.
And like Sony's hardware, if you're looking to bulk up your console's storage space, have a look at these hard drives.
Xbox One Games
Games, games, games! Want cheap ones? Of course you bloody do! Grab a couple of these marvellous video games that are on offer and you'll have a lovely time over Christmas. Over 2020. Into 2021. Honestly, you could spend around £100 on video games in this list and you'd be set for ages.
Nintendo Switch Cyber Monday Deals
The deals aren't quite as blow away on Switch as they are on the other two platforms, but there are still savings out there if you search for them. But we don't want you searching. That's our job. We've compiled loads of lists that contain the best Switch discounts available, which you can check out below, but if everything on this page isn't enough for you, there's always the Switch Black Friday deals hub, which has even more.
Nintendo Switch Console Deals
You know the best way to get people to stop recommending the Switch to you? Buy a Switch. And then you'll recommend it to people. It's a vicious cycle. There are some good bundles available, but one of the better ones we've seen is on Amazon: a grey Switch with both Pokemon Sword and Shield, the Labo Variety Kit and a could of stickers.
Switch Lite
You know the best way to get people to stop recommending the Switch Lite to you? Buy a Switch Lite. The dedicated handheld is £20 off on Amazon at the minute, which is a lovely price. But if you want some games with your Switch Lite, grab the handheld that comes with Pokemon Sword and Minecraft.
Nintendo Switch Online
I can't imagine there are many people who recommend Nintendo Switch Online to you. It's not bad, though: you get access to a lot of sweet NES and SNES games, ya know. Anyway, if you are interested in 12 months of probably the least imaginatively named Nintendo thing ever, head to ShopTo.
Switch Storage
You'll want a microSD card to store all your Switch bits and bobs, and there's no better time to get one than now. There are plenty of really good deals on SanDisk cards, plus that one at the bottom of the list that has a star on it.
Nintendo Switch Games
It's much harder to find deals on newer Switch games, as they hold their value, but we did find a couple that may be of interest to you.
What is Cyber Monday?
Cyber Monday is essentially an opportunity for retailers to prolong the Black Friday sales. A newer tradition than Black Friday in the States, Cyber Monday was given its name as it was the day when Americans would return to work, after Thanksgiving, and buy things online. Obviously, today, it's a worldwide thing. Which is great for those not in America, because now everyone gets to avail of all the sales. How wonderful.