Customizable Ghosts coming to Destiny 2: Beyond Light
Destiny 2: Beyond Light will feature customizable Ghosts.
Bungie has announced with Destiny 2: Beyond Light, Ghosts will receive a system update giving them a bit of an overhaul.
According to the studio, the update to Ghosts will "share some functionality" with how the armor was in Shadowkeep.
Once Beyond Light is live, Ghost Shells will have energy levels and access to mods with various energy costs instead of "being pre-loaded with specific perks." This will be applied to all Ghost outside of Generalist Shell.
You will also be able to select your favorite Ghost Shell based on appearance, and your Ghost will have access to all the same mods across your account. You will be able to increase energy levels and use different mod combinations.
A selection of mods will be available on all Ghost Shells by default, and others can be obtained through gameplay sources, and mods will not be purchasable from Eververse.
Ghosts will have four mod slots available with the fourth unlocked by Masterworking. These four slots include Experience, Tracking, Economic, and Activity mod slots; the last of which is unlocked when the Ghost is Masterworked at 10 energy. You'll be able to mix and match mods within energy limits.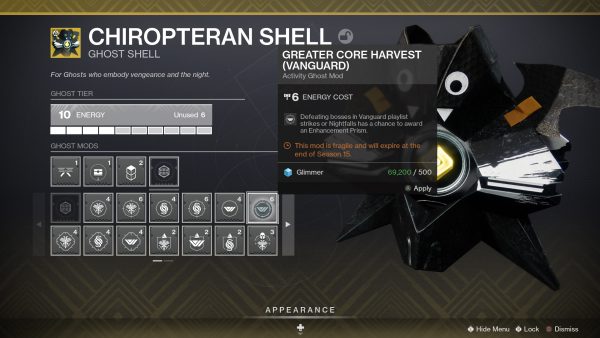 Most of the older Ghost perks will be brought as default unlocked mods. In some cases, the mods have been transformed into "globally effective, non-destination-specific" versions.
Energy costs on those mods will also reflect the "increased flexibility" and the mods must be earned from various vendor engrams, while Kill Tracker and Leviathan Boss Kill perks will remain intrinsic only.
The Beyond Light expansion to Destiny 2 will arrive on November 10.