From Crackdown to Fortnite: 16 of the best-looking Unreal Engine 4 games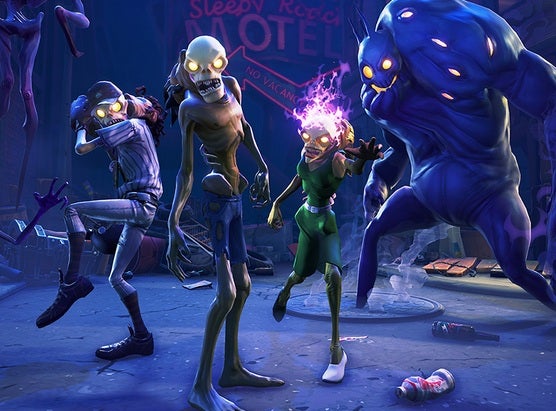 If history repeats itself, Epic's Unreal Engine 4 represents the future of games development. So far the only major title we've seen on the tech is Zombie's procedurally-generated horror Daylight, but we've compiled a list of the most promising upcoming projects.
EVE: Valkyrie
A virtual reality spin-off of EVE Online, EVE: Valkyrie is a first-person dogfighting sim that began as a tech demo prototype and grew into a full-fledged CCP project. Everybody who's had their hands on the game at trade shows has been blown away by it, and that's even before CCP implements its trademark single-shard technology. We expect by the time its done it will find a way to make Valkyrie's action relevant to the MMO, and vice versa - sort of like DUST 514.
We don't yet know if CCP will take any particular advantage of UE4's power, but dogfighting in space offers some terrific opportunities to make a good-looking game. Not only does the black background save a lot of effort (hooray space!) but think of all the explosions, weapon effects and cosmic bodies like stars, asteroid belts and nebulae. It could be utterly gorgeous, and in-development screens certainly look great.
Let It Die
Originally conceived of as Lily Bergamo, Let It Die is Grasshopper Manufacture's first PS4 - and UE4 - title. A free to play action game, it has players facing off against the ghost data of other, defeated players - every time you die, you leave a ghost of your own in the world. These ghosts can be robbed of their gear, which you'll need if you want to survive. Goichi Suda's intent was to make a game that made dying feel like it wasn't a big deal. Also, you start off in your pants, which is obviously rad.
We haven't seen very much of the game yet - just a few brief snippets during Sony's E3 2014 conference - so it's hard to judge just how much advantage Grasshopper is taking of the new tech. However, it has quite extensive experience with UE3 - it's last three major triple-A releases - and we can expect this familiarity to serve it well, even if the gritty horror aesthetic seems a departure from Grasshopper's usual OTT style.
Solus
A beautiful indie partially funded by the Nordic Game Program, Solus is a single-player, first-person exploration and survival game set on an uninhabited alien planet which is perhaps humanity's last hope. Following a catastrophic landing, and with no hope of rescue from Earth, players work to unlock the secrets of the strange world, scavenge for parts to build a communicator and weather the extreme conditions brought about by a fully dynamic environment including details like tides. The project supports Oculus Rift, and will be fully modabble to allow users to create their own sharable environments.
Solus is a spiritual successor to Teotl's earlier, award-winning project The Ball, and set in the same universe. It's being built by a small team, with the footage in the video above based on a build created in just four months of part time work by three members. There are now eight staff on board, and we can't wait to see what they come up with.
H-Hour: World's Elite
Tactical shooters are coming back into fashion, and H-Hour: World's Elite is one of the most promising. Built by some of the original team members behind the SOCOM series, World's Elite was prototyped in UE3 but the final build is being developed in UE4. As such, the assets we've seen so far aren't representative of final quality.
Nevertheless, the premise alone was enough to bring Kickstarter backers flocking in, and gameplay is already looking particularly promising. Obviously this footage is pre-alpha, but you can look at some early H-Hour: World's Elite gameplay as well as highlights from the shooter's first international test.
Fable Legends
Alright alright, we know, we know - you think it's not the Fable you know and love. Or you dislike and mistrust all things Fable. But let's just quietly accept that and move on, shall we? Call it by another name if you must, so we can get down to examining the interesting premise without exercising our adjustment disorders.
So: Table Wedge Ends is an action game with multiple classes, RPG elements and interesting asymmetrical multiplayer. Four heroes are out to storm a dungeon and deliver it of its valuables, while a fifth player acts as villain and tries to keep them out. This is an idea with legs; it's an idea that has been requested over and over since Nintendo unveiled the Wii U's Game Pad, and one tabletop and pen-and-paper gamers bring up all the time, and now it's finally happening and you're still upset over some ancient oak tree promise instead of getting excited. The beta kicks off in northern autumn on Xbox One, and it already looks lovely.
Fortnite
It's been years since the initial reveal but we've only recently begun to find out more about Epic's own Unreal Engine 4 project. A third-person shooter, Fortnite is set in a world in which demons routinely pour out of portals. Players can close these doorways to hell if they can defend the Atlas device long enough - and they'll only survive if they do so.
That's not the whole story though; the demons only come at night, but during the day players can explore the procedurally-generated world to scavenge resources, then construct defences and weapons to help them through their night-time battles. Four character classes have been revealed so far, with more expected. You can sign up to participate in testing if that's your bag.
Primal Carnage: Genesis
There really aren't enough games about dinosaurs. Primal Carnage: Genesis aims to fix that, serving as a prequel to Lukewarm Media's earlier multiplayer shooter Primal Carnage. This one is a single-player affair with a narrative and oodles more dinosaurs to survive.
We're actually a little bit unsure about this one; although it was announced by Sony as part of one of its PS4 indie blow outs, the project has since gone silent, with official websites missing. We saw a little extra footage a month after reveal, but that's been pretty much it. We might give Sony a poke and see if we can summon an update, although the active Twitter account leaves us hopeful.
Unreal Tournament
Fans have been hoping for a new Unreal Tournament game for ages, and the occasion of a whole new engine is the perfect excuse to resurrect this venerable and respected arena shooter series. But rather than knuckle down and produce the expected sequel, Epic has chosen to shake things up for its second major UE4 project. The free shooter will be built in collaboration with the UE development community, with an emphasis on modding and openness.
This is an exciting new approach from Epic and one that is indicative of the changes sweeping the industry. Since the Unreal Engine is such a bastion of modern development, it's comforting to see Epic embracing the new rather than grimly sticking it out. Unfortunately we haven't seen a blessed thing from the project yet, so the image above, taken from an earlier release, is not representative of how the game will look.
Dead Island 2
There's been a bit of - forgive me - ludonarrative dissonance in the Dead Island series to date. The trailers for the original game and for unnumbered sequel Riptide seemed to position it as a serious, emotional and atmospheric exploration of the horrors of a zombie outbreak, and the weary, frightened survivors the player meets gelled with this interpretation. On the other hand, the gameplay itself is frankly ludicrous - the best move is a jumping kick, you craft ridiculous weapons, and the whole concept of first-person melee, even when executed as well as can be expected, is laughable at best.
There's nothing wrong with the utter nonsense that is Dead Island, and it's great to see that publisher Deep Silver and developer Yager (best known for the very serious Spec Ops: The Line, but having apparently had a change of heart) are playing up to a sense of the ridiculous in the first trailer, which you can and should watch above.
D4: Dark Dreams Don't Die
An Xbox One exclusive from Deadly Premonition creator Hidetaka Suheiro (better know as Swery), D4: Dark Dreams Don't Die is an episodic murder mystery utilising Kinect voice and motion controls. Players take on the role of a detective, and travel in time trying to solve and prevent his wife's murder. Presented in a distinct style, it looks just about as mad as you'd expect from Swery.
It's not clear if D4 is the long-awaited Deadly Premonition spiritual successor Swery has mentioned a couple of times; we've not heard that Tomio Kanazawa is on board, and the D4 announcement with trailer just six months after the idea was last mentioned seems a little too quick off the mark.
Abzû
If Abzû puts you in mind of Journey, there's a good reason for it - it's the first game from Giant Squid, a studio founded by Matt Nava, the art director on both Journey and Flower. It's not just the visuals; Austin Wintory is behind the score.
There's very little information about the 505-published title as yet, but the name comes from two ancient words meaning "ocean" and "to know", with Giant Squid saying the underwater exploration game will tap into "a deep, innate story that we all carry in our collective subconscious". It's probably going to be drop dead gorgeous.
Scalebound
Another Xbox One exclusive, Scalebound is a new action game from Platinum Games, the developer of Bayonetta. Possibly borrowing a little from the Drakengard series, Scalebound has players teaming up with dragons for on-foot and aerial combat sequences.
That's everything we know so far, but Platinum's reputation precedes it and we look forward to seeing how its imagination is unlocked by the power and ease of use of UE4.
Crackdown
Finally. You don't know how long we've waited for another go at Crackdown. The first game was unfairly marginalised due to its pack-in Halo 3 beta; plenty of people assumed Microsoft was using the beta as a gimmick to market a subpar game, and tossed the disc aside without a second glance. Happily, enough people gave the unusual open-world sandbox a go that it developed a cult following. That brought us a sequel, but a sequel developed without the original creator, and which largely missed the point of Crackdown, and failed to account for evolutions in the genre in the interim.
Now we're getting a Crackdown helmed by Dave Jones himself, with the power of the Xbox One behind it powering some amazing tech. And we're encouraged to forget all about Crackdown 2. Get hype, people!
City of Titans
This is an exciting one. Formerly known as The Phoenix Project, City of Titans is a spiritual successor to City of Heroes, the much-loved Cryptic Studios MMO. City of Heroes was special for a number of reasons, not least of which was its commitment to player freedom; the character customisation was as open and easy as copyright law and community guidelines allow, and the adventures you and your crew wrote together varied from dramatic to ridiculous in true comic book style.
Missing Worlds Media has taken on the gargantuan task of rebuilding the shuttered game and has the confidence of the City of Heroes fan community behind it, smashing crowdfunding goals to end up with more than double what it asked for. If everything goes as planned, we should see this one by November this year, although the latest trailer shows it's very much still a work in progress.
Rime
The Blizzard, Sony, MercurySteam and Weta Digital veterans at Deadlight developer Tequila Works initially pitched Rime to Microsoft, which knocked it back. Xbox's Phil Spencer later admitted this was a mistake, because Rime was announced as a PlayStation exclusive at gamescom 2013 and everyone suddenly got very tight pockets.
Another one of these "explore the secrets of an ancient civilisation" jobbies, Rime looks stunningly beautiful in that very Ico-esque way we've missed so much, and which is becoming popular again thanks to the success of games like Journey proving there's more to the gaming life than headshots. We don't know much more about it that we can call fact, but leaks suggests it will have a day night cycle with the now obligatory monsters, with players struggling to survive the darkness using what they've discovered during the day.
Obduction
There are a couple of announced UE4 projects that didn't make this list because their crowdfunding campaigns were unsuccessful, and their creators subsequently went mostly silent. Obduction is, thankfully, a success story, raising a whopping $1.3 million with the succinct and compelling pitch: "original makers of Myst and Riven build spiritual successor". Holy balls, yes please.
Expected in October next year, Obduction is set on a mysterious alien world, and will have parallels with the beginning of Myst. Announced 20 years on from Myst, Obduction will continue the somewhat neglected tradition of first-person atmospheric adventure games - that's "adventure" as in "puzzles", not just exploration - but with the pretty great modern twist of Oculus Rift support, thanks to the achievement of a stretch goal. Very little more needs to be said; you're either sold, or you're not.
The Department of Mysteries
In addition to these well-documented projects there are a number of games in the works for UE4 that we know significantly less about. Square Enix has signed a multi-game licensing deal for both UE3 and UE4. We suspect Ninja Theory is working on a new IP using UE4, and we think we might even have snatched a glimpse of it.
NCSoft has also signed on for at least two UE4 games, one of which may be a shooter, but both of which are almost certainly MMOs. Fable developer Lionhead is finally working on a new IP, which will, like Fable Legends, utilise UE4.
Finally, we're pretty sure Black Tusk won't switch over to a non-Epic engine for the new Gears of War game.
This list is incomplete, and it's only going to grow over the next few months and years. We expect Unreal Engine 4 to become as ubiquitous during the PS4 and Xbox One generation as its immediate precursor did on the PS3 and Xbox 360.