Crackdown 2 - New shots, cover-art, X10 fact-sheet released [Update]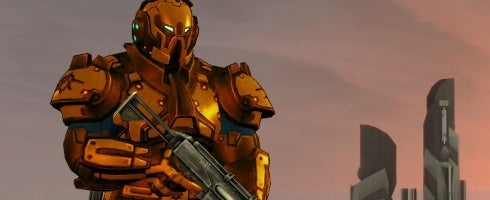 Microsoft's released some new shots, the box-art and a fact-sheet of Crackdown 2. Get them below, Agents.
The Ruffian-actioner is out this year [Update: This June - JC].
"Crackdown 2"
Fact Sheet
February 2010
Publisher: Microsoft Game Studios
Developer: Ruffian Games
Format: DVD for the Xbox 360 video game and entertainment system; Xbox LIVE-enabled*
Price: $59.99 U.S.; 59.99 euros; 39.99 pounds (estimated retail price)
Product
Overview: The city is infected — you are the cure.
"Crackdown 2," the sequel to the award-winning 2007 title "Crackdown," is the ultimate open-world action experience developed by Ruffian Games exclusively for Xbox 360. Featuring over-the-top action, a massive living world, stylish graphics and unmatched online capabilities, "Crackdown 2" is the most complete action experience on Xbox 360.
In the vertical, free-form world of Pacific City, tensions are high and escalating exponentially between the Agency and its opposing factions, the Cell and the Freaks. Returning to Pacific City as an advanced Agent, you'll be judge, jury and executioner as you reclaim the city and eliminate all threats, either solo or with friends on Xbox LIVE.*
Building upon the groundbreaking success of its predecessor, "Crackdown 2" will elevate the open-world genre to unprecedented levels with the ultimate cooperative and competitive multiplayer experiences. Friends around the world will be able to sweep the streets of crime and lawlessness with the complete freedom to explore, destroy and restore justice to Pacific City — by any means necessary.
Features: Complete freedom: A spectacular sandbox experience. "Crackdown 2" is an explosive tour de force that invites players to explore, experiment and navigate through objectives with complete freedom to do what they want, when they want. With unprecedented levels of open-ended gameplay in combat and story progression, "Crackdown 2" redefines the sandbox style of play with a gripping narrative and more ways to engage in the explosive action than ever.
• In a league of its own: Unparalleled cooperative and multiplayer. The sandbox experience gets more exciting! Evolving the way open-world games are played, "Crackdown 2" introduces never-before-seen multiplayer features that will take the genre to new heights. With the ultimate four-player co-op mode, 16-player multiplayer experiences and an all-new party system, "Crackdown 2" ushers in the most robust open-world experience ever, offering unlimited ways to play and share Pacific City with friends around the world. Players will engage in dynamic competitive and cooperative multiplayer for double the carnage, action and intensity, only made possible on Xbox LIVE.*
• The sky's the limit: Serving justice, by any means necessary. "Crackdown 2" continues the over-the-top action with ever-expanding skills, more dangerous enemies and no safe zones. Strategies and tactics will be even more inventive with new weapons and agent skills that grant the abilities to scale buildings, orchestrate massive explosions and engage in bone-crushing combat with obliterating force. Hit the road, take to the sky or explore underground — the experience is limited only by your imagination. Whether you're chasing down enemies on rooftops or dropping from sky-high to ground zero in a matter of seconds, "Crackdown 2" is the perfect adrenaline rush for action fanatics.
• Sprawling environment: Pacific City at your disposal. The sprawling metropolis that was once Pacific City is now divided between the Agency, the Cell and the Freaks in a contentious battle between order and anarchy. Divided and expanded with new environments in every direction, the city has never been more perilous. From the rooftops to the sewers, players will utilize their surroundings to the fullest to take back Pacific City.
Developer
Information: Ruffian Games is a new studio based in Dundee, Scotland. Officially established in January 2009, the studio was formed by Studio Head Gaz Liddon and Creative Director Billy Thomson, formerly of Xen Studios. The team is composed of industry veterans with extensive experience developing blockbuster titles, such as "Crackdown," "Fable II," "Project Gotham Racing," "Grand Theft Auto," "Mortal Kombat" and many others.