Contrast: how Sony helped bring light to the PS4 launch line-up
Contrast developer Complusion Games tells VG247's Dave Cook what it's like to work with Sony as an indie team, and the benefits of having an early foothold on PS4. With game impressions.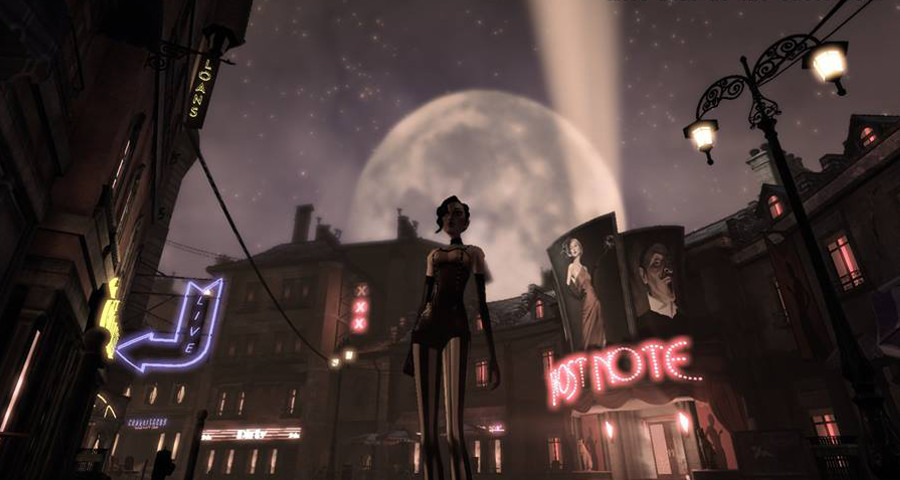 (Note: all screenshots in this article were taken using my PS4's share function)
I interviewed Warframe developer Digital Extremes back in July. They told me it took them just three months to get the MMO shooter running on PS4 hardware thanks to the machine's forgiving architecture, and how Sony was most accommodating to the team's needs. I'd recommend reading the piece, as the studio gives actual insight into the process.
While it's clear that indies are now a big part of PlayStation's future, it's interesting to actually sit down with these studios and learn all about that special relationship between the creator and format-holder. Warframe eventually launched alongside PS4, as well as fellow Canadian project Contrast. Developed in Montreal at Compulsion Games, it's a stylistic platform-puzzler wrapped around a clever light and shadow mechanic.
If you've seen Link's new wall-hugging ability in recent 3DS romp The Legend of Zelda: A Link Between Worlds, then you'll have a fair idea of how this system works. You control Dawn, a woman capable of flattening against light sources and interacting with shadows as physical objects. She's also the imaginary friend of a young girl called Didi. Together they have to track down Didi's estranged father, and unravel the mystery behind his disappearance.
It's a neat premise based in a cabaret world where swing music blares over the hum of neon marquee lights, cast against a backdrop reminiscent of 1940s Paris. The art style is as whimsical and the gameplay is brimming with clever ideas. Early on, you'll encounter a toppled bicycle lying in front of a lamp. You can then merge into the light and climb up the bike's shadow, using its rotating pedals as spinning platforms to reach higher ground. The puzzle aspect is really quite genius.
From playing the star in a shadow puppet play, to drinking in the cool jazz soundtrack as you search for collectibles among cobbled back-alleys, Contrast is an intriguing, enjoyable prospect. The fact that it's free on PS Plus at launch also demands that it be played by new PS4 buyers. But how did Compulsion come from a small team operating out of an old typewriter factory to one of the first indies on next-gen, and what was it like to work on PS4 so early? I had a Skype chat with founder and former Arkane Studios developer Guillaume Provost to find out.
"We showed the game to the public for the first time at PAX East," Provost recalled. "That's when Sony got in touch with us the first time, to start talking to us about if they could have Contrast for the PS4 launch. I don't know what the strategy at Sony is, but I think they were really roaming around the independent developers at around that time - that time and at GDC - to try and pick out the guys who seemed to have something a little bit different. Our relationship with Sony's been really strong. They've been supportive on a number of fronts, from giving us some additional PR and marketing, but also from the development side they've been really proactive about giving us all the tools that we needed to succeed on their platform."
Provost's anecdote was the first time I'd actually heard of Sony hitting the trade and consumer show floors with a view to hiring new projects. He agreed that usually the onus is on developers to approach publishers and, "peddle their wares," but added that the mass migration to self-publishing has changed the natural order significantly. Avenues like iOS and Steam are clearly giving studios and solo creators autonomy the likes of which hasn't been felt since the 1980s bedroom coder scene. Sony seems genuinely keen to be involved.
"I think there was a realisation at Sony, "Provost continued, "that if they wanted to capture independent developers they needed to break down the perceived barriers of entry. I think that the decision for Sony to come out and proactively seek out developers and engage them in conversation comes from the fact that it's been, traditionally, a big hurdle to get on console. You have to go through several layers of approval and typically it's been a pretty complicated process. A lot of developers were basically self-publishing on Steam, or on platforms where they felt there was less red tape.
"I think Sony had a mission educate the development community that yeah, they really wanted to embrace developers and what I've seen in the last year or year and a half, is a gradual shift - with the appearance of [Steam] Greenlight and that system becoming a little more difficult to get on to - from Steam to Sony as being the platform with the least hurdles or steps to get published on. I think largely, they've really succeeded in convincing the people I know, the independent developers that they were a platform that was a lot easier to get to."
Compulsion is still an independent team, but thanks to Sony's input, it has been given access to new channels of communication with the PlayStation family. Provost explained that he speaks with other PS4 launch developers often, and feels there is a consensus among the pack that the console allows for, "fairly painless," porting. He also feels that Sony has worked hard to get its house in order in time for launch, and to ensure that development tools were easy and stable for the first wave of releases. PS4 dev kits were also on hand, should the team require them.
"I can't disclose the exact number," Provost stated, "but [Sony] definitely gave us some dev kits. Then what happens is, I think they had a really quick prioritization for developers that were actually using them, so they gave us development kits at PAX East, and we were showing on the show floor at E3. They saw a very quick turnaround for us to get working on their platform and dedication to support the launch itself. That made things move very quickly at that point between us and Sony."
If anything, Sony's 'open-door' approach will ultimately see PSN populated with vast quantities of new IP that serve to intrigue and enthuse players. Provost explained that the main reason he started Compulsion was to create games around riskier concepts, and that this particular approach is only possible while the team size remains small. He felt that if the studio expanded, the level of creative freedom would become restricted, and added that it's always worth taking a gamble to attempt new ideas in what he called the current "renaissance." In the end gamers, and the art form both win.
Meanwhile, at the top of the industry, those big blockbuster games are becoming more expensive to make and as a result, are thinning out a little. I recalled my interview with former THQ exec Danny Bilson from earlier this year, during which he mused that perhaps we'll only see one big 'blockbuster' release a month in years to come. He was referring to games with team sizes and budgets comparable to Call of Duty or Assassin's Creed of course, but it stands to reason that outlets like Compulsion will fill the gaps between those juggernaut releases. If that's true, then we're surely on the cusp of a wildly creative influx of talent-driven projects.
Could this rush to consoles create a viciously competitive market however? "I'm not worried that the console market is going to see the level of saturation that you've seen on iOS," Provost predicted, "at least not in the next year or two, just because it does cost significantly more money to make a console game than an iOS game. Even if there's no barrier to entry or red tape, you still have to invest more time and effort to get running on a console."
I closed our chat by asking if Compulsion had pitched Contrast to Microsoft as part of its ID@Xbox scheme, which looks to bring self-published titles to Xbox One. Considering that the game is out on Xbox 360, I wanted to see if Microsoft has been just as accommodating as Sony. Provost replied, "We always talk to everyone - Nintendo, Microsoft, Sony. We've always had an interest to support the Xbox One. I can't give you firm plans or dates or anything else like that now, because we've been really concentrating on the PS4 launch this time round.
"Being a small team we try to do one thing at a time. It's just the reality that Sony was more proactive in wanting to get us on their platform for launch, and that's mostly the reason we went for the PS4. But again, our goal is to get out game into as many hands as possible, over as wide an audience as possible, and if that includes doing versions of the game on additional platforms, then that's definitely something we're considering here."
Contrast is out now on PC, PS3, PS4 and Xbox 360.