Confirmed: Fire Emblem: Three Houses Has Same-Sex Romance Options
More love can bloom on the battlefield.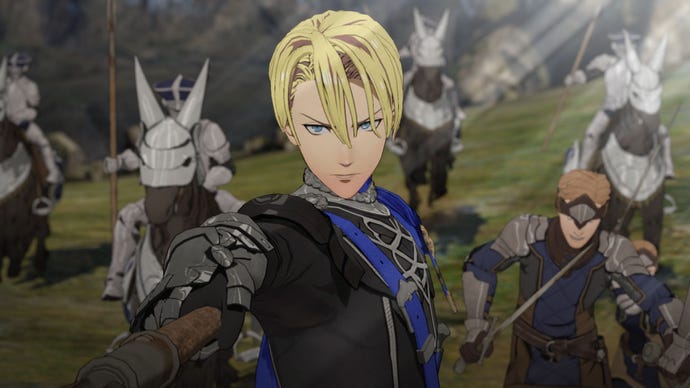 This article first appeared on USgamer, a partner publication of VG247. Some content, such as this article, has been migrated to VG247 for posterity after USgamer's closure - but it has not been edited or further vetted by the VG247 team.
Fire Emblem is about war and love, and it looks like Three Houses has plenty of both to go around. We've confirmed that Fire Emblem: Three Houses has player romance options for characters of the same sex.
Nintendo of America confirmed to us that same-sex relationships are possible for select characters in the game. As far as who those characters are, they won't go into detail so as to not spoil anything for players. Doubtless, wikis will have you covered there by the time the game is out. We can say anecdotally that Kat has been playing as a female Byleth, and the leader of the Black Eagles, Edelgard, has shown some interest.
Back in June, a leak of information concerning Fire Emblem: Three Houses indicated there would be same-sex romance options, specifically citing a few characters. (Spoilers to follow, obviously.) The leak purported that Edelgard, Dorothea, Rhea, Mercedes, and "adult" Sothis are women who could be romanced by female Byleth, while only one male character, Lindhardt, could be romanced by male Byleth. We've yet to confirm that ourselves outside of preliminary chats with Edelgard, as it would take quite a while.
While Fire Emblem: Three Houses keeps the love alive, it is somewhat segmented; you'll only be able to pursue romantic options after the game's time skip. It helps circumvent some of the weird teacher-student stuff. This isn't Riverdale, after all. If you're eager to play some Fire Emblem: Three Houses and get to wooing your partner of choice, be sure to read up on Kat's early thoughts on the game and how it pushes forward a lot of Awakening-era design concepts.
If it's more Three Houses content you're after, then USG has everything you could need for the adventure. You can head over to our various guides, including our Fire Emblem Three Houses weapons guide, our Fire Emblem Three Houses romance guide, or our Fire Emblem Three Houses recruitment guide. Alternatively, there's our full Fire Emblem Monastery guide, or our page on which house to choose in Fire Emblem Three Houses.