Collegiate Hearthstone Players Hold Up 'Free Hong Kong Boycott Blizzard' Sign During Match [Update]
The community response to yesterday's suspension is growing.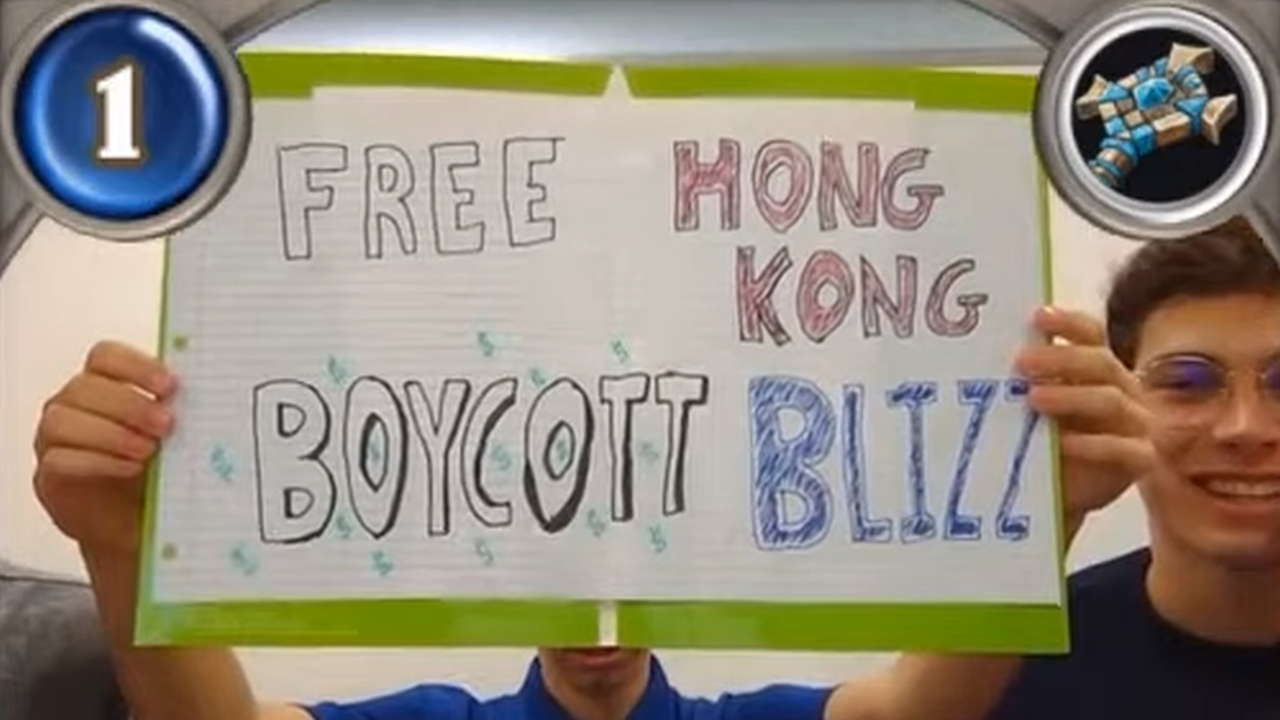 This article first appeared on USgamer, a partner publication of VG247. Some content, such as this article, has been migrated to VG247 for posterity after USgamer's closure - but it has not been edited or further vetted by the VG247 team.
Update, 10/10/2019: Students from American University confirmed to USgamer that they received their scheduled match for the week from Tespa, the collegiate organizing body partnered with Blizzard. However, they say they plan to forfeit and no longer compete in Tespa or play Blizzard games.
"We feel it's hypocritical for Blizzard to punish Blitzchung but not us," the team says. "The response from Blizzard shows that as soon as the messaging is out of the view of China they don't care about 'political' messaging."
---
Update, 10/9/2019: American University's Hearthstone team tells USgamer that no punishment has been put into effect yet from Tespa, the organizing body of the tournament, or Blizzard, though they expect to be banned from future competition.
AU's squad tells USG that they had different ideas how to voice their opinions, but went with a sign because "it would force Blizzard to either cut the camera or spread our messaage." Because of their actions, the team is "pretty sure" they won't be welcomed back to future collegiate competition.
The original story follows:
---
The decision to suspend Hearthstone player Chung "Blitzchung" Ng Wai for his pro-Hong Kong post-match interview has put Blizzard under scrutiny from many sides, and it looks like other players are also starting to protest as well. In a collegiate Hearthstone match last night, members of American University held up a sign saying "Free Hong Kong, Boycott Blizzard."
The moment from the end of a series between American University and Worcester Poly in the Hearthstone Collegiate Championships is conspicuously absent from Blizzard's archives on Twitch. Others have preserved the moment on forums like Twitter and YouTube. You can see the sign pretty clearly before production quickly cuts away.
According to esports consultant Rod Breslau, Blizzard then canceled post-match interviews for the rest of the night's matches. One of the players shared their own video of the moment with the hashtag #BoycottBlizzard. In a reply on Twitter they say their spot is "uber gone;" we've reached out to clarify if any punitive measures have been taken against American University's team.
This is part of a larger response to Blizzard's decision to suspend Hearthstone player Blitzchung for a year and rescind tournament earnings over his vocal support of the ongoing Hong Kong protests. Several groups, from Hearthstone forums to some Blizzard employees, have been voicing support for Chung and anger over the ruling in various ways.
It has put Blizzard in a mess not unlike the same one the NBA is currently dealing with, though what the next step looks like is unclear. With public scrutiny escalating and BlizzCon not too far away, the company's general silence on the matter is noticeable.