Collectors will have to fork over $380 for this Fallout 4 power armor figurine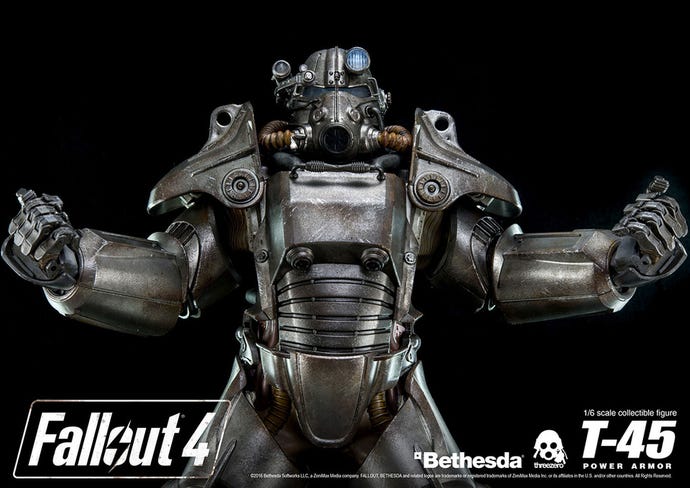 We have no doubt whatsoever many will be willing to pay such a sum for this collectible.
more
Japanese toymaker ThreeZero is working with Bethesda to create a 14.5 inch Fallout 4 figurine which features the stock main character wearing power armor.
The cool thing about it though, is the collectible is fully posable and features over 35 points of articulation.
Two models are offered: the ThreeZeroStore Exclusive Version with a bonus Minigun for $398/£279); the retail version $380/£266.
Here's everything you need to know about the T-45 Power Armor Collectible Figure:
Figure stands 14.5 inches (36.8 cm) tall.
Fully-posable figure features over 35 points of articulation.
Incredibly detailed mechanical parts.
Articulated fingers.
Exchangeable male head and helmet.
Helmet features a light-up LED function. (Requires: AG1 X 3 Button Cell Batteries for light-up LED function)
All outer-armor pieces are detachable and interchangeable with upcoming FO4 Power Armor figures.
Detailed endoskeleton underneath the outer-armor pieces.
Incredible paint application to highlight all the details with weathering effect based on the appearance in video game.
Includes highly detailed weapon AER-9 Laser Rifle.
Pre-orders go live on January 28 and international shipping is free. If you hit the link to the official ThreeZero website there, you'll see quite a few images of the collectible.
Thanks, Eurogamer.