COD: Modern Warfare – 2 free weapons revealed in Battle Pass data mine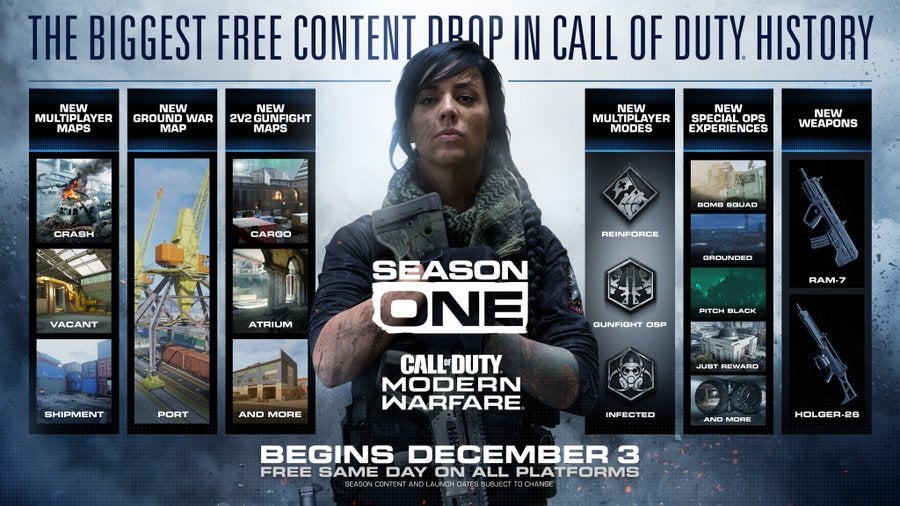 Modern Warfare's Season 1 Battle Pass tiers have all been data-mined
Obviously don't read on unless you want to have what's available spoiled for you.
Are you ready?
Okay. So the data-mined results, available in full on Reddit here, give insight into every single weapon, operator skin and more that'll be available when the first season launches on Tuesday, December 3rd, 2019 at 10AM PT.
It'll end almost two months later, on Tuesday, January 28th, 2020 at 10AM PT.
Activision has called this the "biggest free content drop in franchise history" on a blog detailing the update here.
Both weapons (unlocked between tiers 15 and 31) listed are highlighted as being free. However, not everything is free:
2 New Weapons (2 Free / 0 Paid)
1,300 CODPoints (3 Free / 10 Paid)
12 Operator Skins (0 Free / 12 Paid)
20 Blueprints (3 Free / 17 Paid)
The weapons are the RAM 7 and the Holger 26, which the data mine shows below:
It's also not entirely clear whether the weapons and everything available in the first season will still be available in some way after the first season ends for players who come to the game late. This was resolved in Black Ops 4 via loot boxes, but we all know how that ends up.
Season 1 launches simultaneously on PC, Xbox One and PS4 on December 3rd